Elevate Your Festive Marketing: Harnessing RCS Business Messaging for Brand Success
On October 16, 2023
|
6 Minutes Read
Chatbots
Conversational AI
Conversational Engagement
Conversational Marketing
Conversational Support
D2C & E-commerce
RCS
Retail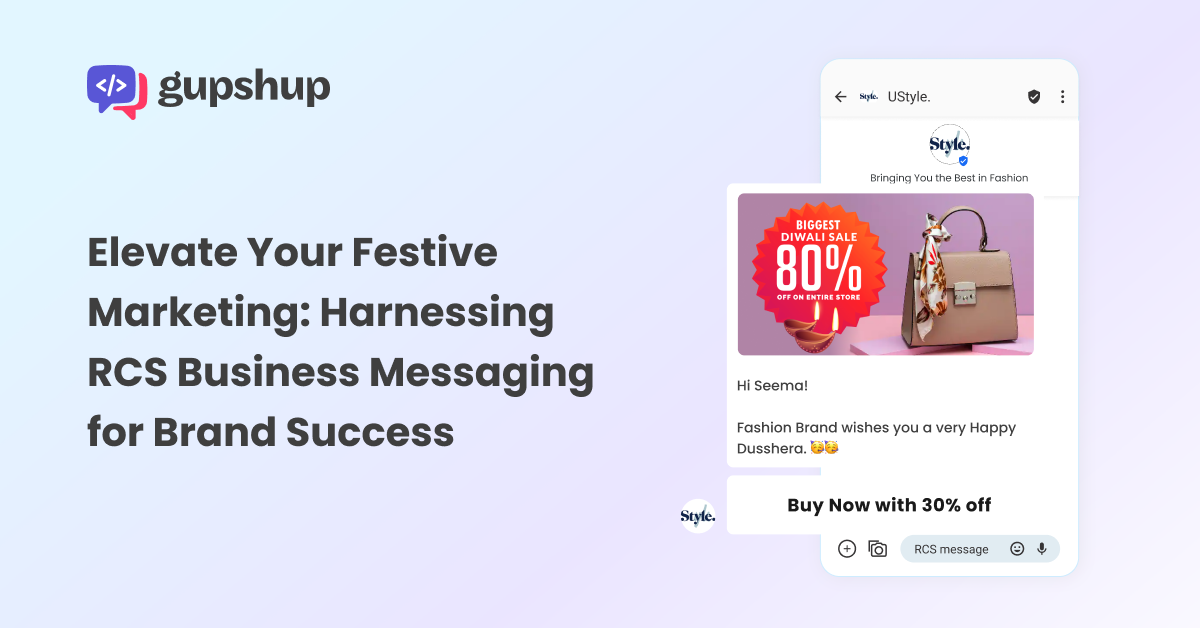 The festive season in India is synonymous with a period of exuberance, traditions, and a substantial surge in consumer spending, making it a lucrative timeframe for brands. The cultural significance of festivals like Diwali, Dussehra, and others, coupled with the innate consumer propensity to spend during this period, creates a ripe market for brands to elevate their engagement and sales.
The year 2023 is no exception to this annual commercial boom. Industry experts predict a dynamic shift in shopping trends, with 84% of Indian festive shoppers increasing their budgets, and 54% indulging in hybrid shopping. This blend of online and offline shopping experiences is urging brands to orchestrate a smooth journey for customers from awareness to conversion​. As the nation gears up for this extended and vibrant festive period, it's a call to action for brands to align their marketing strategies to the consumer pulse​.
Amidst this commercial fervor, RCS Business Messaging (RBM) emerges as a modern-day solution for brands to amplify their outreach and engagement strategies. RCS transcends the traditional SMS limitations but retains its high penetration by offering rich media, interactivity, and a broader reach, establishing a direct and engaging communication channel between brands and consumers.
The convergence of the festive season's commercial potential and RCS Business Messaging's advanced capabilities presents a grand opportunity for brands. It's a narrative of evolving consumer behavior and technological advancements intersecting with India's rich festive ethos. 
Embracing RBM could be a game-changer for brands aiming to capitalize on the festive season's commercial bounty and foster a closer connection with their audience.
Why is RCS Business Messaging Crucial for brands this festive season?
Since RCS was relaunched in Feb 2023 in India, it has seen a significant rise in its user base, effectively changing how brands communicate with their customers in the native messaging app. 
This shift in communication is marked by the capability of RCS to upgrade SMS to a more conversational experience, providing a platform for interactive and personalized brand communication. 
The rich feature set of RCS, including high-resolution image and video sharing, carousels, logos, verified sender batch, quick replies, and AI-powered chatbots, can find applications across various industries, enabling tailored messaging experiences for specific use cases characterized by enhanced two-way communication capabilities, interactive campaigns, and higher read rates and engagement. 
With over 800 million RCS users globally and a whopping 250 million users in India alone, the adoption of RCS continues to grow, making RBM a crucial asset for brands aiming to elevate their market outreach and customer satisfaction this festive season.
7 ingenious RCS Business Messaging strategies this festive season
1. Announcing Festive Offers:
The festive season beckons a shopping spree, with consumers gearing up to splurge. Early announcements are not merely a heads-up but a means to entice and retain consumer attention. 
With RCS's rich media capabilities, brands can craft visually appealing announcements, embedding interactive elements that not only inform but also entertain. For instance, incorporating carousels to showcase multiple products, or utilizing videos for a more immersive reveal of festive offers, can make announcements far more engaging and effective​​​.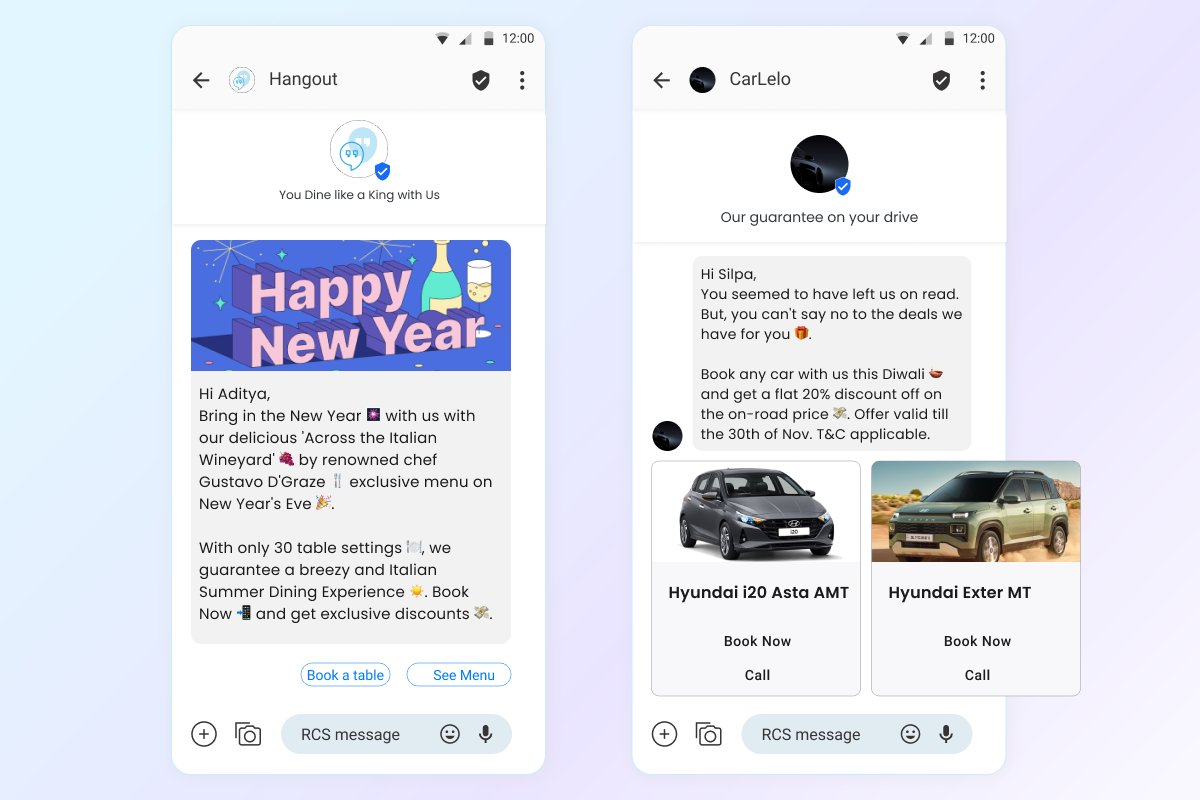 2. Interactive Product Catalogs:
RCS transforms the mundane text SMS message into an interactive shopping platform. Brands can create dynamic product catalogs allowing customers to browse through a selection of products, view images, descriptions, pricing, and even proceed to purchase, all within the native messaging environment. This seamless browsing experience can significantly uplift customer engagement and drive sales​​.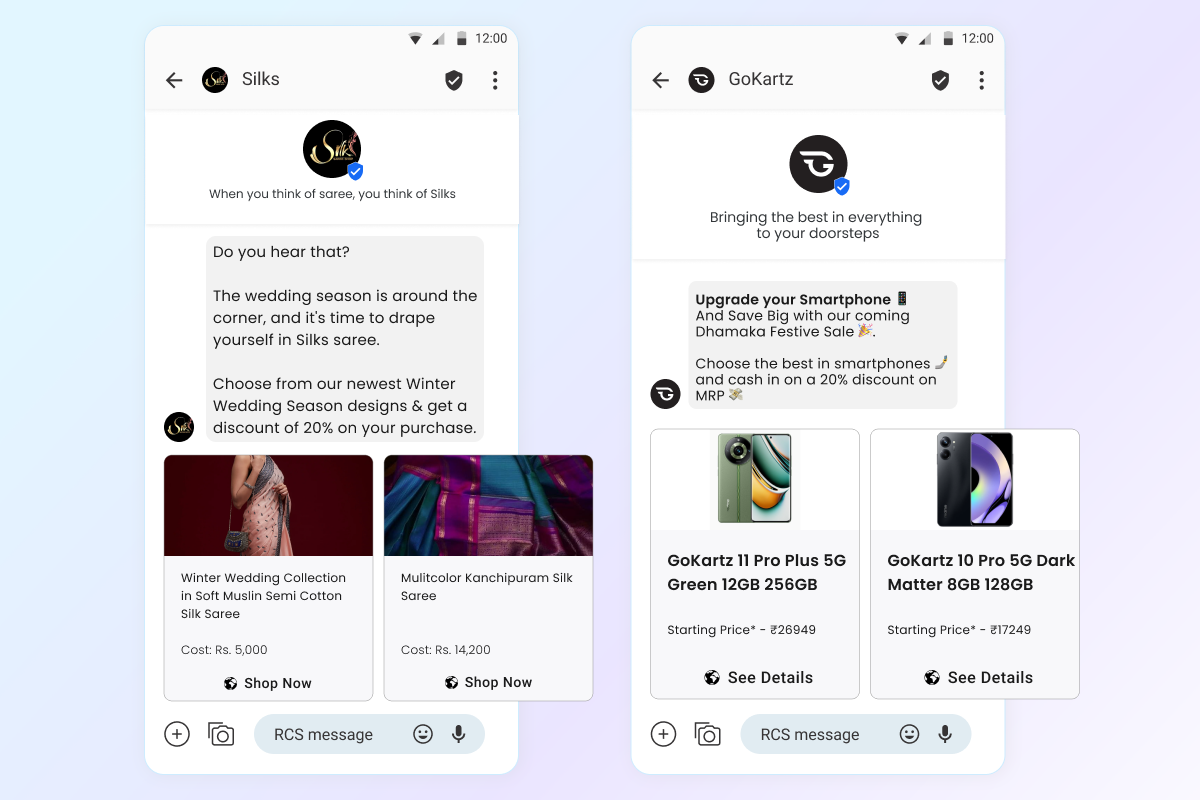 3. Personalized Shopping Experience:
Personalization is the cornerstone of modern marketing. With RCS, brands can tailor messages based on individual customer data and preferences. Imagine receiving a message from your favorite clothing store showcasing a carousel of new arrivals, where you can click through, view different items, and make a purchase directly within the messaging app. This level of interactive personalization can markedly improve customer engagement and sales​.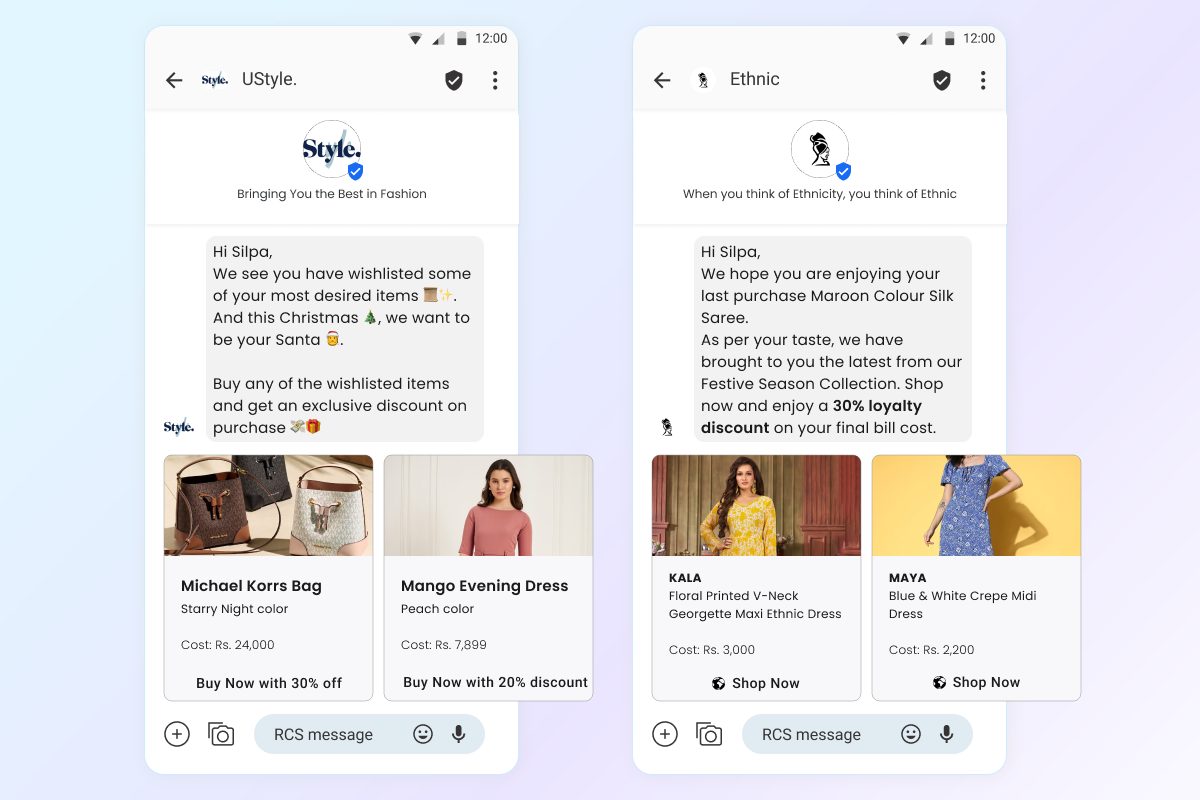 4. Seamless Customer Support:
Providing real-time customer support is vital, and RCS elevates this service by facilitating interactive communication through chatbots. For instance, RCS messaging can be utilized to provide real-time support, answer queries, and resolve issues quickly and efficiently, thereby enhancing customer satisfaction levels and brand loyalty​.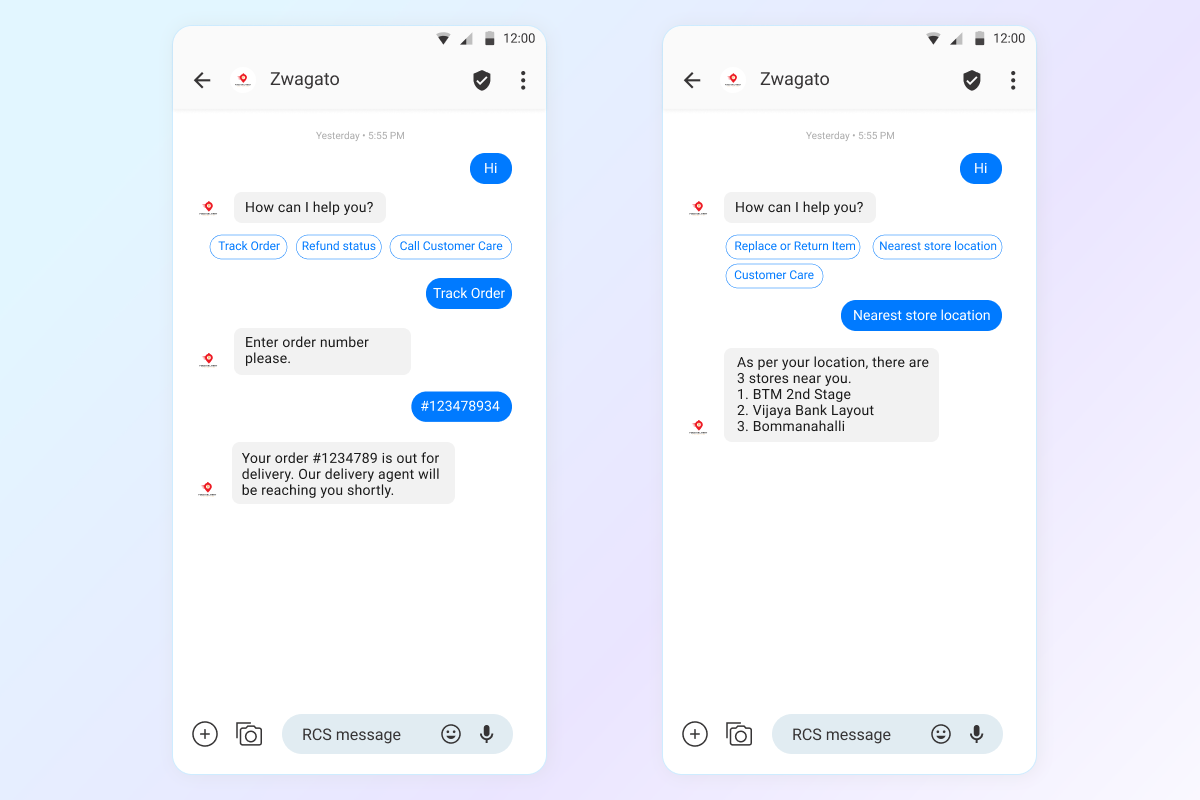 5. Cart Recovery and Retargeting:
Cart abandonment is a perennial e-commerce challenge. RCS messaging can be a game-changer in addressing this issue by deploying interactive and personalized retargeting strategies. 
Features like suggested responses and actions can nudge customers to complete transactions, making the journey from browsing to purchasing seamless​​.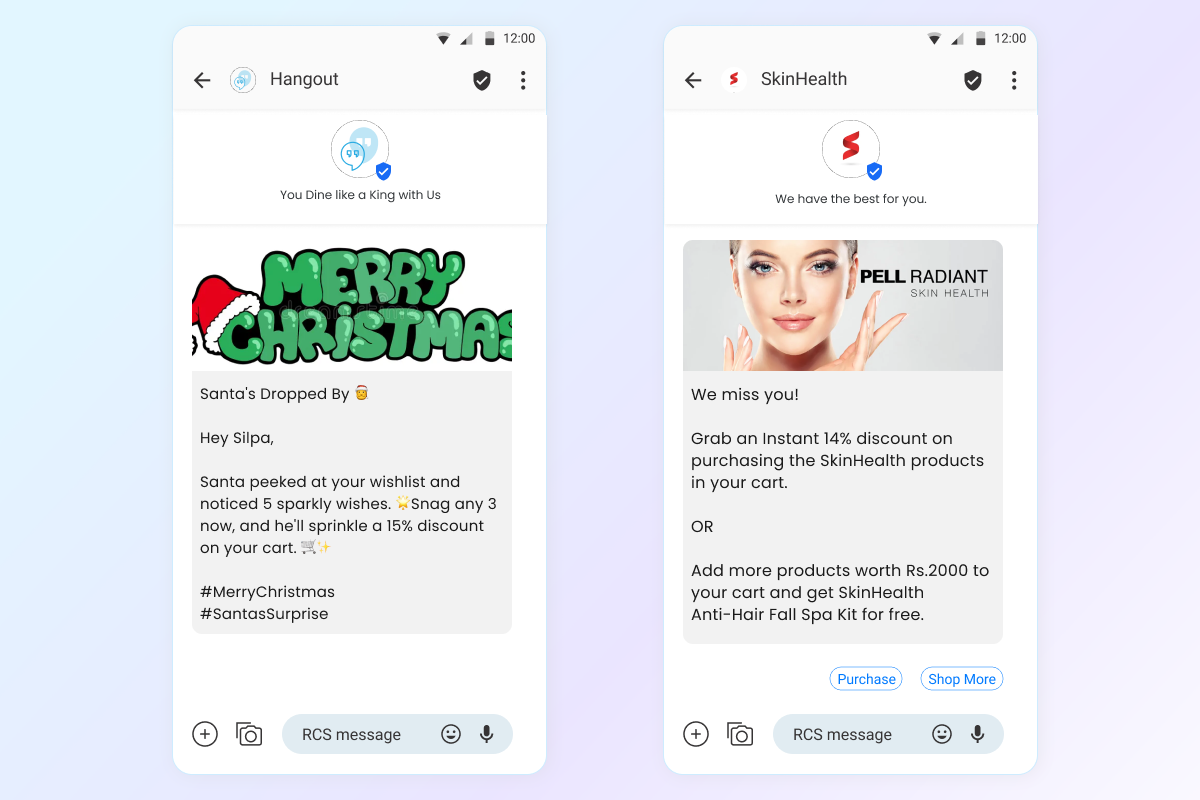 6. Real-time Transaction and Shipping Alerts:
Keeping customers informed about their transactions and shipping status is paramount. RCS can be utilized to send real-time notifications about transactions, account balances, and delivery updates, enriching customer experience and building trust​.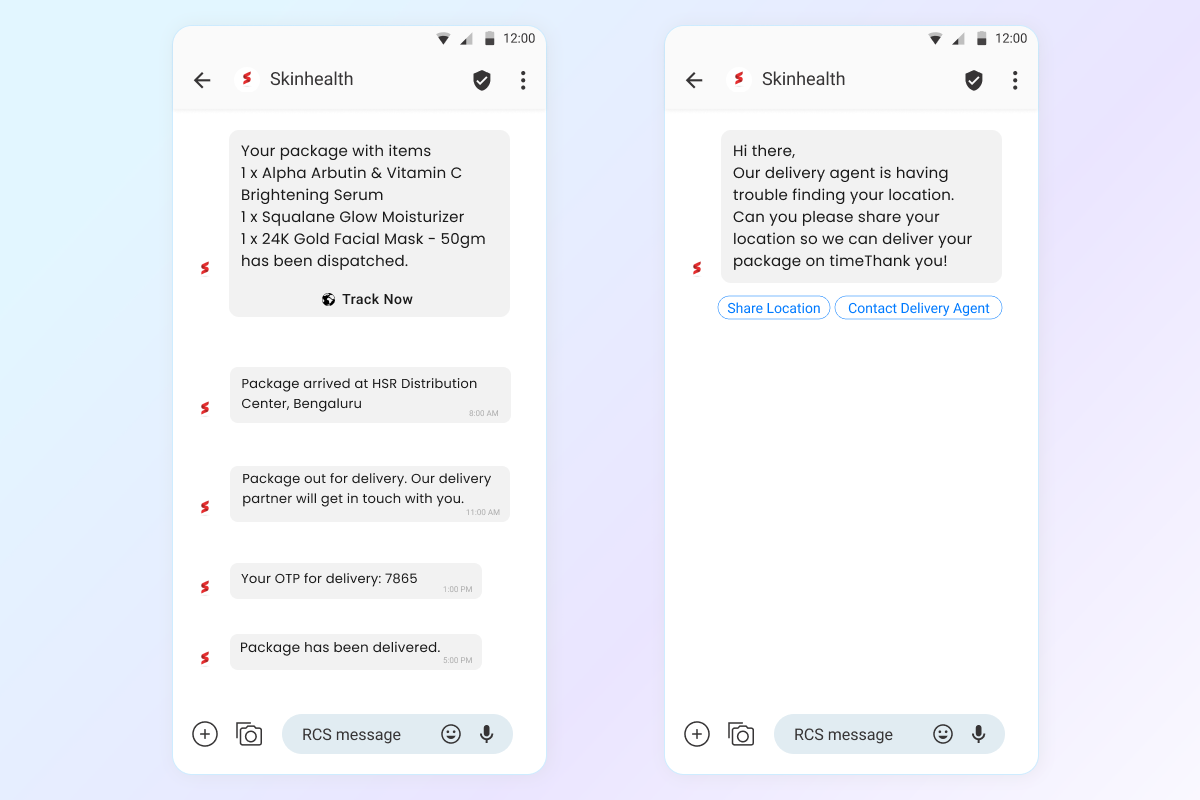 7. Gathering Post-Purchase Feedback:
Post-purchase feedback is crucial for brand improvement. RCS's quick reply buttons streamline the feedback collection process, making it convenient for customers to share their opinions and for brands to garner invaluable insights.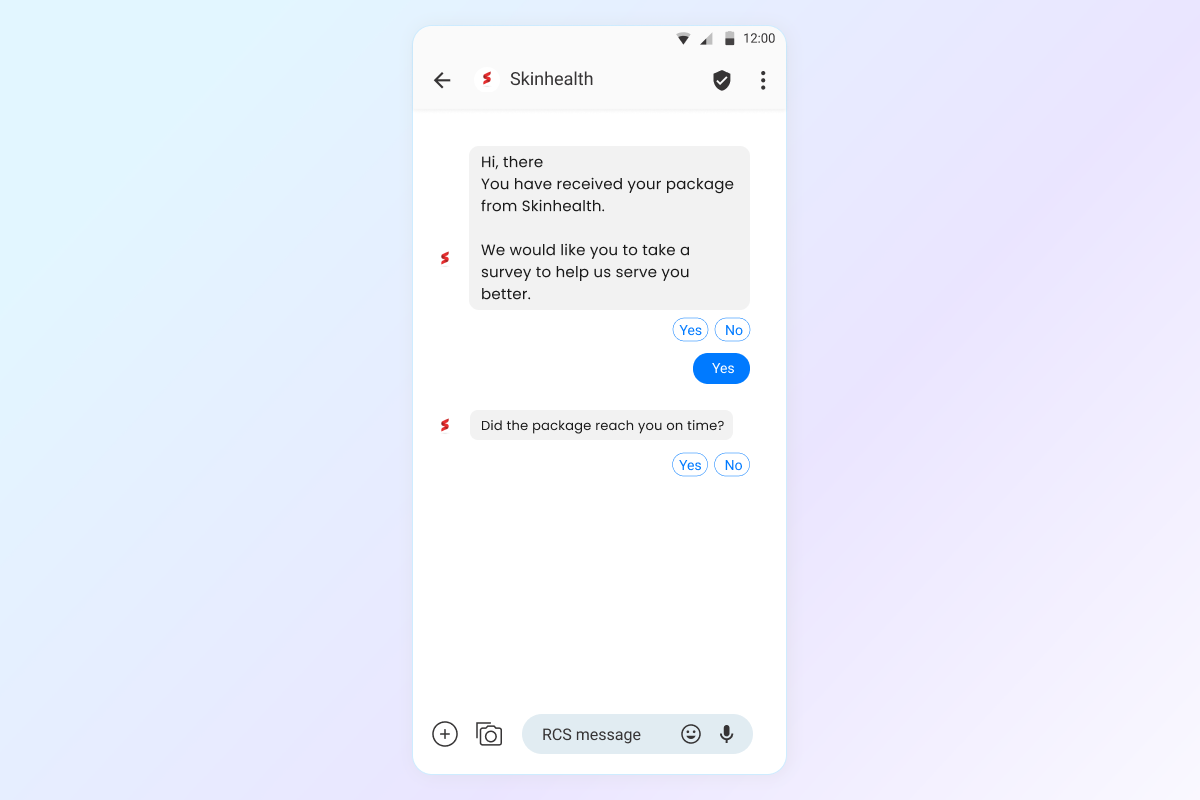 Amplify Your Festive Outreach with Gupshup's RCS solution
As the vibrant Indian festive season approaches, brands that overlook the potential of RCS might find themselves trailing in the race to capture consumer attention and drive sales. The burgeoning consumer spending during festivals like Diwali and Dussehra creates a fertile ground for brands to amplify their outreach and engagement. RCS, with its rich media, interactive messaging, and broader reach, emerges as a quintessential tool for brands to seize this festive bounty.
The festive season is underway, it's not too late to partner with Gupshup, a pioneer in the RCS realm, offering a suite of RBM capabilities that can significantly elevate your brand's festive marketing. Gupshup played a pivotal role in relaunching RCS services in India, underscoring the value proposition of RCS messaging for brands, showcasing global use cases and best practices for delivering quality, engaging, and delightful customer messaging experiences.
Partnering with Gupshup will be a game-changer, opening doors to enhanced customer engagement, increased sales, and a prosperous festive season. The synergy between RCS and Gupshup's robust capabilities paves the way for brands to transcend traditional marketing hurdles and bask in the festive commercial glory. Connect with us and elevate your festive campaign with RCS today!
Blogs you will want to share. Delivered to your inbox.
Business Email
×
Read: Making the Leap to Personalized Conversational Engagement at Scale