Future of Mobile Messaging For Customer-focused Brands
On December 22, 2021
|
14 Minutes Read
Conversational Engagement
Generic
Messaging API
RCS
SMS API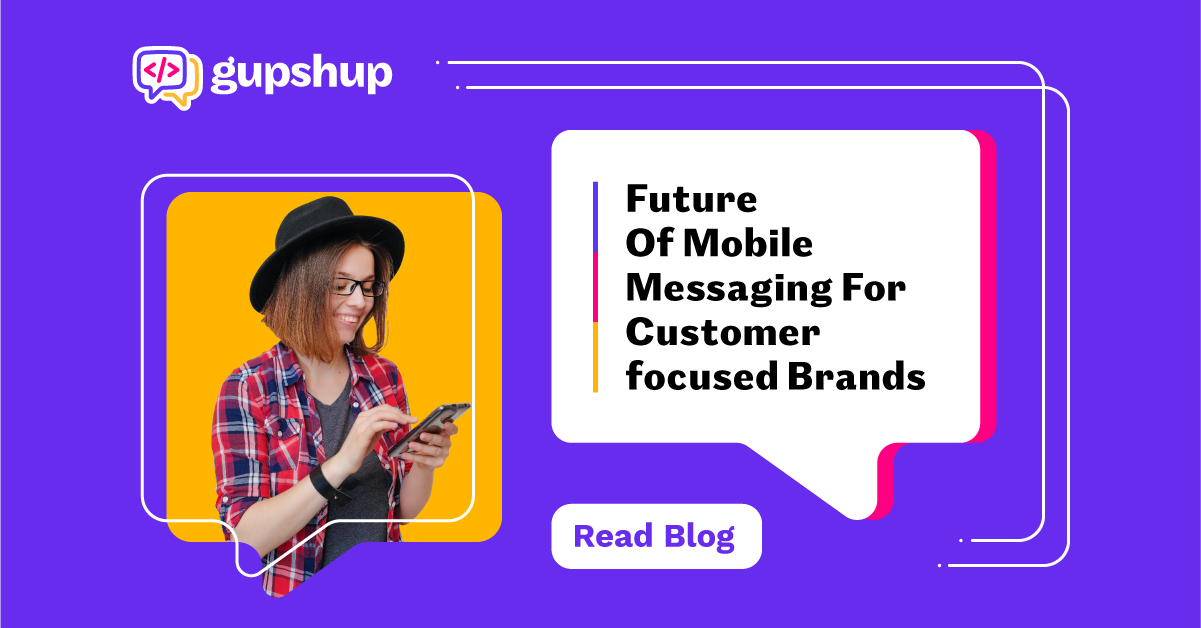 The old days of "spray and pray" or "batch and blast" marketing are long gone. In the past, marketers used to send out bulk advertisements, emails, or other forms of communications out to a huge group of people (spray). Then they would hope (pray) that the message would motivate at least some entities in the broad audience to show interest in the brand's offerings, or even better – buy these offerings. Marketers paid no attention to personalisation, audience segmentation, or the measurement of metrics, such as conversion tracking or ROI.
The problem with this hit-and-miss approach?
The message got lost in a lot of noise, and therefore went unnoticed. In short, a lot of effort for very little reward.
Fortunately, modern brands and their marketing teams no longer have to rely on spray and pray marketing to get their message across. If anything, they can send personalised messages at scale to a captive audience and engage in meaningful, one-on-one conversations that are more likely to lead to conversions, sales, and customer loyalty and advocacy. And one of the most powerful mediums to achieve these goals is mobile SMS marketing.
In 2020, the average American spent three hours per day on a smartphone. Between March 29 and April 4, 2020, shopping apps were downloaded 14.4 million times in the U.S. Further, one study found that 69% of consumers preferred to communicate with brands over mobile messaging rather than over traditional voice calls, while another report discovered that 59% of American adults prefer to shop using their mobile phone.
All these developments mean that brands have many opportunities to tap into the power of smartphones and mobile messages. By doing so, they can meet customers where they are spending the most time, interact with them, and meet their evolving demands while improving their results with respect to conversions, sales, revenues, and profits.
So what is mobile messaging?
What is the importance of mobile messaging in business communication?
And what does the future hold for mobile text marketing?
What is Mobile Messaging? Why Mobile Messaging?
A mobile message is also known as a text message or a Short Message Service (SMS). Research has proved time and again that mobile SMS marketing is one of the fastest ways to engage with customers, simply because customers pay attention to every mobile message they receive.
But mobile messaging marketing is also powerful for other reasons:
It's Personal
Every mobile message that goes out from a brand to a customer or prospect can feel personal to the recipient. Unlike many other marketing channels, mobile SMS marketing is one-to-one communication, rather than one-to-many communication.
The text copy can be easily personalised so that the message feels special to the recipient. Plus, personalised mobile SMS marketing is easily scalable and incredibly cost-effective, with minimal need for expensive development, creative or management tools.
Moment-based and Responsive
Text messaging is moment-based, which means that they tend to be read almost instantly. By sending a mobile message, brands can enhance their visibility with hyper-targeted, timely communications, and engage with customers faster and more proactively with two-way conversations, than they would (or could) with other marketing or brand communications.
Customers Want to Receive Brand SMS
A recent survey found that 91% of consumers are open to signing up for brand text messages – but not all businesses offer it yet! This indicates that people want to hear from brands, especially if they receive interesting content, relevant promotions, and attractive incentives such as gift cards or discounts.
Ideal for DTC Brands
Direct-to-Customer brands are now in a "battle for the inbox". As customers' email inboxes – and social media feeds – become increasingly crowded with branded content, mobile text marketing provides companies with a more personalised way to engage with their audience, and more importantly – to be seen and heard by their audience over their competitors.
Moreover, text messaging levels the playing field between digitally native brands (e.g. eCommerce stores) and brands with a larger brick-and-mortar presence, so the former can also aim for greater sales and revenues via mobile text marketing.
The Growth of Mobile Messaging in 2021 and Beyond
More and more brands are realising the value of mobile messaging as an inherently personal marketing channel. For this, they are sending relevant, timely and tailored mobile messages to a well-segmented audience.
In many cases, they tailor these messages based on a customer's behaviour or action to engage in impactful conversations and deliver exceptional brand experiences through a popular, low-friction medium.
Forrester predicts that in 2021, brands will increase their spending on loyalty and retention marketing by 30%. And mobile SMS marketing is likely to be a big part of this trend. They will devote more effort to understanding what types of messages subscribers want to receive and share content that adds more value to their lives.
They will no longer focus on mobile messaging marketing that's motivated purely by driving sales (e.g. promotions or sales notifications). Instead, they will look to design text messaging-based marketing campaigns to engage with their audience, and build their brand value over the long term. To this end, they will send different kinds of text messages:
Thank you for your purchase
New product updates
Event invites
Company updates
Customer feedback
Useful information
Reminders
Exclusive engagement or re-engagement messages
Early access to sales and bonus offers for "VIP" customers
Smart customer-focused brands send personalised mobile messages to foster deeper connections with subscribers. They also leverage mobile SMS marketing for both customer acquisition and retention, to convert shoppers into buyers, and nurture those relationships to garner lifetime loyalty and brand advocacy.
Going Beyond Simple Text Messaging: 3 Important Technological Developments
Mobile SMS marketing has already evolved past simple text messaging. The growing ubiquity of smartphones, increasing Internet penetration, and the development of new mobile technologies and cutting-edge mobile messaging platforms like Gupshup will drive a stronger appetite for mobile messaging in the coming years. Three primary mobile technologies with a bright future for brand-customer communications are:
1. Rich Communications Service (RCS)
RCS Business Messaging is the next step up from SMS. This next-generation SMS protocol effectively combines the global reach, popularity, high open rates, and immediacy of SMS and MMS messages with the rich, experiential communications offered by chat applications such as WhatsApp, WeChat, Skype, etc.
With RCS, brands can send engaging messages to their audience, complete with emojis, video, audio, high-resolution images, and more. They can also send group chats, get read receipts, and get real-time updates when someone replies to their message, making it a truly two-way text communication medium.
RCS supports both person-to-person (P2P) messaging and application-to-person (A2P) messaging for businesses. With the latter, the chat is transformed into a one-stop shopping experience, where customers can search for information, have conversations with the brand's chatbot, make payments, receive order updates, send feedback, and do a lot more.
With sender/brand verification, action buttons, rich media content, and suggested responses, RCS is a great way for brands to engage with customers in a personalised way, while earning their trust and boosting brand recognition.
Since 2008, the GSMA (Global System for Mobile Communications), as well as many telecom carriers and mobile OS creators like Google and Android, have supported RCS. Google also has an Early Access Program to help brands adopt RCS business messaging.
One of the easiest ways for brands to implement RCS campaigns is by leveraging an out-of-the-box RCS Business Messaging solution like Gupshup. With Gupshup, it's easy to share rich content like images, videos, gifs, PDFs, etc., create engaging customer interactions with a rich UI, and even allow customers to take action from within the app.
Example 1
U.S. fast-food restaurant Subway leveraged both RCS and SMS for a sales promotion campaign with two sandwich offers. It found that conversion rates for the RCS campaigns were 140% and 51% higher than the SMS campaigns, respectively.
Example 2
An airline company sends RCS messages to customers with relevant information about their flights, including their boarding passes. This minimises the stress of travel for the customer.
2.  5G
5G wireless mobile technology is expected to deliver high data speeds and lower latency, along with greater reliability and increased availability. These capabilities will transform mobile SMS marketing. As 5G infrastructure expands, the use of RCS will also expand to make the messaging experience even richer for consumers.
A 2019 survey revealed that 67.44% of online consumers were either already using an RCS or would like to use it if it is offered in future. Thus, together, customer demand and technological advancements like 5G open the door for brands to roll our rich messaging campaigns.
5G will also aid in the development of chatbot technology. With chatbots, brands will be able to leverage 5G to engage in automated two-way text messaging for truly interactive mobile marketing.
Chatbots will benefit from the 5G's reduced latency, so they will respond more quickly and seamlessly to customer queries, creating the feeling of a true two-way conversation, and ultimately enhancing the overall customer experience.
Example
Mexican paint distributor Comex ran a sales campaign for its loyalty programme with both rich messaging and SMS. The RCS campaign resulted in a 115% revenue increase and a 20.6% click-through rate (CTR). This CTR was about 10X the CTR for the SMS campaign.
3. SMS API
An SMS API (Application Programming Interface) provides an integration platform that allows brands to programmatically send SMS messages via an SMS gateway. By using the API, any brand can set up an SMS channel to communicate securely, quickly and at scale with customers. Once the API is set up, it enables brands to:
Send different kinds of mobile SMS marketing messages, including alerts, notifications, OTPs, and reminders
Connect with customers in different countries
Verify if messages were delivered
Track each interaction and review message status in real-time
Queue messages for delivery
Retrieve the history of older messages
Gupshup's SMS API is one of the easiest and most cost-effective ways to integrate SMS messaging into the customer service flow. The API supports bulk messages, group messages, customisable sender ID (by country), and real-time delivery receipts.
Once set up, the API also provides insights into message delivery, and enables marketing managers to build seamless conversational experiences with SMS. The API works well in many countries to send local SMS, international SMS, SMS to toll-free numbers, and even short code SMS.
Gupshup is also one of the best OTP SMS service providers in India. Companies all over the world leverage its international OTP service to send global 2FA notifications and one-time passwords for secure, legitimate digital transactions.
Gupshup's single API supports SMS, WhatsApp, Google My Business, RCS, and more for a wide range of industries, and use cases.
The Future of Text Messaging: 5 Key Predictions
These 5 key trends will drive mobile marketing in 2021 and beyond:
1. eCommerce will Fuel Mobile SMS Marketing
A Shopify survey found that in 2020, 84% of respondents have shopped online since the start of the pandemic. By 2024, global eCommerce sales are projected to hit $7 trillion, or 25% of total retail sales. Another survey found that in 2020, 75% of U.S. consumers shopped online more in 2020 than they did in 2019. Of these respondents, at least 57% primarily shopped online using their smartphones.
As the share of mobile commerce increases and more website visits come from mobile, more consumers will interact with brands via mobile. As a result, mobile SMS marketing will evolve into a key performance marketing channel that will deliver greater revenues and profits. This in turn will mean that in 2021 and beyond, more brands will invest in two-way, personalised mobile text marketing programmes and SMS APIs.
2. Mobile SMS Marketing Will Become More Contextually Relevant and Personalised
As marketing messaging volumes increase (by 40% according to Forrester as reported by CNBC), brands will pay more attention to contextually relevant mobile messages that are more responsive to customer needs. To understand these needs, they will collect behavioural and predictive data from customers (after taking permission through opt-ins), and use this data to send timely, relevant, moments-based messaging. Many of these messages will be "triggered", i.e. automatically sent and personalised based on a specific customer's action or behaviour, such as:
Welcome or thank you after a purchase
Browse abandonment
Cart abandonment
Post-purchase reminders
Marketers will also segment their audience to further improve their personalisation capabilities, and conduct A/B tests to understand which type of text messages resonate best with customers for a particular purpose or use case.
In many cases, brands will utilise Artificial Intelligence technology to review customer interactions, interpret user intent, and provide quick, relevant, personalised assistance.
3. Text Marketing Will Become More "Conversational"
Soon, text messaging will be all about 1-on-1 customer conversations and individualised service. Brands will design and deploy SMS marketing campaigns that allow individual customers to compare options, ask questions, and request recommendations. AI-based chatbots will help customers with a variety of tasks, from suggesting products and navigating the eCommerce site,  finding their size, and even sending auto-alerts when a particular product becomes available.
Some brands will pay more attention to "non-promotional content" and even set up text-an-expert hotlines to provide information to customers and encourage them to connect with the brand.
4. Mobile Messaging Solutions Will Evolve
As the importance of SMS marketing grows, software vendors will continue to expand their offerings, which means that the market for mobile SMS marketing software, SMS API, and RCS Business Messaging will evolve and grow. Such offerings will provide more integrations with CMS and Marketing Automation platforms,  and deeper insights that enable marketers to improve and personalise their mobile text marketing campaigns. They will also be able to create smarter and more intelligent chatbots to interact with customers in more personalised – albeit automated – ways through texting.
5. SMS Marketing Will Become Crucial to Omnichannel Marketing
The evolution of SMS marketing and mobile SMS marketing software will empower marketers to more effectively integrate text marketing into a cohesive omnichannel marketing strategy. Thus, SMS will no longer be a standalone direct marketing channel but will be incorporated with other channels, such as social media marketing and email marketing. Since every channel used to reach customers will be connected, it will help create smooth, seamless and hyper-personalised customer experiences, right from the first interaction to the last.
Example
A customer visits an online crafts store to browse the offerings. She knows which product she wants, but can't find it in the right size. Instead of buying a product in a different size, she signs up for the brand's text message service so she can be updated when the right size is available. A few weeks later, she receives such a message plus a special deal, which entices her to place the order immediately and directly from her mobile device.
In this scenario, the brand's marketing, customer support, and mobile messaging platforms work together to ensure that the customer enjoys a smooth omnichannel, human-centred experience that makes her feel special, while gently moving her down the conversion funnel.
Conclusion
Today's customers want to feel heard and valued, and they want human-centred experiences. By implementing SMS marketing, brands can offer such experiences to foster deeper connections with customers and build a more loyal community that's willing to stay connected with the brand in the long term.
By its nature, mobile messaging marketing is personalised and capable of one-on-one connections. As a result, it's one of the best channels for marketers looking to have more meaningful customer interactions in a timely, cost-effective and scalable manner.
By leveraging the right mobile messaging platforms for SMS and RCS Business Messaging, and an intuitive SMS API from providers like Gupshup, brands can send a huge variety of engaging, compelling and relevant text messages to their customers. They can provide additional value that goes beyond transactions and sales, understand what resonates with subscribers, and show what the brand stands for through tailored, on-brand messaging.
Know more about the Gupshup SMS API here. Learn more about Gupshup's RCS Business Messaging platform here.
Blogs you will want to share. Delivered to your inbox.
Business Email
×
Read: Top Five Reasons to Adopt SMS APIs