What makes C2WA so relevant for businesses?
On September 6, 2023
|
7 Minutes Read
Conversational Engagement
Generic
WhatsApp Business API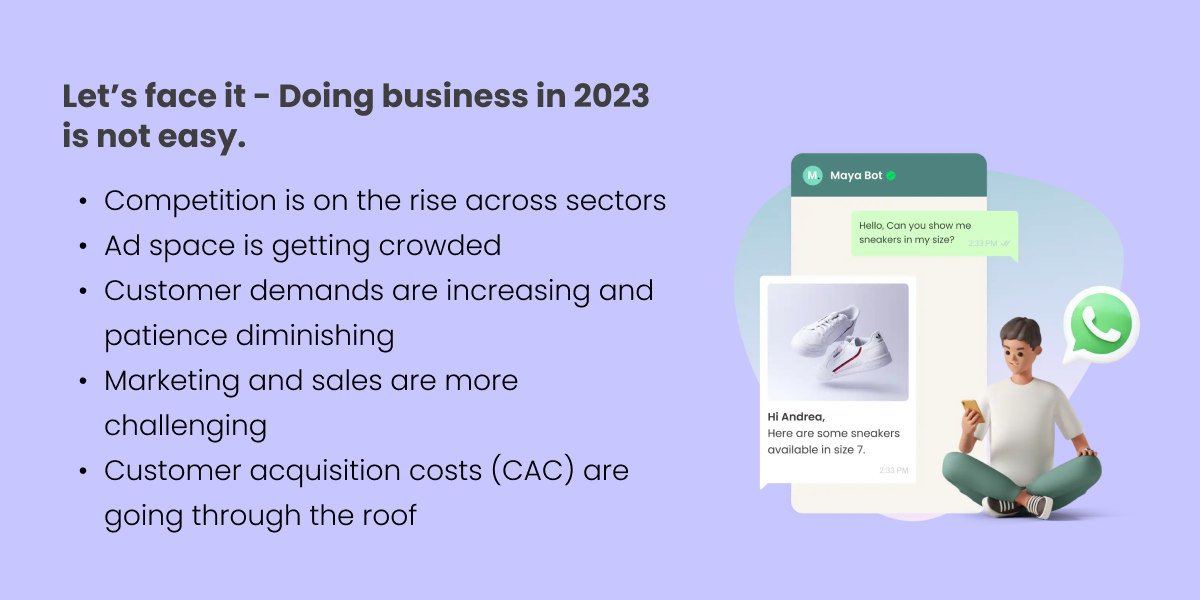 Rising CAC is significantly influenced by changes in privacy rules that have disrupted brands. For instance, Apple's privacy feature, App Tracking Transparency, has made it hard for marketing teams to follow user behavior and create personalised ads. Similarly, Google will stop using 3rd party cookies in Chrome by the end of 2024. This means brands can't rely on outside data to understand their audiences anymore. The positive aspect of this change is that it protects user privacy and encourages brands to focus on building direct customer relationships.
These factors are driving businesses to find newer ways to seek, connect, and engage with a larger audience efficiently and cost-effectively. Messaging apps have become a favored channel for modern marketers striving to engage with their audience. As the world's most popular messaging platform, WhatsApp has become a go-to choice for marketers seeking to generate strong leads and increase conversion rates. Its wide reach and active user base make WhatsApp an ideal platform for achieving these goals.
In this blog, we explore the benefits of click-to-WhatsApp ads for brands looking to reduce their CAC and improve conversions. 
So, why brands are going vocal on social with Click-to-WhatsApp Ads?
Click to WhatsApp ads opens up an entirely new lead pipeline through social media. While running ads on platforms like Facebook and Instagram can bring in relevant views and impressions, by adding a 'Send a Message' CTA can connect the prospect to a WhatsApp chat. Brands can then leverage AI-powered chatbots to give more information about the product and nudge the prospects towards conversion.  
Marketers can use the WhatsApp Business Platform as a powerful tool for enterprise marketing. This allows for smooth and complete conversations that help build strong customer relationships and drive revenue. With over two billion users, WhatsApp has a wide reach and its messages are effective at generating sales. This means your business can reach more potential customers and better engage, assess, and nurture them towards making purchases.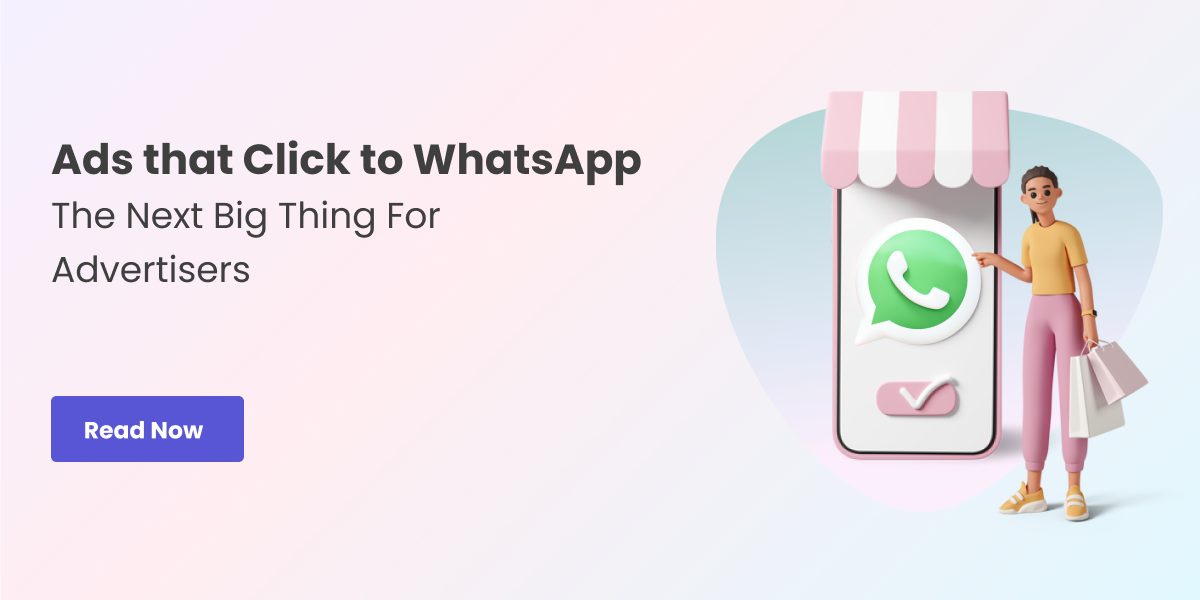 As we approach the festive season and the Cricket World Cup, enterprises must streamline their sales cycle, maximize their expenditures, and enhance their advertising ROI, considering the anticipated surge in advertising and promotion costs. Here's how Click to WhatsApp can be an ideal choice for enterprises.
Cost-effective
As a business owner or a marketer, you'd know the prerequisites for setting up an ad campaign. Apart from creating ad creatives and messages, you would also need to create landing pages, a lead collation solutions. But, that's only half the job done. You would then need a team to set up appointments, reminder messages, and create email campaigns to warm up your leads. The cost and time lost in these activities is multifold. With Click-to-WhatsApp, your team can sync the ad campaign with your WhatsApp Business Solution, through which prospects can ask for more details about your product or service. 
Moreover, the automated Chatbots can analyse what your prospect is after and can prompt the correct response. For instance, if you're advertising a pair of shoes that's on sale on Instagram, an interested prospect would land on your WhatsApp Business Chat from the ad. The AI-powered Chatbots can then probe for more details – like the shoe size or the preferred color. With each message, you'd be pushing the prospect to the point of sale, eventually offering them to either purchase the product on WhatsApp or Go to the website. Either way, you have a prospect that has moved from the top to the bottom of the funnel within minutes. 
Toll-gate to Talk
According to Hubspot, 50% of marketers consider lead generation a top priority in their marketing campaigns.  Hence, brands cannot afford a "spray and pay" approach for their digital spend. Ads that click to WhatsApp can help enterprises reach new audiences through their digital paid campaigns to drive product discovery and lead qualified prospects through a WhatsApp conversation. Moreover, WhatsApp for Business empowers brands to nurture them at scale. Conversations on WhatsApp help customers find the right product and engage on a platform that they prefer. So, unlike a typical digital ad which leads to a form fill, the conversation-ready WhatsApp solution allows businesses to connect instantaneously with their prospects.
Extension of Campaign through Post-Purchase
With Ads that Click to WhatsApp, your customer interactions can continue even after the Purchase. To build loyalty, show your customers how much their purchase matters to your brand by sending delivery updates, surveys, and new collection items. With WhatsApp, you can be omnipresent for ongoing conversations, so customers feel connected even after purchase.
How can your business use WhatsApp-click ads to enhance marketing results? Let's look at examples to see how these ads work.
Retail 
Your brand is looking to use Instagram ads to increase sales of makeup products ahead of the wedding season. Your campaign objective is to bring new and returning customers into your e-commerce business. You need a high-converting solution and one that supports personalized connections with your target audience across your funnel. How can make the best use of your advertising campaign?
Solution 
By running ads on Instagram with a CTA that clicks to WhatsApp, prospects who are interested in knowing more about your makeup products can click a "Chat now" CTA to engage directly with your business. Once on your WhatsApp Account, the automated chatbots can share additional information about the product, and options for purchase. You can extend the experience post-purchase by not only confirming the order but sharing delivery updates as well. A week later, you send a message inquiring about their latest purchase and rate the product and overall experience, thereby helping them stay engaged and increasing the chances of a return purchase.
Real Estate
You are in the real estate business, with an app that allows property buyers & sellers to locate properties of interest across the country. You wish to run an ad campaign for an upcoming real estate project. Your current ad campaigns are generating good impressions but not leading to conversions. How can you engage with your prospects, communicate the details of the property, and bring them close to sale?
Solution 
Your business decides to create ads that click-to-WhatsApp campaign using entry points on your social channels and a website contact form. After sending an initial message to your business and opting in, customers can have live, personalized conversations directly in chat. 
They can ask questions about the property, request for images and details about the amenities, communicate the standout features, and block a site visit. The chatbot can also connect the prospects directly with your sales teams to further push for a sales meeting. Your brand can you WhatsApp to also share location details, and appointment reminders to ensure a wholesome conversational experience.
Bringing your prospects to conversations with Gupshup's WhatsApp Business Solution
In the current economic conditions where every expense is accounted for, your digital ads also need to move with the times and work smarter for your business.  With Ads that Click to WhatsApp, you enjoy the benefits of both worlds – Social media and WhatsApp i.e. a platform to get noticed, and a platform to engage with your customers. By enabling quick and personalized communication, businesses can strengthen customer relationships, boost conversions, and gather insights to improve strategies. To know more about how you can smartify your digital ads that Click-to-WhatsApp, click here. 
Blogs you will want to share. Delivered to your inbox.
Business Email
×
Read: Future of CX in QSR Industry: Insights from Industry Pioneers