Mastering Conversational Commerce: A Complete Guide (2023)
Over the last 4-5 years,  app-based commerce has been disrupted by"Conversational Commerce", a new era of online shopping that combines the convenience of e-commerce with the personalized touch of one-on-one conversations.  In this comprehensive guide, we'll explore the key benefits of conversational commerce, the different types of conversational technologies available, and the best practices for implementing conversational commerce strategies that can help take your business to the next level. So, whether you're a small business owner or a seasoned marketer, get ready to learn everything you need to know about conversational commerce and how it can transform your online business.
What is Conversational Commerce?
Conversational Commerce, as the name suggests is a fusion of conversations with commerce. Commerce in its current form is typically unidirectional, that is, you explore products, shortlist and buy, without any option to ask questions or seek advice if there's a doubt. In contrast, Conversational Commerce offers customers more than just the convenience of online shopping. It allows customers to ask questions, and get personalized recommendations without the need to surf the entire website and complete a transaction, all within the messaging app.
Unlike e-commerce or app-based commerce, Conversational Commerce is not a one-way street with templatized one size fits all websites. Websites work well for savvy users, in categories that are simple and straightforward. For example- books. 

But in categories such as furniture or financial services, people need to check several things, maybe even go back and forth before arriving at a decision. And that's where Conversational Commerce trumps over any other form of commerce. There's hand holding, customer involvement and customization which makes this new form of commerce much more preferable for both evolved and newbie customers.
Why is Conversational Commerce seeing so much traction
A key reason for the success of Conversational Commerce is the fact that commerce is inherently conversational in nature. Customers want to ask questions, clear their doubts before making a purchase. The ease of doing it in their messaging window without the need to download another app makes it an all the more coveted channel for customers.
For brands, it fixes several of the pain points they face in engaging and converting customers. Some of these are- low traffic to the digital storefront, abandoned carts, expensive up-selling channels and sub-par lifetime value for customers.
Conversational Commerce works as a panacea for all these woes. With better engagement, it not only helps drive traffic, but also enables product discovery, sharing of catalogs, shopping, payment collection and opportunities to upsell and cross-sell. Thanks to its intuitive and interactive nature, conversational commerce sees lower cart abandonment and conversion rates .
In addition to above reasons, app fatigue is another major driver for the traction seen in Conversational Commerce. Customers are tired of downloading apps for every need that end up clogging phone space and require remembering multiple login details. As opposed to that, messaging apps allow customers to transact with multiple brands, all within one single app.
According to a recent study by Juniper Research, global spend for conversational commerce over OTT channels, including WhatsApp or WeChat, will rise from $13.3 billion in 2022 to $25.1 billion in 2023.
Another study by Gartner predicts that by 2022, 70% of customer interactions will involve emerging technologies such as chatbots, messaging apps, and voice assistants. This highlights the growing importance of conversational commerce in today's digital landscape.
Benefits of Conversational Commerce
There are numerous benefits of conversational commerce for both brands and customers. First of all, conversational commerce allows brands to provide a more personalized shopping experience for their customers. By using chatbots to interact with customers, brands can gain a better understanding of their needs and preferences, and tailor their offerings accordingly. This results in satisfied customers and increased customer loyalty.
Secondly, conversational commerce can help brands reduce their customer service costs. By automating the customer service process, brands can save costs on staffing and training, while still providing high-quality support to their customers. This is especially beneficial for small and medium-sized businesses that may not have the resources to offer 24/7 customer service.
Third, conversational commerce can help brands increase sales and revenue. By sending abandoned cart alerts brands can reduce funnel leakage.  This can be followed up with offers and discounts which motivates the customer to take action. And with upsell and cross-sell , they can increase the average order value. Further, detailed catalogs, add to the cart and complete payment journeys help customers consummate transactions without leaving the app.
And finally, conversational commerce can help brands  gain a competitive advantage in their industry. By offering a more convenient and personalized shopping experience, businesses can differentiate themselves from their competitors and attract more customers.
Brands can also leverage chatbots on messaging apps to automate customer care, send order updates, collect feedback, and make refunds and cancellations easy.
Types of Conversational technologies 
All these benefits of Conversational Commerce can be realized only when brands are aware of the right conversational technology, along with the right medium. The two major Conversational technologies are chatbots and voice assistants, both of which use natural language processing (NLP) and machine learning to enable real-time conversations with customers. Let's explore each of these types in more detail.
Chatbots: Chatbots are computer programs that use natural language processing to understand and respond to customer queries. They can be integrated into websites, mobile apps, and messaging platforms to provide customers with 24/7 support. Chatbots can handle a wide range of tasks, including answering frequently asked questions, providing product information, and processing orders. Chatbots on messaging apps have become quite popular for engaging customers in real-time, providing support, and completing purchases on the app.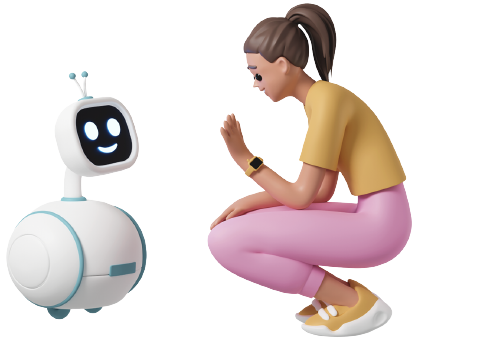 Voice Assistants: Voice assistants such as Amazon's Alexa, Google Assistant, and Apple's Siri have become ubiquitous in homes and offices around the world. These assistants use natural language processing and machine learning to understand and respond to voice commands. Businesses can use voice assistants to offer a hands-free shopping experience, allowing customers to place orders and make payments using voice commands. Voice assistants can also be used for customer support, providing quick and convenient solutions to customer queries.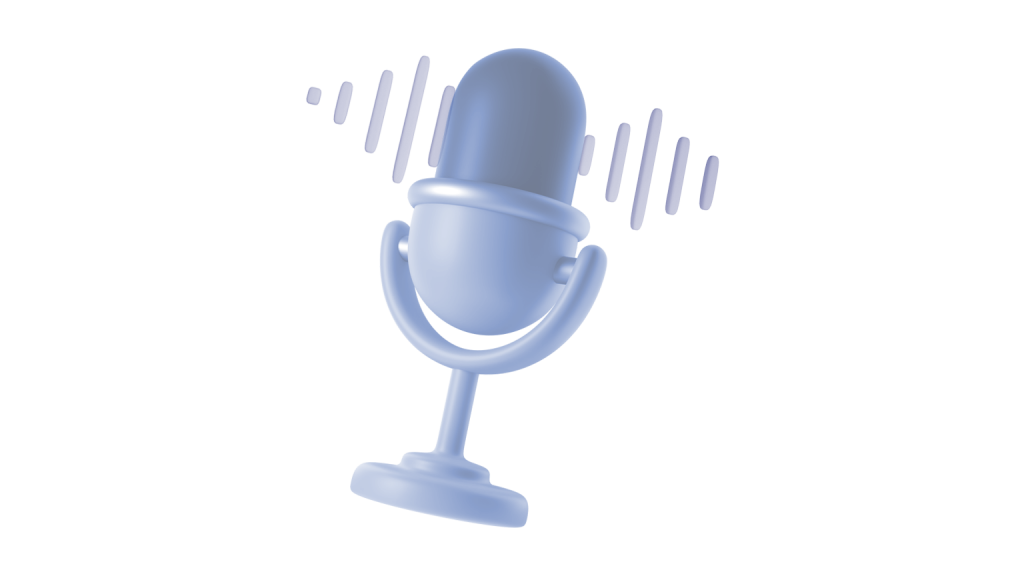 Messaging apps as a channel for Conversational Commerce
Messaging apps have become a widely popular channel for brands to implement conversational commerce because of their higher stickiness and open rates. No wonder, brands across sectors are preferring to use this channel to engage with their customers. Let's understand how are businesses using some of the major messaging apps to build conversational commerce journeys:
WhatsApp– With over 2 billion users worldwide and an average open rate of 98%,  WhatsApp is the most popular messaging app in several countries such as India and LatAm. Today, WhatsApp is being used by brands to deliver high performing drip campaigns to acquire new users, nudge dormant users, drive sales through offers and allow shopping, thus enabling end-to-end commerce on WhatsApp. More and more brands are using WhatsApp across the entire customer journey with some of them even allowing purchases through the app. Here's an example- Say a customer gets a message from a beauty brand called GlamLady. The brand chose to engage her as she visited the website, checked out a few  products and registered with her number. Now, she gets a message offering her a pretty  discount on the products she checked out. Along with the products displayed in the message, there's also a buy button. The customer clicks on the button, gets various payment options on the page and is able to complete the purchase within the app. Later, the brand can also share order and delivery updates with her. It is this convenience that's driving users to WhatsApp. There can be full catalogs for retail/D2C brands and bill payment options in case of credit cards and insurance, making it absolutely simple to do commerce on the app. WhatsApp's new features such as Catalog extensions create a buying/booking journey that's very similar to the native app. And with Direct Connect, customers can enjoy a range of features- from catalog, collections, product search, dynamic stock controls, order details message to payments.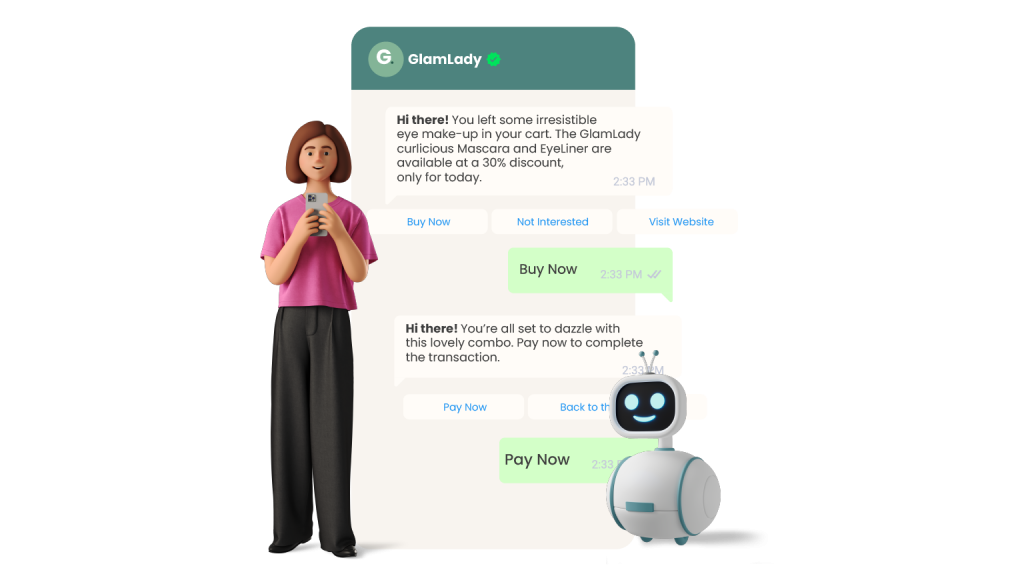 Instagram– Instagram is yet another interesting channel for businesses with a monthly average user base of 2.35 billion, particularly the young in the 18-35 age bracket. The channel works especially well for fashion, accessories, home decor and lifestyle brands. Businesses can leverage click-to-chat ads on Instagram to generate leads and initiate conversations with first time users. With a chatbot on Instagram Messenger, they can deploy journeys that can answer product queries, recommend relevant products, upsell and collect payments, thus leading to conversion. In addition to these, support via virtual agents can also be offered on Instagram which helps create great customer service experience. Thanks to all these benefits, Instagram is a great tool for brands wanting to increase returns on ad spends and improve customer satisfaction.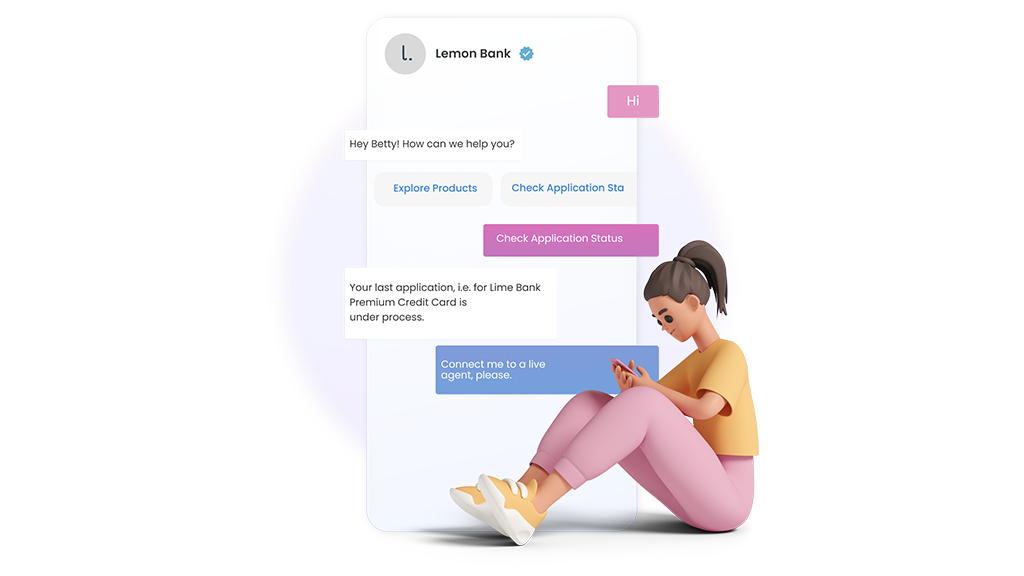 Facebook Messenger-Aside from being among the most used messenger apps for peer to peer conversations, FB Messenger is a great tool for conversational commerce. By using chatbots to offer promotions, discounts and product recommendations, brands can increase their conversion rates and boost sales. Facebook Messenger allows brands to respond to customer inquiries in real-time, which can lead to faster resolution of customer issues and more efficient customer service. This can also help brands improve their response times and increase customer satisfaction.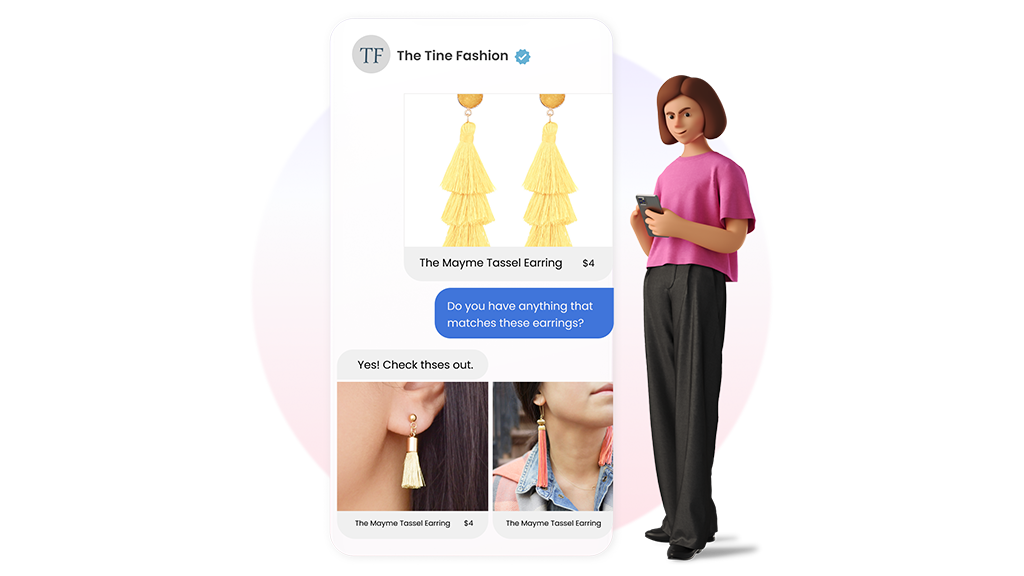 It's also easy to integrate these messaging apps with other systems and platforms, such as payment gateways, inventory management systems, and CRM software, making automation seamless and reducing the risk of errors and delays.
While messaging apps have the potential to revolutionize the way businesses engage with their customers, businesses should also ensure that chatbots are trained and programmed correctly to provide accurate and helpful responses.
Creating a successful Conversational Commerce Strategy
Be it chatbots on the web or messaging apps, a good conversational commerce strategy requires careful planning and execution. Here are some steps brands can take to create an effective conversational commerce plan:
Define your goals-Before implementing conversational commerce strategies, it's important to define your goals. Businesses can use Conversational Commerce to inform users about deals and discounts, send personalized recommendations, up-sell/cross-sell or get them to actually make a transaction. The customer journey in each of these cases is different, hence it's important to first zero on the intent.
Identify your target audience-Once you've defined your goals, it's also crucial to determine the right set of users who would be interested in what you're planning with Conversational Commerce. For example-  a set of users interested in deals and discounts may not necessarily prefer cart abandonment alerts. Each audience set is different and identifying the right set of people can help you tailor your Conversational Commerce strategies to meet their specific needs and preferences.
Choose the right medium–  Success in Conversational Commerce depends as much on choosing the right channel, as on the previous two factors. Brands should decide on a messaging platform that your customers are already using. This could be Facebook Messenger, WhatsApp, Instagram, or another popular messaging app. Consider the demographics of your target audience and local favorites while choosing a platform that is most popular among that group. In today's times, messaging chatbots are among the most popular, given the large number of users on messaging apps such as WhatsApp.
Select the right service provider-To implement Conversational Commerce, you will need a service provider with a platform that can help you launch chatbots and build campaigns. Gupshup is one such platform with a host of features for Conversational Commerce. With Gupshup's Campaign Manager, it's easy to plan, optimize and deliver commerce campaigns across channels, maximizing engagement and driving conversions. Brands can build customizable conversational journeys with Bot Studio and connect it with Agent Assist for live agent handover when needed. Further, brands in the BFSI space can leverage Gupshup's One Click Bill Pay to offer seamless payment completion facility to their customers on WhatsApp. Gupshup also supports Direct Connect APIs on WhatsApp allowing brands to add detailed catalogs, product search, pin code driven inventory and a number of other features that make buying on WhatsApp an enjoyable experience.
Integrate your chatbot with your e-commerce platform-To enable transactions through messaging, you will need to integrate your chatbot or customer service team with your e-commerce platform. This will allow customers to place orders and make payments directly through the messaging app. Here again, Gupshup offers best- in- class integrations with Shopify, Zoho, Zapier and a host of other e-commerce and CRM tools, so that you can amplify your reach and sales.
Promote your messaging channel-Once you have set up your messaging channel, it is important to promote it to your customers. Add a call-to-action button on your website or social media pages, and send out promotional messages encouraging customers to engage with your chatbot or customer service team.
Analyze and optimize-Finally, it is important to analyze the performance of your messaging channel and optimize it for better results. Use analytics tools to track customer interactions and identify areas for improvement, such as frequently asked questions that could be addressed more efficiently.
Some real world examples
While customer engagement through WhatsApp chatbots has been happening for several use cases such as promotions, recommendations, abandoned cart alerts etc, a number of brands these days are looking at WhatsApp as a channel for sale completion. Take for example D2C brand Wow Skin Sciences. Wow implemented a chat-to-cart journey with Meta and Gupshup wherein its users could check out products, build a shopping cart, finalize the order on WhatsApp and make payment.
More recently, Wow! Momo, a leading fast food brand built a WhatsApp ordering journey for its much loved product- Momos. Customers could simply go on WhatsApp, place an order and get Momos delivered to their homes. While these use cases exemplify purchase on WhatsApp, the messaging app can be used  across consumer stages- from pre-purchase, in-purchase to post purchase. Let's understand these with examples-
Pre- purchase– At this stage, customers may not have heard of your brand. Or even if they have heard and seen, they have not really been drawn towards your products. Businesses can use WhatsApp to build temptation for their products by sending promotional offers, cart abandonment notifications and back in stock alerts to build a strong consideration for their products.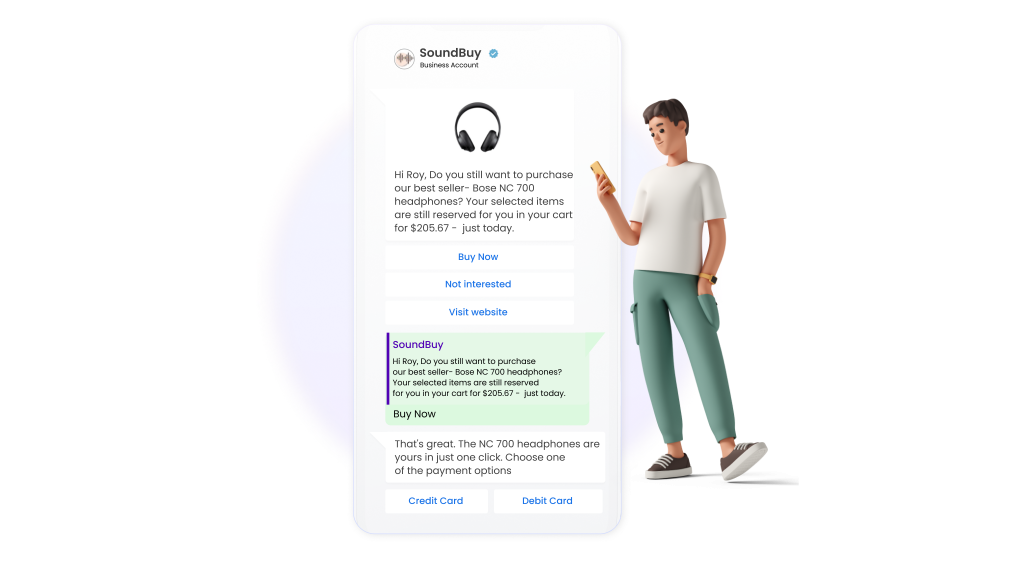 Purchase- Now that the customer has already considered your product, WhatsApp helps in making it easy for your customers to buy directly in the app. Businesses can send catalogs, product recommendations and payments, making it easier for customers to complete the transaction. The above examples of Wow Momos and Wow Skin Sciences are some cases where Gupshup has implemented a purchase journey on WhatsApp.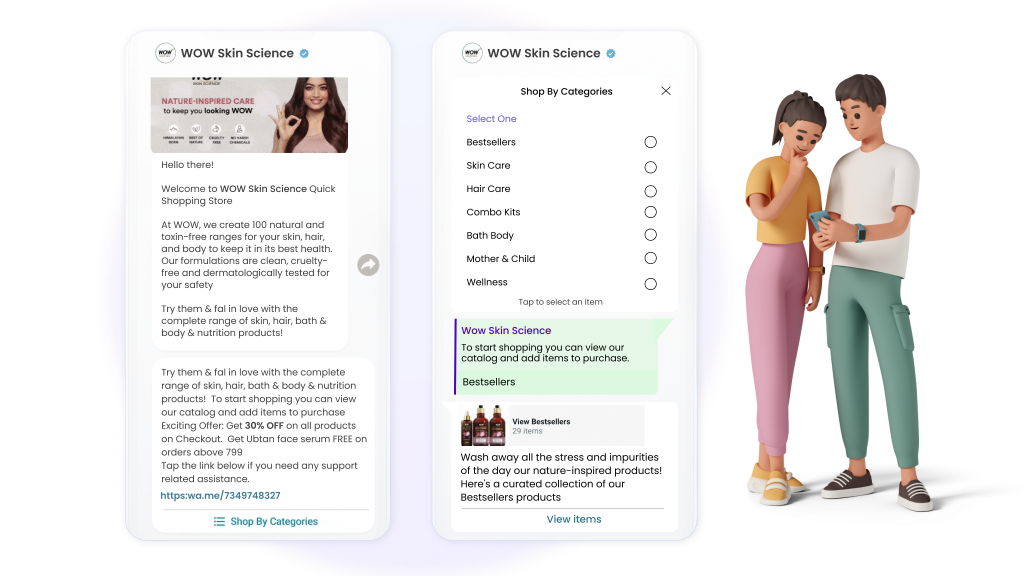 Customer interaction becomes all the more engaging with the progressive web app experience (PWA), a new feature which opens product categories, catalogs and payments without the need for any other app.But it's not just D2C brands or retail that can benefit from purchase within WhatsApp. BFSI brands  can avail Gupshup's one click bill payment by offering an integrated payment tab with the payment reminders.
Post Purchase–  Once the customer has bought the product, it's important to support them with order tracking, delivery updates etc. WhatsApp works effectively for gaining feedback, customer support, 24/7 replies, refunds/returns etc. Moreover with Gupshup's Agent Assist tool, businesses can easily build a chatbot to live agent handover when needed, which greatly improves customer satisfaction and loyalty.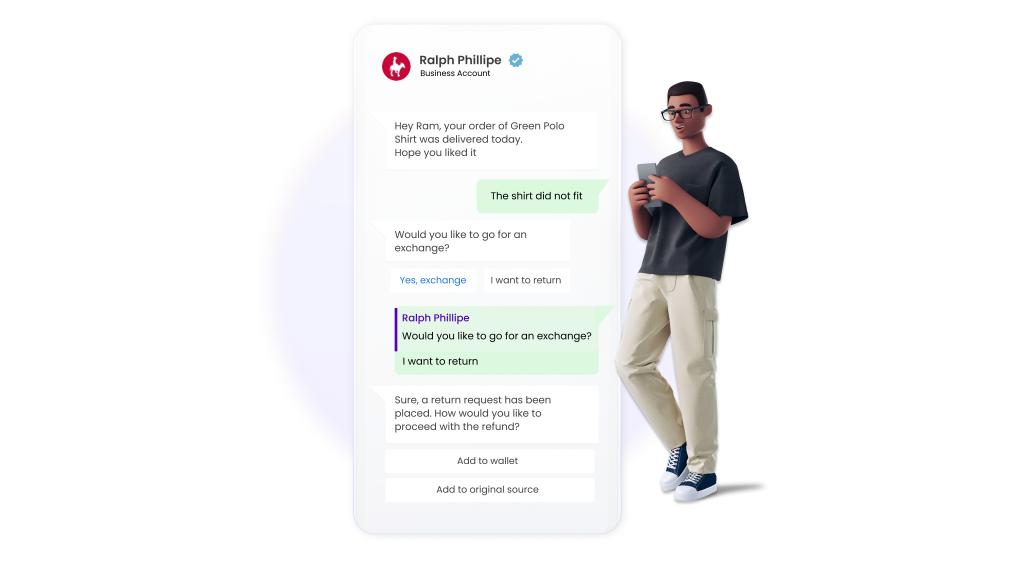 Future of Conversational Commerce
The future of conversational commerce looks promising, as more and more businesses adopt conversational technologies to engage with customers in real-time. With pandemic pushing the adoption of digital and usage of messaging apps, it's only natural that this new form of commerce will grow.
Thanks to cutting edge generative AI technologies, one of the most significant changes that we can expect to see in the future is the increased use of GPT-3 based chatbots in conversational commerce. Gupshup has already taken an early leap in the space by coming up with Auto Bot Builder, a tool to build GPT-3 based chatbots in minutes.
AIs the GPT-3 technology progresses, chatbots will become even more sophisticated, allowing them to understand and respond to customer queries with greater accuracy and efficiency. As a result, businesses will be able to provide more personalized and targeted shopping experiences to their customers.
In addition, we can expect to see the rise of virtual shopping assistants using augmented reality (AR) technology to provide customers with an immersive and interactive shopping experience. With virtual shopping assistants, customers will be able to see how products look and fit in real-time, without having to physically visit a store.
Furthermore, conversational commerce will continue to blur the lines between e-commerce and social media, as social media platforms like Facebook and Instagram continue to expand their e-commerce capabilities. Brands will be able to reach customers directly on social media and provide them with a seamless shopping experience without ever leaving the platform.
Conclusion
Conversational commerce opens up a new era of online shopping that combines the convenience of e-commerce with the personalized touch of one-on-one conversations. By leveraging chatbots on messaging apps brands can engage with customers in real-time, provide personalized recommendations, and guide them through the buying journey.
Gupshup's conversational commerce solution for WhatsApp is designed to be the new storefront for digital India. By integrating Gupshup's commerce solution for WhatsApp, brands can consistently stay in touch, increase brand recognition and recall, thereby improving the most important factor behind any business success – customer experience. Scale and grow your business on WhatsApp with Gupshup. Interested in exploring WhatsApp Commerce for your business?  #LetsGupshup to know more. Get in touch!