Guide to Conversational AI Chatbots and RPA Integration
On October 7, 2021
|
11 Minutes Read
Chatbots
Conversational AI
Generic
Integrations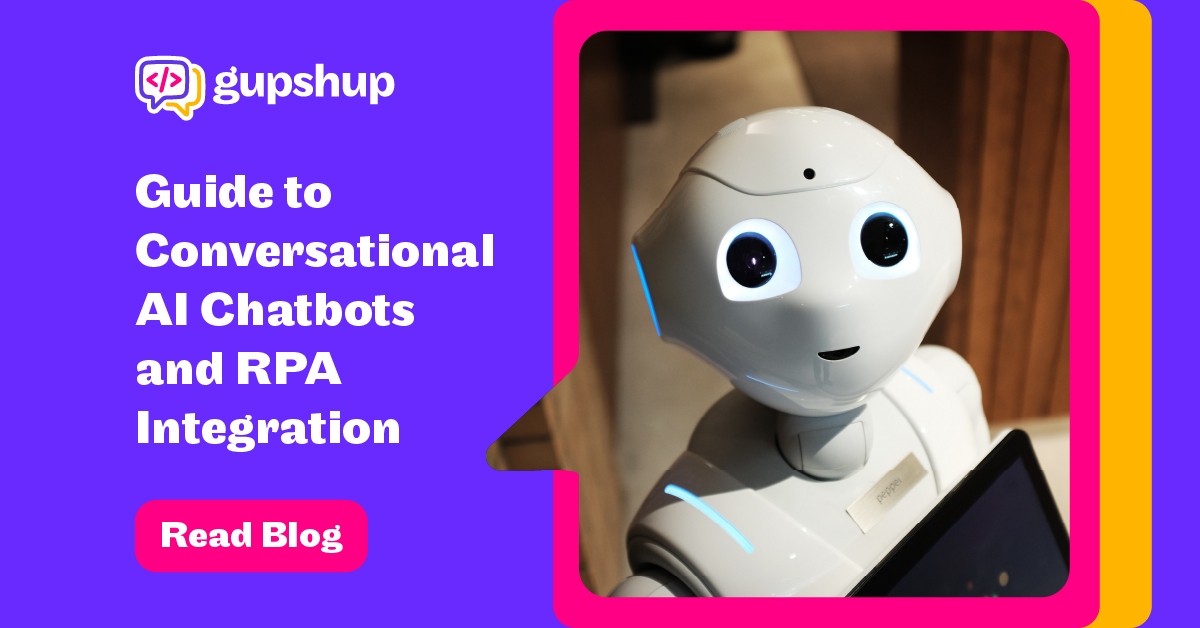 "Artificial Intelligence is a wide-ranging branch of computer science concerned with building smart machines capable of performing tasks that typically require human intelligence."
"Besides the cost and efficiency advantages, a couple of RPA's greatest benefits are often overlooked: its ease of deployment and the speed and agility it confers on the enterprise."
In a recent study, PwC called technologies like Artificial Intelligence and Robotic Process Automation software "smart automation." In another, it stated that by 2030, these technologies could boost the GDPs of local economies by up to 26% and contribute about $15.7 trillion to the global economy. It also believes that the net long-term impact of automation will be positive for the economy.
2030 is a few years away, but the benefits of RPA and AI are already well-known. By leveraging these technologies, organizations can enjoy advantages like more efficient and faster processes, more productive and efficient employees, fewer errors, and lower costs – all of which can translate into a stronger competitive position and a healthier bottom line.
By themselves, both AI and RPA are potent technologies with immense real-world potential.
What about the potential of the combination, i.e., of AI RPA integration? Is it even possible to integrate RPA and AI, specifically AI chatbots and RPA?
The short answer is yes, RPA and AI integration is very much possible!
Considering that both technologies are progressing by leaps and bounds, it makes perfect business sense for organizations to be more aware of the many possibilities of AI chatbots in RPA. And in this guide, we explain why.
We also:
Explore how integration between RPA Artificial Intelligence bots can work
Highlight the benefits of AI bot software in RPA
Unpack some popular RPA chatbot use cases
RPA Integration with AI Chatbots: The Dynamic Duo
In the 2019 Gartner CIO Survey, most CIOs said that chatbots – which use AI technology to mimic conversations in a human-like manner – were the main AI-based application used in their enterprises. Gartner also predicts that by 2022:
70% of white-collar workers (aka knowledge workers) will interact with such "conversational AI" platforms daily
and
85% of large organizations will deploy some form of RPA to achieve better business outcomes like "reduced costs, increased accuracy, and improved compliance."
Modern businesses already realize the massive potential inherent in these two AI-based technologies.
RPA involves designing and deploying software-based robots ("bots") that enable organizations to automate repetitive business activities, processes, and workflows. Unlike human workers, the bots in RPA systems can work 24x7x365. Thus, they not only bring in the power of time-saving automation, but they also bring continuity, error-free operations, and standardized workflows. These benefits empower firms to improve operational quality and continuity, strengthen competitiveness, and even realize their digital transformation goals.
Just like RPA, AI chatbots are also generating immense transformative value, especially in marketing, sales, and customer service in many industries. Powered by conversational AI technology, chatbots converse with customers to answer queries, search for and share information, send alerts or notifications, or even capture their requests to pass on to a team of human agents. In other words, conversational AI chatbots enable organizations to automate customer conversations by understanding, processing, and responding to human language inputs.
In short,
RPA Robots + Automation: Extract data and emulate human actions
Conversational AI Chatbots + Automation: Interpret and simulate human conversations
But what if these automation and conversational capabilities of AI-powered chatbots could be further enhanced – with RPA? Is it possible to create RPA+AI-powered chatbots?
Turns out – yes, it is.
If done well, RPA AI integration can take any automated process to the next level. By enhancing the automation capabilities of RPA with the cognitive intelligence of AI chatbots, the RPA and AI partnership can increase process productivity and efficiency, save time, and increase cost savings, revenues and profits. It also enables companies to deliver meaningful customer and employee experiences that generate greater value for all stakeholders and boost the value of their brand.
How RPA and Bots Work Without APIs
In general, conversational AI chatbots are front-end tools that converse with customers contextually, fluid, and human-like. Chatbots usually augment the capabilities of human support agents by taking over repetitive or simple queries, allowing agents to focus on higher-value tasks where their human capabilities are likely to create maximum value.
To provide customers with the right information at the right time, they usually access data from various enterprise systems and platforms, such as CRM, ERP, HRMS, helpdesk, Intranet, etc. For seamless access and information-sharing, APIs connect these systems to the chatbot.
For legacy systems where APIs are not available, chatbots and RPA work together.
The RPA and AI integration create powerful synergies. An AI/RPA-powered chatbot can integrate with multiple back-end enterprise systems even without modern APIs. Thus, the lack of API does not stop the AI chatbot from accessing the information it needs to converse with customers – thanks to RPA. RPA works in the background and integrates with multiple legacy systems in the back end to retrieve the relevant information and pass it on to the chatbot, who can converse with customers. This AI/RPA integration enables the chatbot to carry on even complex customer conversations in real-time and at scale.
Users/customers can also trigger RPA and bots in the back end to perform specific tasks through the front-end chatbot without any human intervention.
Benefits of RPA Integration with AI Chatbots
This cutting-edge arrangement combines the automation capabilities of RPA with the cognitive, conversational, and self-service features of an AI chatbot. Customers get the information they need quickly through the chatbot in plain language without having to go through multiple human agents, explain their request multiple times, or be put on hold while "someone" looks for their information.
Automate Different Kinds of Conversations

With the AI chatbot at the core and the RPA bot running in the background, the organization can easily and scalably automate all kinds of conversations between people and robots, including Q&A, alerts and notifications, form submissions, reporting, task/request tracking, etc.

Saves Time for Agents

Agents don't have to open or manage multiple enterprise applications or systems to look for customer data, copy information, fill out forms, etc. Instead, they can ask an RPA robot to take over certain conversations or queries using a simple window and plain language. Thus they can "delegate" many conversations to the chatbot. This saves them time and effort and increases their productivity and efficiency.

Improved Customer Satisfaction and Better Customer Experiences

AI RPA integration also improves customer satisfaction since they get speedy, relevant responses through a simple, familiar interface that reduces hassle and friction and increases convenience. Moreover, bots and chatbots working tirelessly together allow human agents to free up time to have more meaningful conversations with customers where automation is inappropriate or inadequate. This human-machine partnership enables the organization to meet customers' new demands better.

More Sales, More Profits

RPA bots can leverage machine learning to gather and analyze large customer data about their demographics (e.g., age or gender), purchase history, or prior interaction history. They can then extract meaningful insights from this data to send personalized, contextual, and timely up-sell or cross-sell offers to customers. This is a great way to show customers that the brand already knows their preferences and needs and thus gently guides them towards repeat or higher-value purchases.

Advanced Chatbot Capabilities

AI chatbots can carry on customer conversations thanks to capabilities like Natural Language Processing (NLP) and Natural Language Understanding (NLU). They can answer simple Q&A-type questions and retrieve data based on specific customer inputs. But with RPA bots, AI chatbots can also:

Answer conversion-based Q&A
Get more profound and more detailed customer insights with intelligent analytics
Recognize patterns and trends to improve their conversational capabilities
Nurture more meaningful customer relationships through contextual, personalized conversations with every interaction
5 RPA Chatbot Use Cases
Conversational AI chatbots are particularly useful in customer interaction-intensive industries such as:
Insurance
Banking
Other financial services
Travel
Consumer goods
Healthcare
Telecom
Energy
Entertainment,
Among many others.
RPA bot automation is driving new efficiency, productivity, and cost savings by helping to automate repetitive processes in many of these same industries.
This is why these industries are perfect candidates for AI RPA integration. Here are some use cases where RPA and AI integration work well together.
Insurance Claims Processing

A customer can reach out to the insurance company via a conversational AI chatbot to file a claim. The bot can converse with the customer to gather information and documentation related to the incident. It also integrates with the back office claims management system to access the customer's policy information.

Then RPA bots step in to help the insurer validate and process the claim, and review policy status and eligibility, either accepting the claim and processing the customer's payout or rejecting the claim and providing a reason. The RPA bot automatically goes through multiple business rules, workflows, and systems to ensure that claims are processed with high speed and accuracy. Thus, the conversational chatbot and the RPA bot work together to automate claims processing with very little human intervention required.

Bank Loan Application

Conversational AI chatbots and RPA bots also play a combined role in processing mortgage, credit card, or loan applications. When a customer initiates an application on the bank's online portal or mobile app, the AI bot gathers all required information and documents. It then passes it all to the back office for processing.

The RPA bot automates the appraisal and validation steps (e.g., credit checks) and speeds up the loan approval/rejection process. Meanwhile, the conversational bot keeps the customer appraised on the loan process and converses with them when additional information is required.

In the banking and financial services sectors, AI/RPA integration is also suitable for other use cases like:

Cheque book delivery
Regulatory compliance
Anti-fraud
Anti Money Laundering and Know Your Customer (AML/KYC)

Customer Engagement

Unlike human agents, both conversational AI chatbots and RPA bots can work 24×7 without a break and any errors. The chatbot can converse with customers at any time, no matter where they are, to answer their queries and resolve their challenges. As required, it can talk to the RPA bot in the background to retrieve specific information and then present it to the user in simple, human-like language that flows fluidly and incorporates the right context.

So whether the customer needs to order something, submit an application, wants information about fulfillment and delivery, or needs help with account onboarding, renewal, or closure – the chatbot/RPA bot combination can work wonders to enhance their satisfaction and improve their experiences at any point along their brand journey.

Employee Engagement

Most organizations now realize that happy customers start with happy employees, and AI/RPA integration can help with both. An internal AI chatbot can converse with current employees and help them with a wide range of queries, including queries related to:

Payroll
Benefits
Training and development
Vacation
Expense management
Leave travel allowance
Time management and scheduling
Knowledge management
Helpdesk and IT support
Exit management,

And much more.

The employee has to input their query into the front-facing chatbot to understand their language, extract meaning, and then coordinate with the RPA bot to retrieve the relevant information and present it on its simple, low-friction interface.

HR Recruitment/Virtual Assistant

For a lot of HR professionals, resume reviews and candidate screening are time-consuming, mind-numbing tasks. The AI chatbot and RPA bot can take some of the burden off them by automating tasks like:

Resume filtering
Candidate screening
Online video interviews
Face-to-face interview scheduling
Recruitment status
Remote onboarding,
Etc.
They can thus save a lot of time on repetitive tasks where their inputs are not required and focus on the more critical tasks where they are.
Conclusion
As we have already seen, there is immense potential in combining bots in RPA with AI chatbots. However, both technologies are still evolving, so the potential for making mistakes is also high if organizations attempt the integration project in-house. To get the best possible results from an AI RPA Integration project, it's best to work with a partner who has expertise in conversational AI and RPA technologies.
A partner like Gupshup brings advanced skills in both areas of automation and the right infrastructure and tools to create AI chatbots as well as RPA bots that perfectly complement each other for any specific use case. With our bot development services, bot builders, and conversational marketing capabilities, we have helped many organizations integrate AI chatbots and RPA to improve operational efficiencies, increase productivity, reduce costs, and enhance customer experiences. Contact us to know how we can help leverage the power of AI/RPA integration for your organization.
Blogs you will want to share. Delivered to your inbox.
Business Email
×
Read: Why RCS Business Messaging Outperforms SMS?