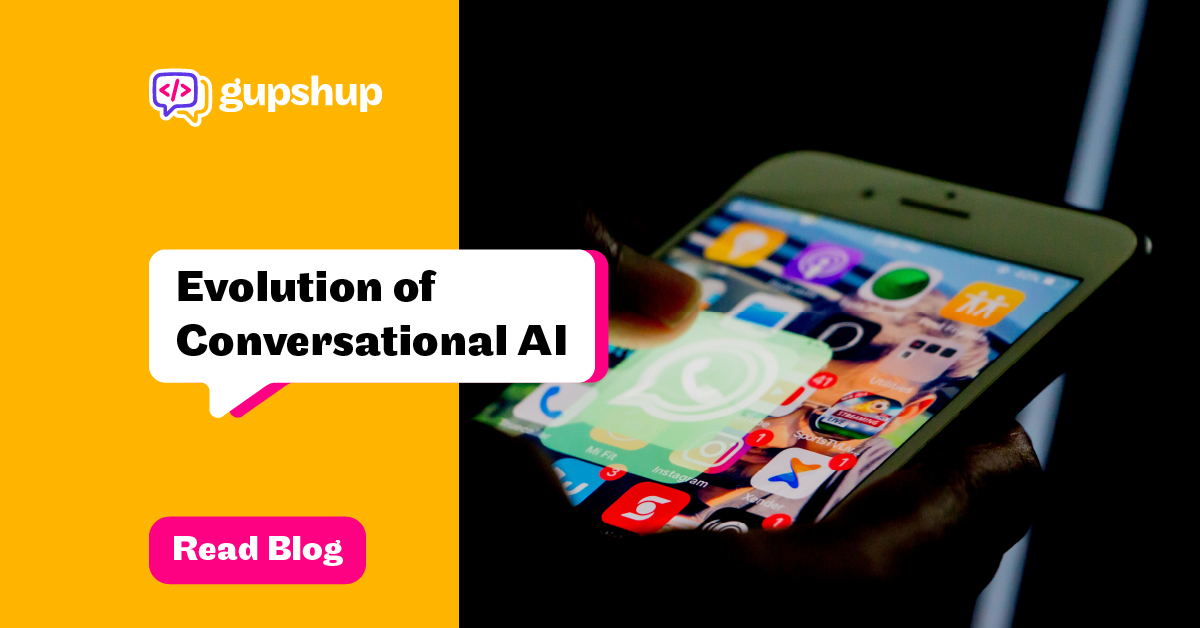 Evolution of Conversational AI
Conversational AI, Generic
On September 28, 2021
Customers' expectations for better service continue to rise, and the quality of your customer service can make or break your business. So, why are these expectations increasing? Understanding the root causes will always help create an effective solution. Here is the backstory.
2020 highlighted the importance of customer service as brands worldwide faced numerous calls from their distressed customers. There was also a widening range of issues, thanks to the disruption of their operations. Customer care was tested like never before during the global pandemic, and brands were pushed to try new ways to enhance the digital experiences for their current and prospective customers. More than the products and services, the customer care offered by the brand defined customer acquisition and retention.
The Burden of Choice
Sometimes, having too many choices can cause more confusion than convenience. Brands realized they were struggling to create customized journeys, as endless options only led to the customer making relatively poor decisions, causing dissatisfaction and abandonment of the brand altogether. This is where a personalization pulse check comes into play.
Personalization Pulse Check
As brands were hit by the sudden demand for good customer care, they calculated the personalization pulse check to humanize their customers' digital experience. Many companies began to move from transactional messaging to conversational messaging for better personalization. The biggest challenge in meeting their needs was understanding their unique demands and how to meet them without adding undue stress to the business and the employees.
Demand for Personalization
91% of consumers are more likely to shop with brands that recognize, remember, and provide relevant offers and recommendations. (Accenture)
This data is more than sufficient to prove that personalization is a critical component in every brand's strategy. People do not mind being interrupted by online marketing if the message is relevant to them. This is because the process gives the customers exactly what they are looking for, and they can make informed decisions based on relevant data. Personalization meant increased relatability and engagement for the marketing department, thus driving trust, sales, and customer loyalty. Instant messaging became vital. The point that drove home was – Businesses need to humanize the digital experience by moving from marketing communications to conversational messaging.
Conversational AI: Concept, Evolution, and Significance
Feedback from the customers provides invaluable insight into their geography, demographics, preferences, and motivation for interacting with the brand. Bringing that information to the table proves critical to marketers, as it helps them improve their offerings and connect clearly with their existing and potential customers.
Unfortunately, customers do not have the desire or patience to wait for their doubts to be clarified. They need their purchase-related questions answered immediately. This was neither practical nor possible for the brands. Thus was born Conversational AI.
83% of consumers are willing to share their data to enable a personalized experience. (Accenture)
Conversational AI: Concept
Conversational AI is the application of technology to communicate and converse with existing and prospective customers. Chatbots or virtual agents play a crucial role in conversational AI. Using emerging technologies such as machine learning and natural language processing, AI imitates human interaction, recognizes speech patterns and text inputs. Then, by storing and analyzing the conversations between the bot and the customer, action-oriented meaning is derived, based on which steps are taken to convert the user into a long-term customer.
With synthetic brainpower to enhance the machine's processing and responding to human messages, conversational AI blends natural language processing with traditional software such as chatbots to bring about intelligent, automated interactions.
Conversational AI: Evolution
The terms chatbots and conversational AI are often interchanged, but they are not the same thing. But it does not mean that they are not related. Computer programs that 'chat' with the visitor is known as 'chatbots.' They are rule-based or flow-based and operate via a chat interface on either a web browser or an app. They replicate the pre-written answers and cannot deviate from them to respond accurately if the questions do not match.
This proved to be a spanner in the wheel as customers were not satisfied with the automated responses received. Thus came the evolution of conversational AI. The need for intelligent and personalized answers created a host of AI-based technologies to empower computers to converse in an 'intelligent' manner. Natural language processing, machine learning, and intelligent analysis are examples of such technologies.
NLP: It empowers machines to understand what is spoken by humans in their natural language.
ML: It empowers machines to learn from these interactions and better the conversations.
Intelligent analysis: It empowers the machines to analyze the given information and provide suggestions for better communication.
Before machine learning became part of the strategy, the evolution of language processing was the journey from linguistics to computational linguistics. Statistical NLP was the final step. With deep learning, NLP possessed realistic comprehension of what transpired between the brand and the customer. Instant messaging became critical to enhancing customer experience, and Conversational AI evolved to deliver the same.
Conversational AI: Significance
With the ability to improve with experience, conversational AI analyzed how potential customers would decipher and interact with the brand and the primary clarifications to be made. Using frequently asked questions, keywords were targeted and worked on to enhance customer experience. With these elements, brands could create meaningful conversations using AI to collect relevant information.
54% of customers make purchasing decisions based on customer service; for 19%, it's the single most crucial factor when deciding which companies to patronize. (Forbes)
Communicating with the Customer: Benefits
Customers, especially during challenging times like today, are more likely to stay with the brand they trust, especially when there are unpredictable changes in the market. This trust is built when the brand makes an effort to regularly communicate with the customer, help introduce products/services to new customers and assist with the decision-making process for the existing ones.
Conversational AI has proven to be a truly beneficial way of bringing personalized experiences to the customer. Communicating with the customer using Single Messaging API for engagement across channels has the following benefits:
Cost-effective
Relevant marketing
Scalability
Increased customer engagement
Enhanced sales
Customer Satisfaction with a Meaningful Customer Experience
Conversational AI can improve the quality of service, efficiency, and customer journey with the correct information. By assigning repetitive tasks to artificial intelligence, brands have embraced not only a cost-effective solution but also reduced possible human error and improved customer's decision-making process. When customers connect with human-like bots and get their doubts clarified instantly, an enriched and meaningful customer experience is delivered. With increased accessibility and enhanced productivity, brands are slowly moving towards conversational AI as the first level of customer care.
Enhancing Customer Experience with Conversational AI – Gupshup
Conversational AI is evolving continuously and plays a crucial role in assisting brands with various interactive functions. With an increased quality of interaction and information, seamless communication and a smooth customer experience are formed.
Gupshup, one of the foremost leaders in the space of conversational AI, enables you to converse with your customers on their preferred messaging platforms and collects valuable information that helps you understand their requirements better. With brilliant customer experience, a critical component of your sales and marketing, Gupshup provides you with a world-class bot-development platform that you can run anywhere, anytime.
Personalization is all about delivering the correct conversational messaging at the right time on the right platform to the correct receiver. It should also resonate across all marketing channels. Smart messaging is the key. Change the content based on who you are talking to, and see the difference between the much-needed digital experience and your customer acquisition & retention rate. Experience the magic with Gupshup.
Blogs you will want to share. Delivered to your inbox.
Recommended Resources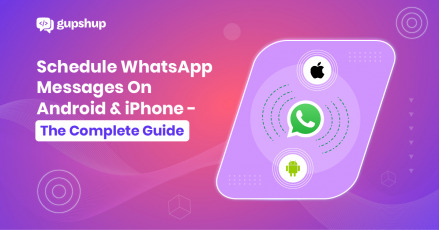 Read our blog to learn how to schedule WhatsApp messages on Android and iOS with simple...
Conversational AI can improve media consumption by incorporating chatbots throughout the consumer journey.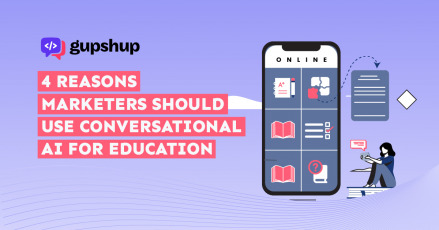 Read this blog to learn how EdTech players can leverage conversational AI to expand their reach...
×
Read: WhatsApp for Education – A Complete Guide