How Has Conversational AI Revolutionized the Real Estate Industry?
On September 14, 2021
Conversational AI
Conversational Commerce
Conversational Marketing
Conversational Support
Real Estate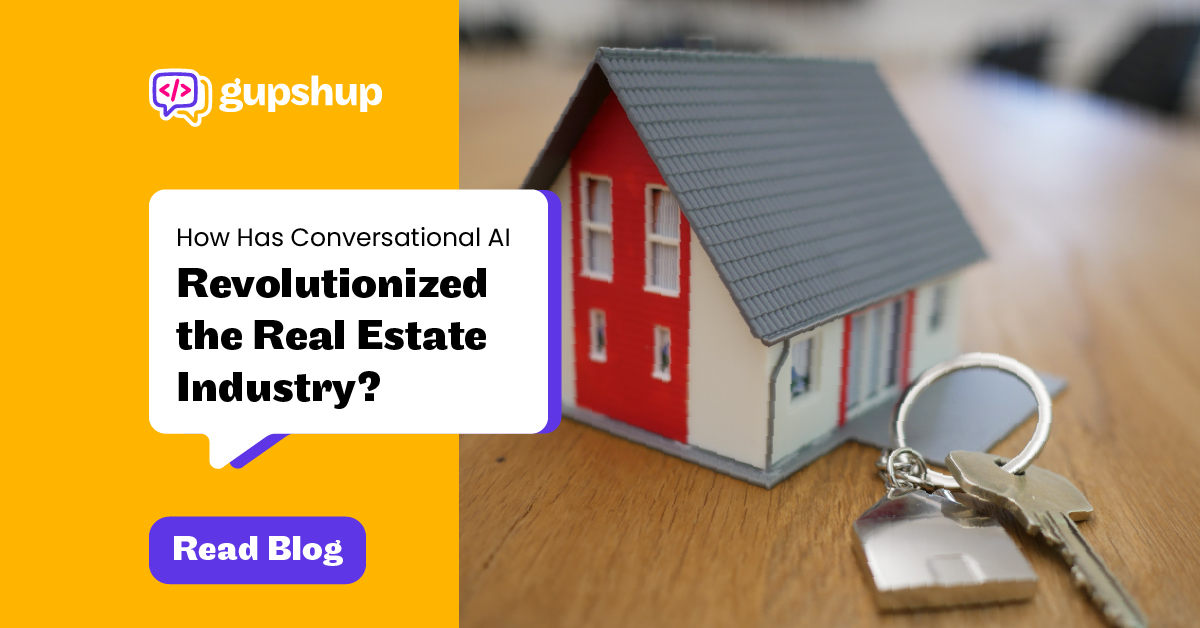 With refurbished technologies and ever-growing digitalization, the real estate industry faces constant changes. It becomes challenging to cope with enhanced customer expectations for high-quality services with an ever-increasing workload. Although nearly every industry employs chatbots today, it takes much more for a real estate industry to provide such unrestricted functionality.
Conversational AI (Artificial Intelligence) offers virtual assistants diverse capabilities and acts as a virtual interface in the real estate ecosystem. Let's discuss how conversational AI leverages customer service efforts and how to make the most of it in the real estate business.
What is Conversational AI?
Conversational AI is a set of technologies, such as virtual voice assistants or chatbots, which a user can speak to. They help overcome the pain points in customer communication by combining large datasets, natural language processing (NLP), and machine learning to emulate human interactions, recognize text inputs, and translate their meaning into multiple languages.
Conversational AI NLP continuously upgrades the AI algorithms to process, understand, and generate a response. NLP works in the following four steps:
Input Creation: Users first provide a voice or text input through an app or a website.
Input Analysis: The conversational AI will get to decoding the meaning of the text-based input. A speech-based input will use automatic speech recognition (ASR) and Natural Language Understanding (NLU).
Output Production: Natural Language Generation (NLG) will then derive a response.
Reinforcement Learning: Machine learning algorithms will then refine responses for better accuracy.
How Has Conversational AI Aided the Real Estate Sector?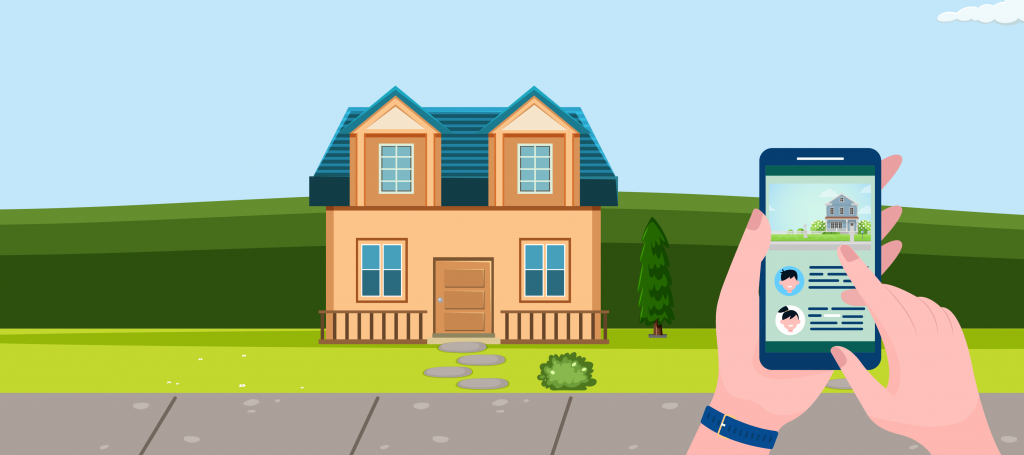 Let us now understand how a real estate company can benefit from using conversational AI with powerful chatbots.
Improving Efficiency
AI chatbots can address customer needs in today's competitive real estate market. AI chatbots incorporated on a real estate company website can answer prospective customer's questions, help them search for properties, and solve browsing-related issues. These virtues reduce operational time, acquire more deals, and boost sales that ultimately enhance efficiency.
Collecting Leads
It is almost impossible for any realtor to answer every call. However, most homebuyers prefer realtors who answer their queries within the first five minutes. An AI chatbot works non-stop and can then act as a customer support agent. It can answer FAQs, take contact information, and promote offerings automatically. A Forrester report says that 63% of customers return to a website with in-built live chat support, consequently increasing leads.
Making Recommendations
AI chatbots can search a database and recommend a customer looking for a property within seconds by extracting information on properties aligning with the customer's needs. One can also automate AI chatbot tools to follow up with customers by sending them reminders and notifications based on their property tours.
Increase Website Engagement
Websites with in-house AI chatbots can increase potential real estate sales. A WebFX report says that 38% of people stop engaging with an unresponsive website. A potential buyer wants to feel comfortable and not out of place when visiting a website. Swift navigation and quick query resolution increase the chances of visitors turning into leads. Almost two-thirds of customers would prefer a company that offers messaging as a communication channel.
Virtual Property Tour
The bot can conduct a virtual home tour for a prospective buyer and introduce the real estate agent. The sales team can then operate from there. When the prospects are too busy to visit the property, real estate chatbots can give them a virtual tour, so they know the basics of the property before scheduling a visit to the site.
Cost-efficient
Customer assistance with conversational interfaces reduces business costs in training, especially for small- or mid-sized real estate companies. AI chatbots can respond immediately by being available round the clock for potential customers. Moreover, buyers are always looking for information on properties, which can be repetitive. Businesses can program conversational AI to handle such cases with ease for a consistent customer experience.
Scalable
The conversational AI chatbots are NLP-powered and support personalized conversations and customer intent analysis to ease customer choices for capturing the leads. They can perform all these functions without any human intervention. The scalability and personalization that chatbots offer enhances the buyer's interest in availing your services.
Real-Life Examples of Conversational AI Implementation
Conversation AI is a lucrative technology that enterprises can use to gain more profits. These are some of the real estate companies using conversational AI in the form of an AI chatbot.
AI chatbots can answer FAQs for topics such as property availability, send personalized suggestions, and change the way people think about customer engagement across websites and social media with virtual assistants. An online real estate enterprise uses a hybrid model to engage visitors and convert them into customers Using chatbots.
An Iowa-based company has actively offered optimized real estate scripts for engaging with buyers, sellers, and investors and converting more leads to customers.
A US-based real estate enterprise offers affordable AI chatbot solutions to help real estate companies increase revenue, reduce costs, and raise user engagement.
A Canadian real estate company's chatbot solutions schedule appointments with online leads via text message within 2 minutes and work 24/7. It is a perfect solution for veteran realtors looking to automate chats and follow up with qualified leads.
Closing Thoughts
In this article, we have discussed one of the path-breaking technologies helping the real estate industry level up by grossing sales. We also understood how a conversational AI chatbot is different from a standard chatbot and how it overshadows the latter. Many enterprises have been employing this AI technology to reap maximum benefits.
Chatbots are gaining prominence with AI incorporation in organizational chat solutions. By balancing AI-automated answering and in-person interaction, residential and commercial agents can use conversations to boost client satisfaction and improve closing rates. Conversational AI plays a significant role in conversational marketing. To learn more, visit gupshup.io. You can also book a demo by contacting us.
Blogs you will want to share. Delivered to your inbox.
Business Email
Recommended Resources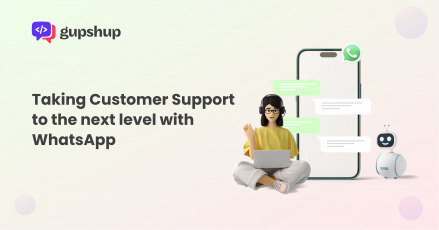 Discover how WhatsApp is revolutionizing customer support, providing a seamless & efficient communication channel to elevate...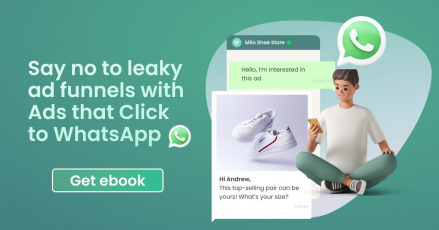 Read the eBook by Gupshup to uncover you can increase your return on ad spends by...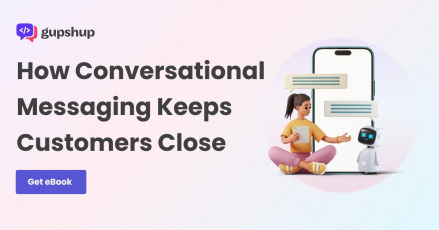 Read the eBook by Gupshup to uncover how businesses are becoming conversational and are leveraging AI...
×
Read: Difference between Conversational AI Support and IVR