Innovative RCS Solutions Exhibited At MWC 2022
On March 21, 2022
Conversational Engagement
Generic
RCS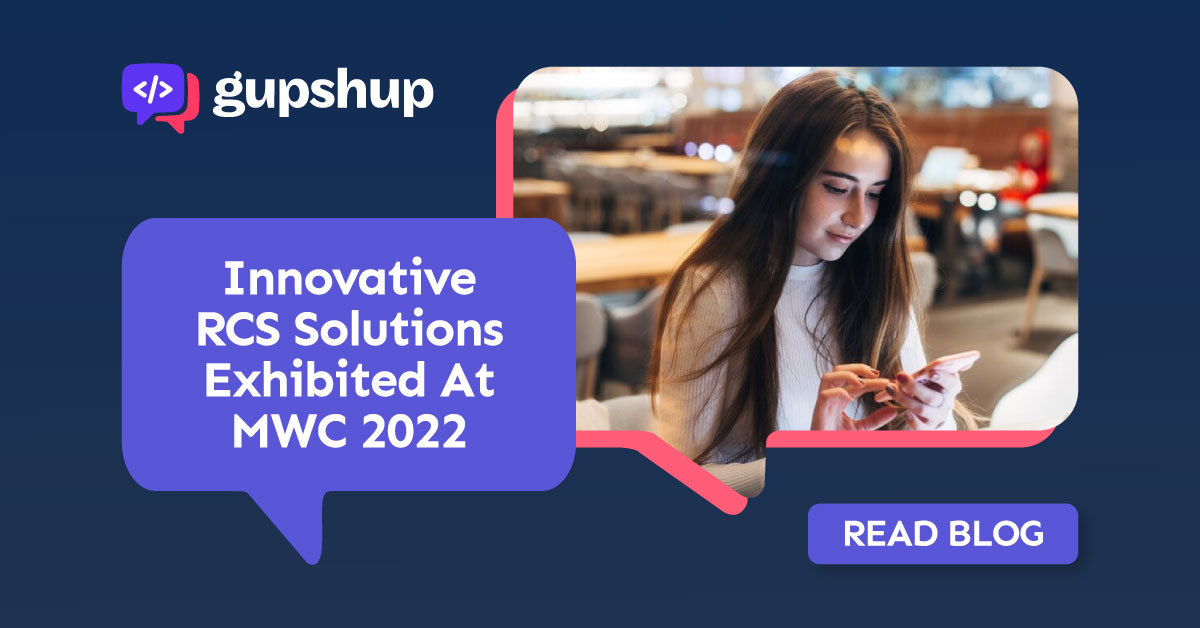 Mobile has been at the forefront of innovation for over three decades. MWC 2022 was built upon revolutionary successes, evolving technology and looking forward to a future that early tech pioneers could never have dreamed of.  There is no doubt that it is world's largest and most influential mobile conference showcasing innovation in technology – the connectivity industry offers new opportunities, new revenue streams, new landscapes, and even new vocabulary.
Attended by more than 61,000 attendees from over 183 countries worldwide, this year's MWC unlocked the full power of connectivity, and we were elated to have showcased some of our path-breaking innovations in the conversational engagement space at this event.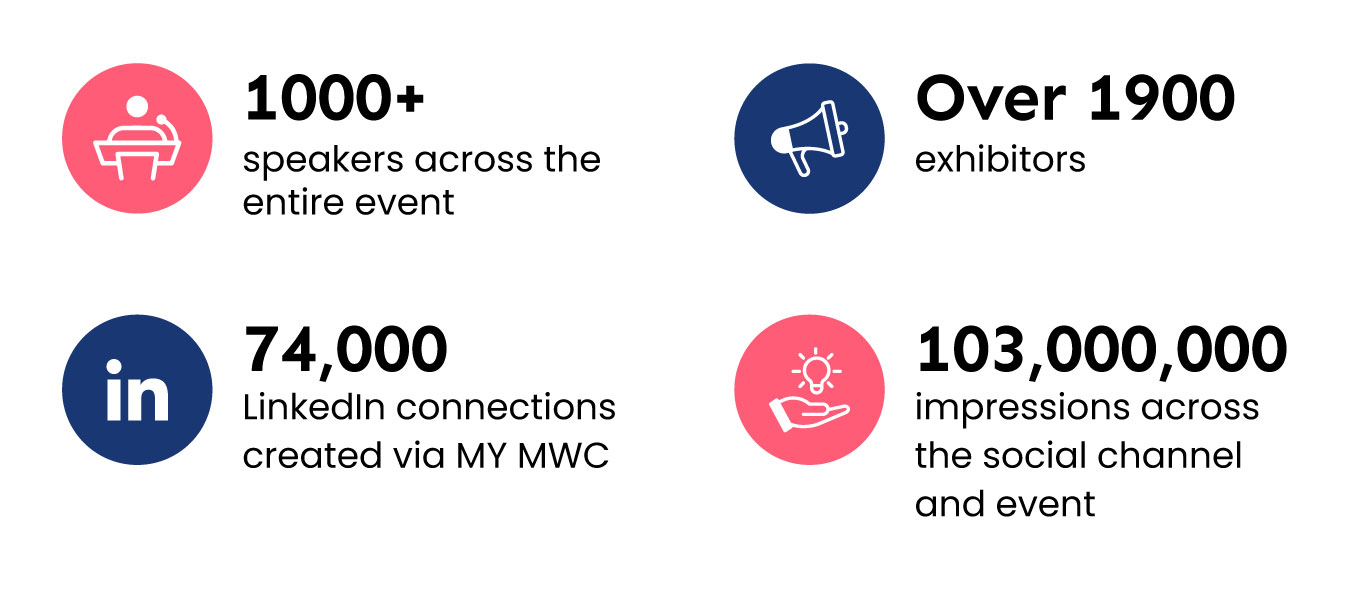 Gupshup started MWC 2022 with a big announcement of unveiling its new brand identity which was undertaken to reinforce it's vision of transforming the future of business-to-customer conversations and commerce through conversational engagement. Gupshup's booth CS202, reflected the new look and feel where several demos of the coolest WhatsApp, Instagram, Voice and RCS bots were done.
RCS has gone through several recent developments and is emerging as one of the fastest growing messaging channels. This year some interesting RCS related launches took place at MWC such as that of the Universal RCS, which is set to drastically increase the RCS adoption globally and extend its reach to every mobile user.
Our 3 Key Exhibits At The Event
1. Demonstrated Industry-leading RCS Solutions
For those of who are new to RCS – it stands for "Rich Communication Services" and is an IP messaging channel that supports two-way exchange of messages with audio, video, carousels, suggested actions and many more rich media. It is part of the 5G standard and is set to grow to $4.4 billion market by 2025. Dotgo (a Gupshup company), being a leader in RCS space, has been exhibiting its RCS solutions at MWC over the last few years. This year the focus was on the following products:
Dotgo MaaP
Dotgo MaaP (Messaging-as-a-Platform) is a cloud communications platform that enables mobile carriers to send RCS messages and offer an upgraded messaging experience to all it's subscribers. Dotgo MaaP platform is integrated with the Google Jibe RCS platform and is bundled with Dotgo's Managed services to enable a carrier to start monetizing RBM quickly. You can also hear what Google has to say about Dotgo MaaP here. It was also a runner up under the "Global Connectivity" category at this year's MEFFY awards.
Universal RCS
Launched at MWC 2022, Universal RCS helps businesses extend the reach of RCS messages to devices that are not RCS-enabled (such as the iOS ones). We displayed this with the help of a few live RCS bots built by us, like:
Orange Célébrité
Orange, a leading telecom operator in Europe, Middle East, and Africa, created a celebrity-fan engagement bot that allowed users to connect with their fans through text or audio – by using the RCS channel.
Welcome to RCS
This bot introduces users to RCS and its capabilities. Users can learn to use the RCS features of the Messages App – chat with their friends; send images, documents, videos; and to create groups.
9mobile Enin
Enin, used RCS, to enable 9mobile customers to make airtime and data purchases, avail offers and bonuses, all by tapping a few buttons in the native messaging app. Customers could also access their transaction history through the Enin chatbot.
RCS Campaign Manager
This is our latest solution for creating RCS campaigns on the fly. See Alex Nourouzi, Director – Carrier Sales Europe and Ravi Mehta, Director – Director – Sales do a live demo of campaign management using rich messaging via RCS.
Bot Store
Bot Store is the world's largest, and the sole open directory of RCS and WhatsApp chatbots. Brands can leverage for greater ROI by increasing the visibility of their RCS and WhatsApp chatbots. This directory can be leveraged to increase accessibility of bots to customers and establish instant connect with them from every part of the world. Bot Store was also a runner up under the "Content & Advertising" category at MEFFY Awards 2022.
2. Launched RCS Whitepaper


Another massive hit was the  launch of our latest RCS white paper titled "How is RCS Revolutionising Business Messaging?" – it is a comprehensive guide on RCS targeted to enterprises and to anybody who wants to know more about this messaging channel. This paper includes a foreword from the CEO of Mobile Ecosystem Forum, Dario Betti, and quotes from Co-Founder & Chief Insight Analyst of MobileSquared, Nick Lane. You can read the full white paper here.
3. Presented At MobileSquared Event
MobileSquared, a highly recognised analyst firm in the messaging space, held an event on "Transforming $20 billion messaging industry into a trillion $ behemoth" where Dr. Inderpal Mumick, EVP Gupshup, presented ways in which popular messaging channels such as RCS, WhatsApp, Instagram and Google's Business Messages are enabling Conversational Engagement for mobile operators, aggregators, and brands.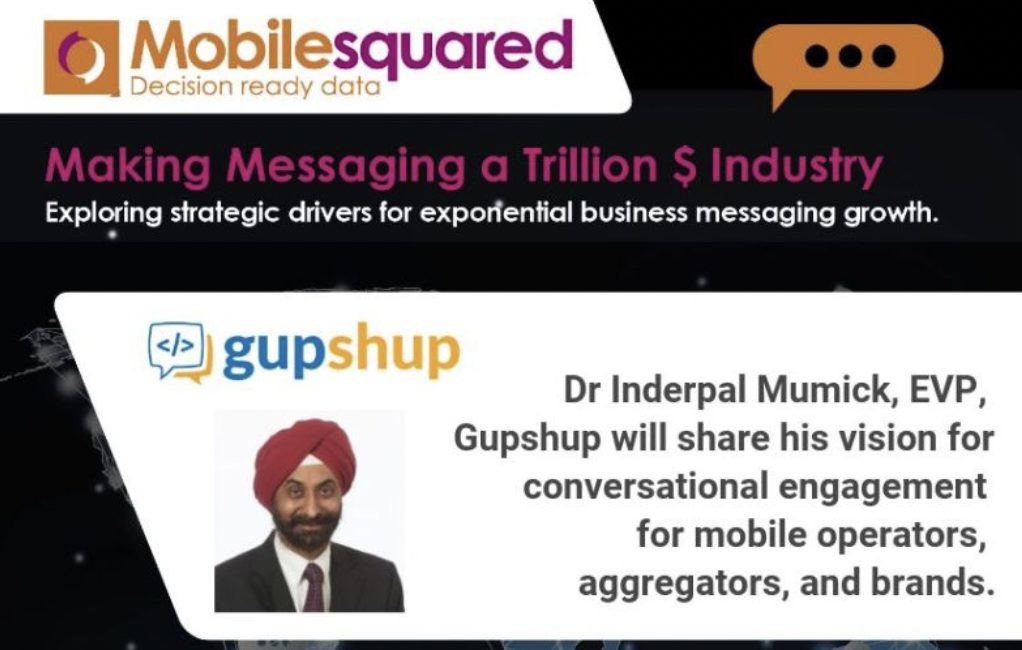 Key Takeaways
With more than thousands of connections, hundreds of one-on-one meetings, and many demos, Gupshup really made a grand debut at MWC this year. Several interesting presentations, discussions and interviews were done on how conversational engagement has become a key to offer enhanced customer experience, and in particular RCS as a messaging channel, which is not only here to stay but to grow exponentially over the next few years.
Blogs you will want to share. Delivered to your inbox.
Business Email
Recommended Resources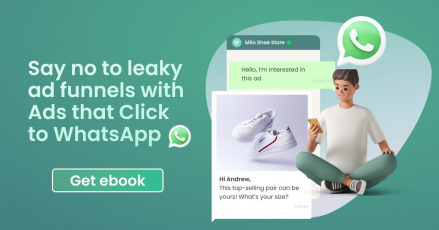 Read the eBook by Gupshup to uncover you can increase your return on ad spends by...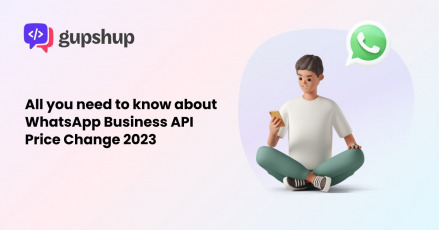 Learn about WhatsApp Business API's new value-based pricing and all the new features to look forward...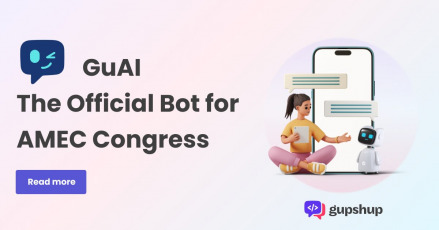 GuAI, the virtual assistant of AMEC Congress, enables attendees to interact with speakers and sponsors, access...
×
Read: 5 Ways To Enhance Employee Experience Using Conversational AI