WhatsApp Chatbots For The Supply & Logistics Industry
On January 12, 2022
Chatbots
Logistics
WhatsApp Business API
WhatsApp Commerce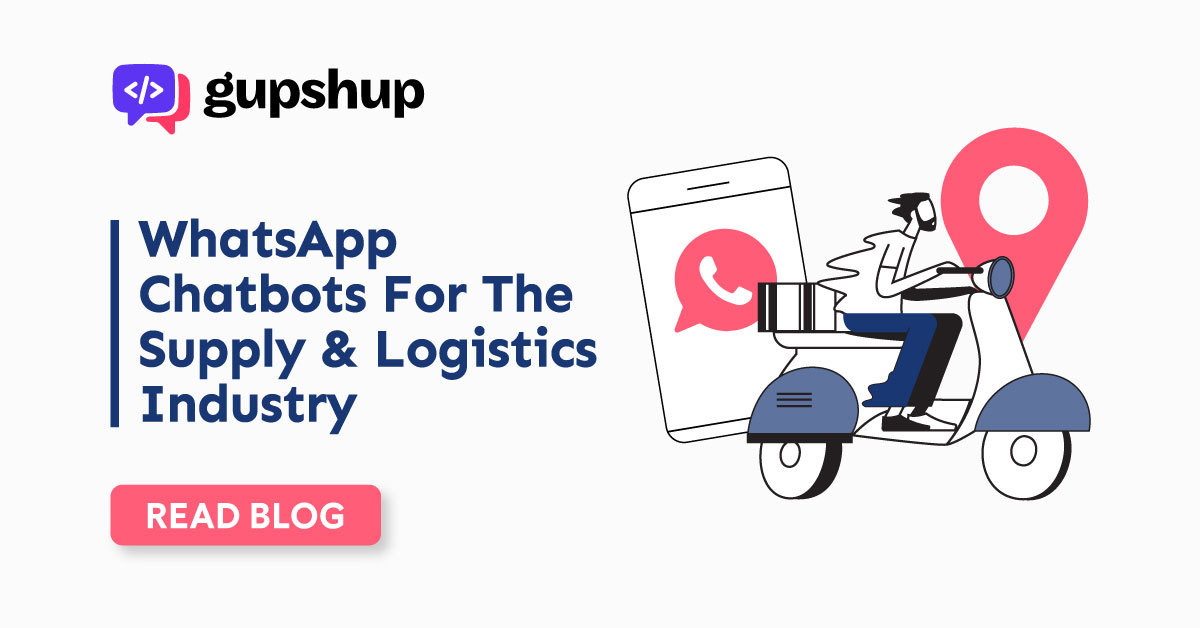 Softwares with automated updates are changing the way users communicate via technology. An industry which is growing leaps and bounds is the supply and logistics industry. According to ICRA, the Indian logistics sector will grow 8-10% annually, surpassing the five-year CAGR that preceded it.
The demand for auto-updated software and 24*7 customer assistance at an affordable price is driving the increasing need for chatbots. Additionally, digital assistants' learning algorithms to develop human-like conversational experiences is now a core competency that many top companies need in order to streamline their support procedures. A report by MarketsandMarkets on the Chatbot Market states that the market size will grow to USD 9.4 billion by 2024 at a CAGR of 29.7%. With such a surge expected in the future, sectors like logistics are increasingly turning to digital assistants, chatbots and virtual assistants in order to implement real-time communication technology. And what better platform to integrate your business chatbot on than the most popular messaging channel in the world; WhatsApp!
WhatsApp is one of the largest messaging apps with over 2 billion monthly active users whereas in India alone, over 400 million people use it. Over 95% of all iOS and Android devices in the country have WhatsApp downloaded on them. Companies need to be where their customers are and there, currently, is no other messaging app as scalable as WhatsApp. For logistics companies this means that they can acquire, support and engage customers 24/7 in real-time by having a chatbot available on WhatsApp, which has an open rate of 97% and a delivery rate of 100%.
WhatsApp chatbot for the logistics industry
WhatsApp chatbots can reduce operational costs and provide self-service capabilities with 24/7 low maintenance customer services – among other things. Some other benefits of integrating a WhatsApp chatbot for your logistics business includes:
Assistance
The demand for self-service and 24/7 customer assistance is growing at a rapid rate. This is especially apparent when considering that it is possible to have these forms of support without having to pay for an entire call center with customer service agents. Having this kind of support available via a digital assistant like a WhatsApp chatbot means it only takes a few people to cover multiple responsibilities from within the app such as navigation, order tracking, collecting data on usage in real-time analytics and providing on-the-spot assistance with regard to troubleshooting issues are all delivered seamlessly.
Capabilities
During peak times, every business prefers being able to acquire and support customers on WhatsApp because of their low latency times and the ability to send loads of information at once. With wide-ranging uses that include growth hacking, image previews, customizable support portals or typing status messages with over 140 emojis; the possibilities are endless with a WhatsApp chatbot that has transactional capabilities!
Operational usage
Logistics companies can effectively use a WhatsApp chatbot for lead generation, lead qualification, quick and hassle free payments, aiding customers with order tracking, reminders and notifications, two-way messaging, finding nearest service center, easy filing for issue claims, collecting,processing and monitoring feedback and CSAT.
The Gupshup Solution
Logistics is an industry that requires attention to detail. When you're in a fast-paced industry and have a short span of time to deliver, being able to communicate directly from notifications on, say a mobile screen, can help get things done quickly. Gupshup is the perfect partner when it comes to creating a WhatsApp chabot for your logistics business. Apart from being the world's leading conversational messaging platform for marketing, commerce and support, Gupshup is also one of the first authorized distributors of the WhatsApp business solution. Brands can choose from a list of pre-built bot templates, customize its content and instantly publish and launch a fully functioning bot in minutes. With the zero-code Template Bot Builder from Gupshup, you can build any kind of customised bot for your business, and publish it in just a few minutes.
#LetsGupshup to understand how you can create and integrate a fully functional WhatsApp chatbot for your supply and logistics business.
Blogs you will want to share. Delivered to your inbox.
Business Email
Recommended Resources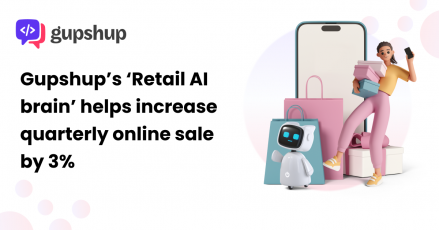 Learn how Gupshup's retail AI Brain helped a Austrian skinwear brand increase quarterly sales by 3%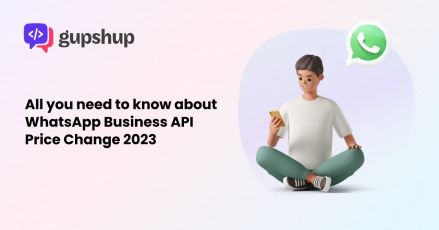 Learn about WhatsApp Business API's new value-based pricing and all the new features to look forward...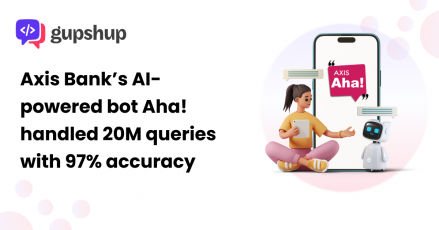 Learn how Gupshup's omnichannel conversational support solution helped Axis Bank increase user growth by 40X
×
Read: The Future Of Enterprise Messaging Explained