All you need to know about WhatsApp messaging templates
On September 8, 2021
|
5 Minutes Read
Conversational Engagement
Generic
WhatsApp Business API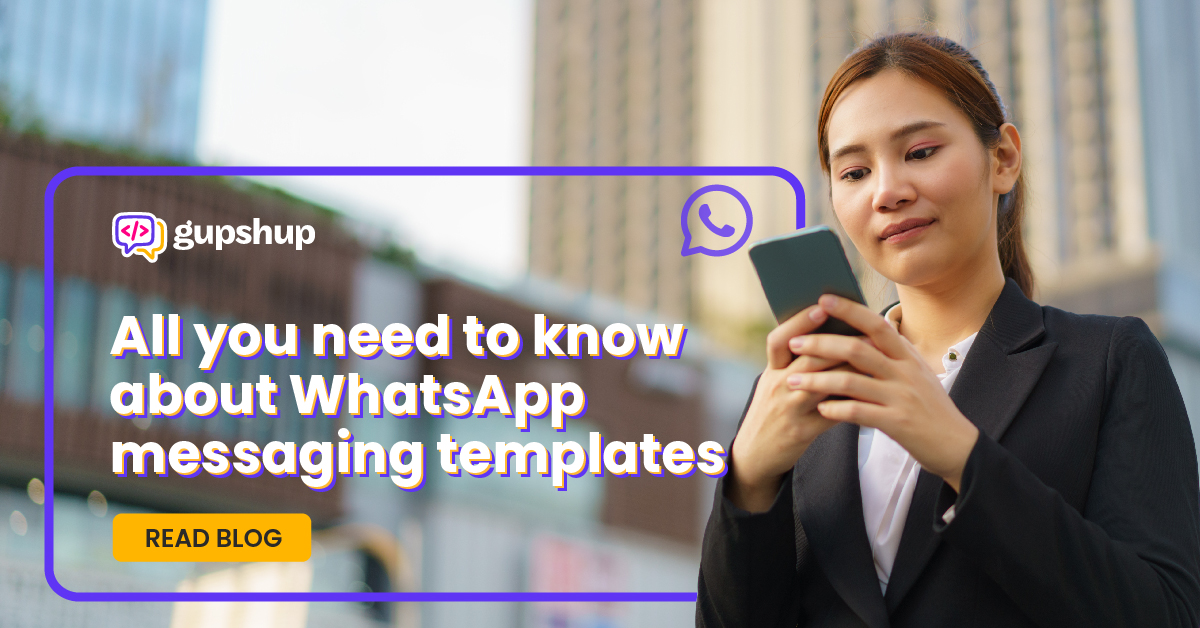 WhatsApp is the most popular and widely used messaging platform in the world. While most of the customers are on WhatsApp already, businesses stand a chance to interact with their customers conveniently. With the WhatsApp Business Accounts and WhatsApp Business API for building chatbots, companies are seeing a drastic change in how conversion rates can be increased via WhatsApp conversations.
However, WhatsApp has some strict guidelines on what you can send via their platform. WhatsApp allows inbound and outbound messages. Outbound messages are typically sent via set messaging templates. These outbound messaging templates have some restrictions. The WhatsApp team uses automation and a manual review to review these templates and is relatively strict about their policies.
While sending 1-way notifications and responses to your customers on WhatsApp, leverage our messaging templates to ensure easy approval per WhatsApp's guidelines.
Types of WhatsApp Message templates
Messaging templates are set messaging formats that businesses can send notifications to customers who have opted in for such notifications. Some examples of these templates include:
User requested messages – welcome message templates
These are the kind of messages which the user has asked for or requested for the information to be sent to them.
Follow-up messages – confirmation templates
A follow-up message template will be approved if the business follows up on a previous conversation made to the customer.
WhatsApp message formats
Let us understand the different types of WhatsApp message formats in use:
Text messages
Text message templates are simple message formats used for standard notifications that are reusable by a business.
Media messagesBusinesses can send images, documents, PDF files, etc., using media message templates.
Interactive buttons
Interactive buttons include elements that enable the capture of user input or redirect them outside the WhatsApp interface. There are two types of predefined buttons –

Call-to-Action: Businesses can redirect the user to a URL
Quick Reply: Users can tap and submit their response
Guidelines for WhatsApp messaging templates
Some specific guidelines need to be followed while creating a messaging template for WhatsApp to be approved.
Message template name
Make your message template name clear. For example, instead of using a name like "template_014," use "bus_ticket_details."
Clarity
As someone outside of your business will be reviewing your message templates, providing more clarity gives reviewers context around how the message template will be used.
Add samples
Add a sample when submitting a template, wherever possible. Even all appeals for rejected message templates require a sample. You can appeal a rejected message template through Direct Support.
Language support
When a business wants to have the same template content in various languages, create the template under one template name and include all the multiple languages in a single submission.
Provision for deletion
Delete templates you don't plan to use. There's a limit of 250 templates per WhatsApp Business Account (WABA). If you need a message template to reopen the 24-hour window, we suggest starting with mentioning the previous conversation thread.
Parameters
Parameter values can't have newline characters. To display multiple options like a list, and if the number of options varies by customer (e.g., travel quotes, items in an order), create as many templates as options. Or make one template with a Quick Reply button like "Show More."
Personalization
Create templates that are 1:1 in nature for a personalized experience. Also, avoid acronyms.
How does the Gupshup Opt-in API work?
Businesses are required to get opt-ins from customers before sending a WhatsApp message to them. These WhatsApp opt-ins can be collected on a third-party channel or on WhatsApp itself by leveraging the two-way conversational flow. Gupshup Opt-in APIs drive consumer opt-in collection for communication via WhatsApp using different methods like SMS, missed call, website, in-app notifications, IVR, email, or via a WhatsApp thread.
WhatsApp user-initiated messages:
When a user reaches out to a business, a corresponding message to the user could be sent, which allows them to receive WhatsApp updates in the future. You can also add keywords like 'Start' or 'Opt-in' to capture user consent.
Website:
Websites are a great platform to use when inviting new and existing customers to receive messages over WhatsApp. This can be done by integrating with Gushup's Opt-In API.
In-app notifications:
There is a high possibility that customers could be more open to opting in during their purchase journey. Keeping this in mind, businesses can easily include a checkbox at various touchpoints. Examples include where the customer would enter their phone number, when they enter their billing or delivery information, etc.
Third-party channels:
Many third-party channels like SMS, emails, IVRs are often used to send out transactional and informational notifications by a business. Gupshup can enable opt-in for your business for each of these channels.
Incoming user messages:
Gupshup can enable users to opt-in for specific keywords in incoming messages. For example, if a user sends 'Start' or 'Opt-in,' it can be considered an opt-in request.
Opt-ins prevent businesses from being reported or blocked by the user. Gupshup's opt-in and opt-out APIs provide a scalable solution to maximize opt-in collection during various customer journey stages. By integrating with Gupshup, you can build a relationship of trust with your customers.
It's fair to conclude that WhatsApp Business templates are a checklist for businesses so that they don't end up spamming their customers. Get on board with Gupshup and learn the nitty-gritty of making a WhatsApp business messaging template compliant with their set guidelines.
Blogs you will want to share. Delivered to your inbox.
Business Email
×
Read: NLP Chatbots – Game Changer for Every Business