Schedule WhatsApp Messages On Android & iPhone – The Complete Guide
On July 18, 2022
|
4 Minutes Read
Conversational Engagement
Generic
WhatsApp Business API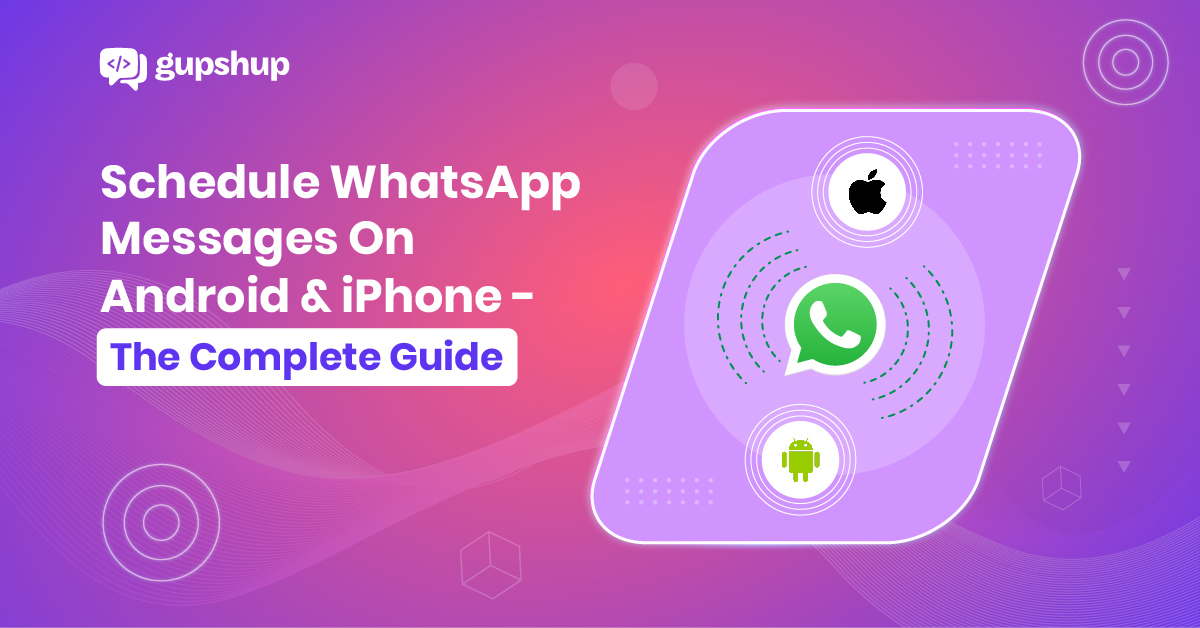 In this blog, we are going to look at how to schedule WhatsApp Messages on Android and iPhone in 2022.
Statista research says that as of 2022, WhatsApp is the most popular global mobile messenger app, with around 2 billion active users. WhatsApp is free and enables users to exchange texts, images, videos, voice messages, video calls, etc. However, one important feature missing from the app is the in-built functionality to schedule WhatsApp messages on Android and iOS.
Thankfully, there are various workarounds to resolve the issue. WhatsApp users can leverage third-party apps linked to WhatsApp to schedule messages within the app.
Let's elaborate on the following crucial points concerning WhatsApp message scheduling:
Importance of WhatsApp message scheduling
How to schedule WhatsApp messages on Android
Scheduling WhatsApp messages on iPhone
Scheduling WhatsApp messages on WhatsApp Web
Importance Of WhatsApp Message Scheduling
Connect with customers faster.
Send personalized messages to the right audience at the right time.
Enhance productivity by setting up messages ahead of time.
Forward crucial announcements and offerings to customers via an organized set of messages.
How To Schedule WhatsApp Messages On Android
There are two ways to schedule WhatsApp messages on Android devices:
Using the WhatsApp Business app.
Leveraging a third-party app.
Scheduling Messages With WhatsApp Business
WhatsApp Business's 'Away Message' feature allows brands to schedule messages for their customers. Companies can create 'away messages' and reply to customers outside their business hours.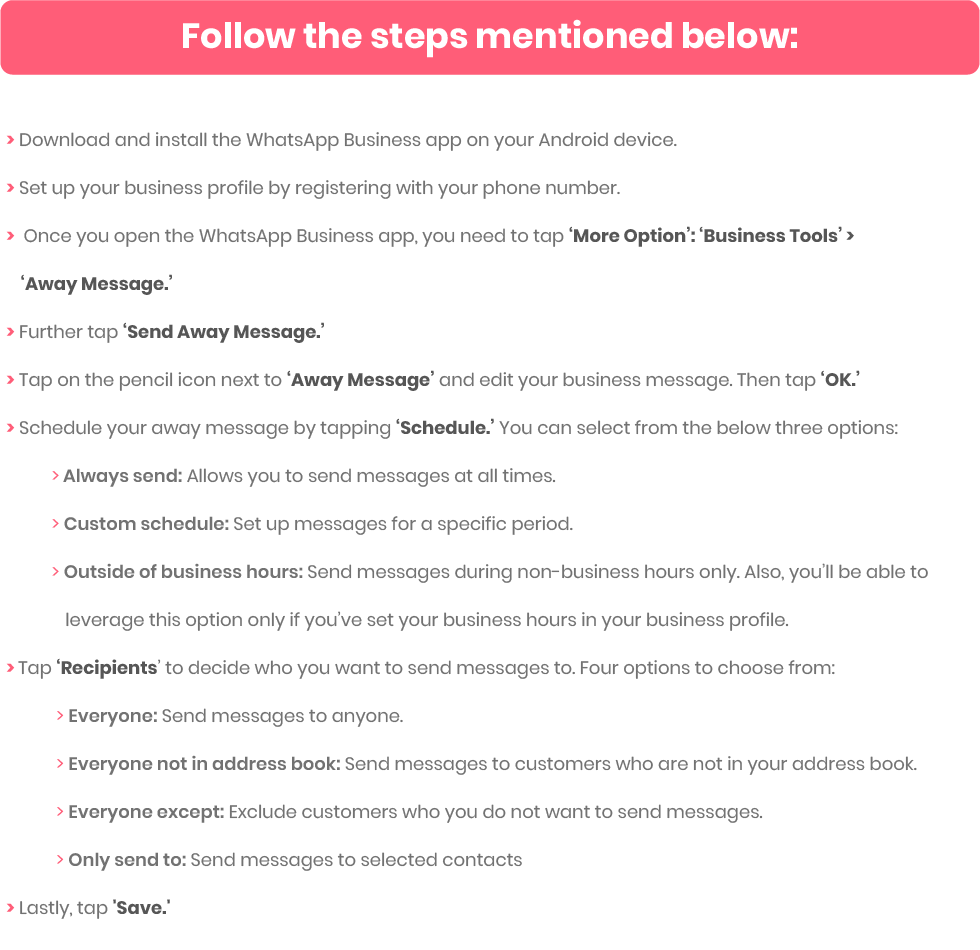 Schedule WhatsApp Messages On Android With SKEDit
SKEDit was released on September 5, 2016. It is a highly cost-effective and easy-to-use WhatsApp message scheduling app. Along with messages, it also allows you to schedule WhatsApp status and auto-replies.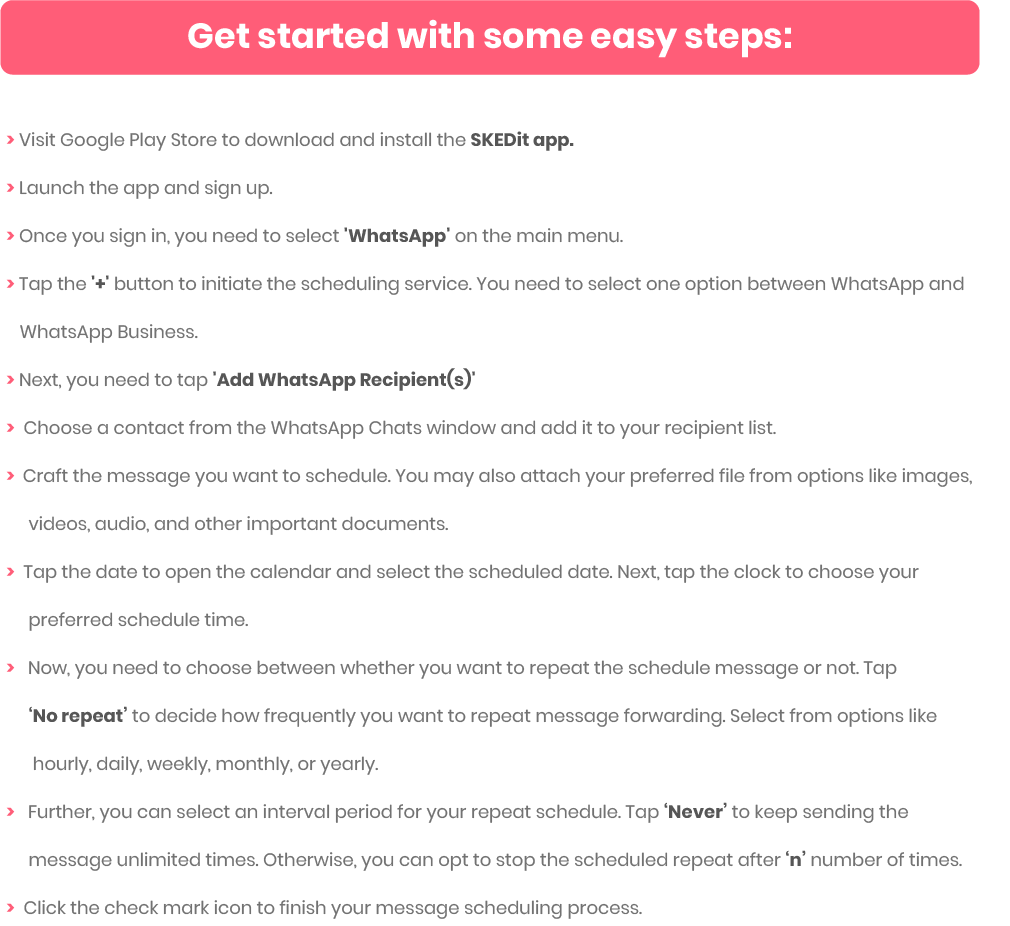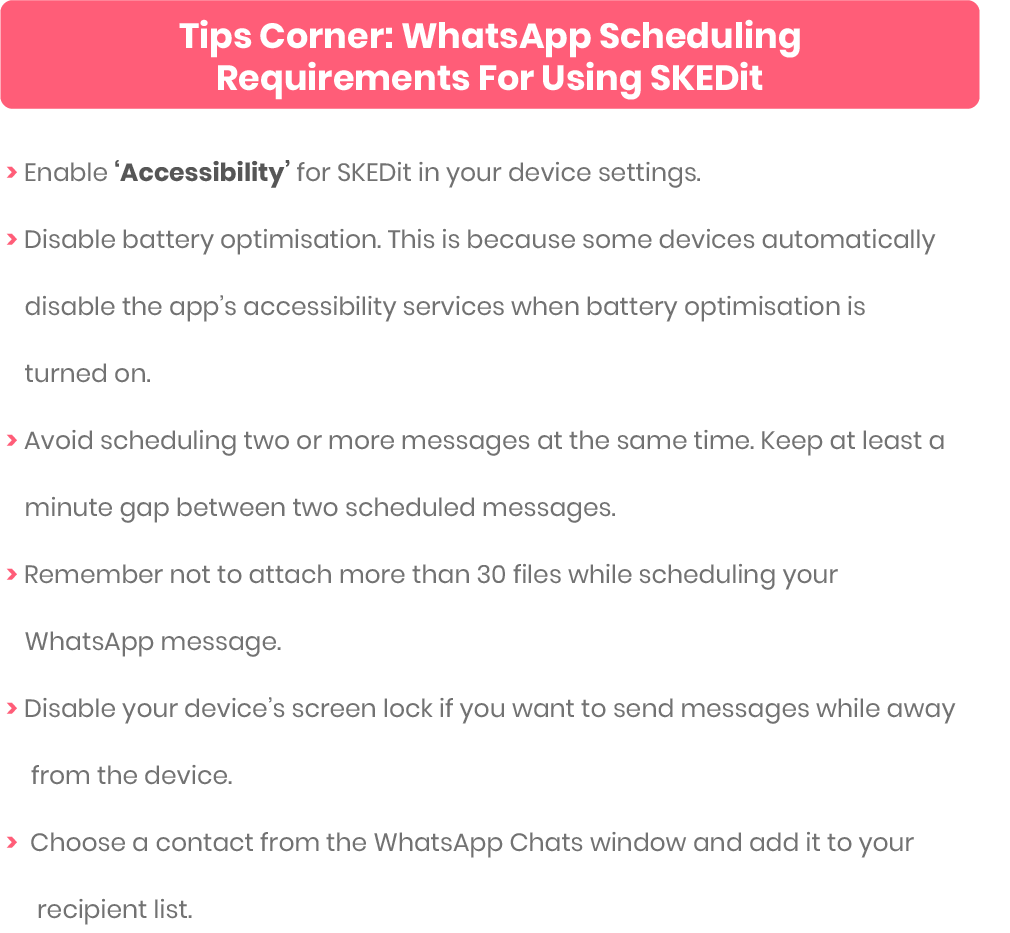 Scheduling WhatsApp Messages On iPhone
One of the best ways to schedule WhatsApp messages on your iOS device is to leverage the Shortcuts app available on Apple App Store. This way, the privacy of iPhone users is protected to the fullest. Siri Shortcuts is available free of cost and allows up to one week of message schedule limit.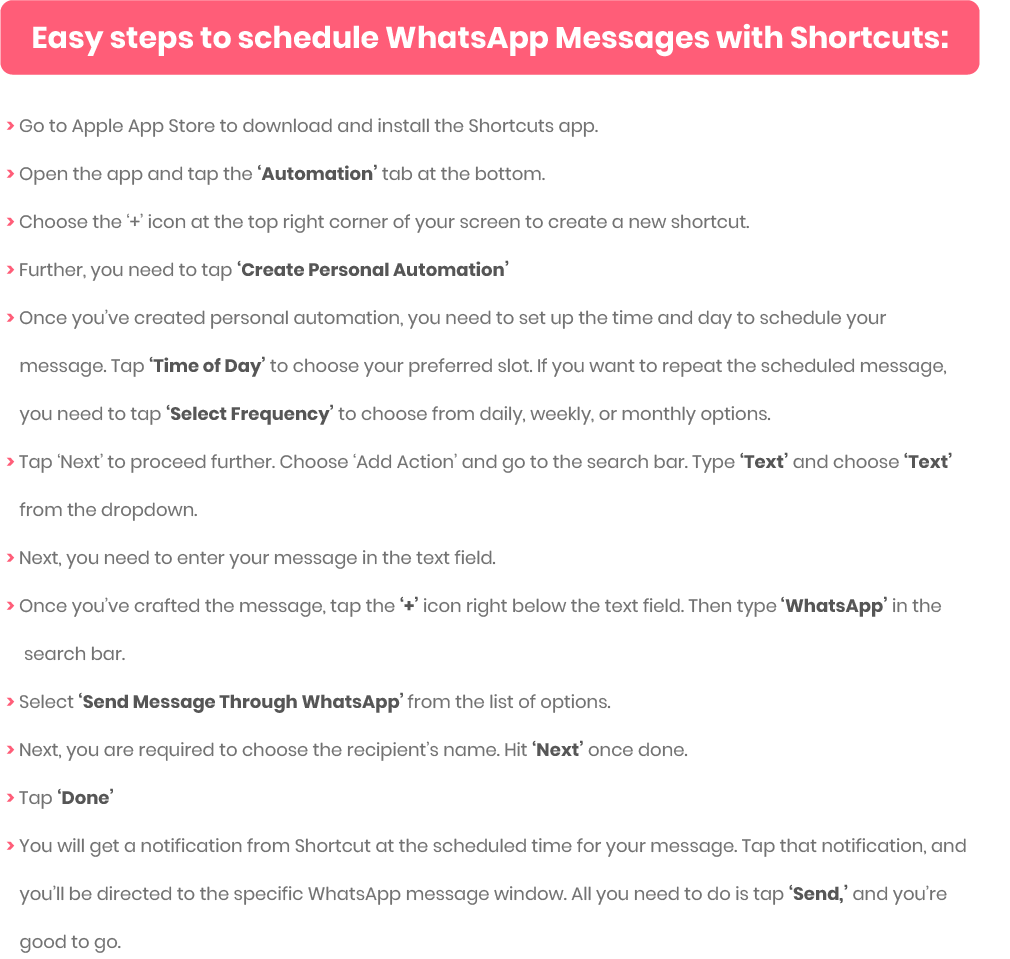 Scheduling Messages On WhatsApp Web
Apart from scheduling WhatsApp messages on Android and iPhone, businesses can also set up messages on WhatsApp Web. Thanks to the Blueticks extension for Google Chrome.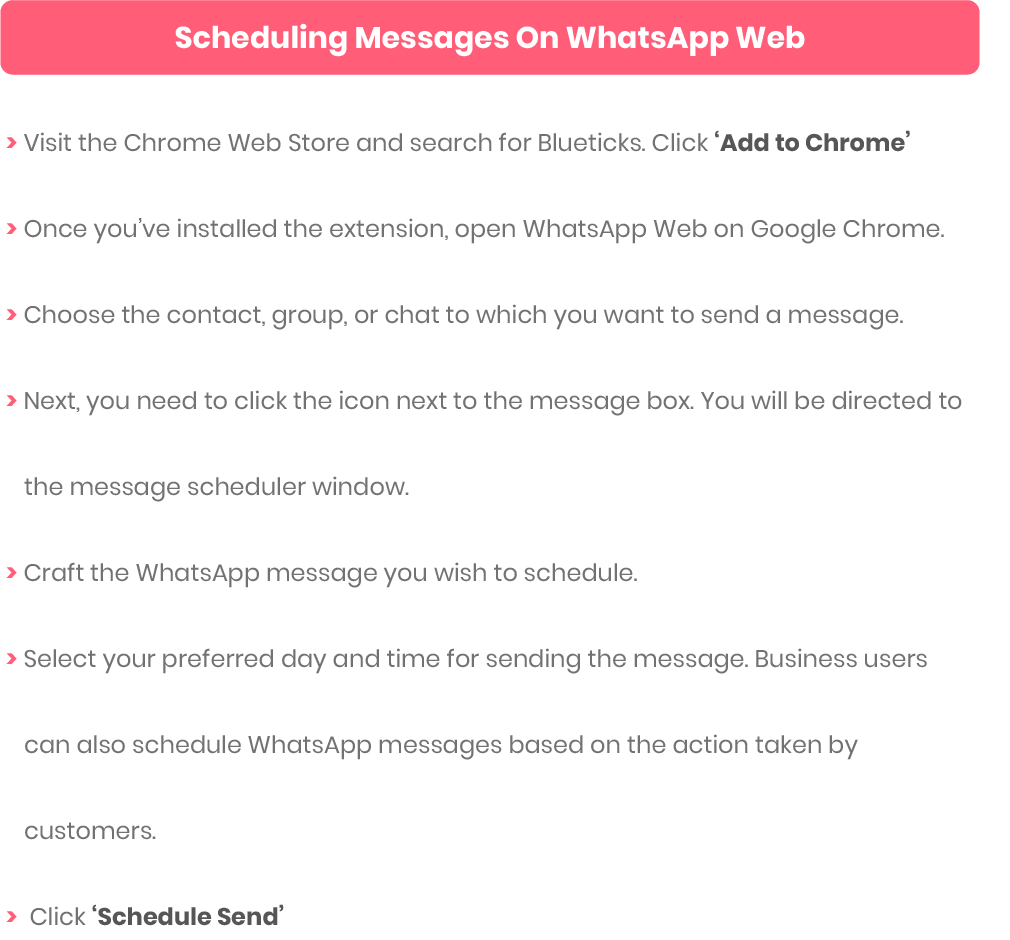 Blueticks also provides you with custom settings for scheduled messages.
Custom recurrence
This option enables you to send messages indefinitely. To activate the option, you need to checkmark the 'Custom recurrence' box within the message scheduler window. Also, next to 'Repeat Every,' choose one from the minute, hour, day, month, or year options to set the number of times you would like to send the message.
Cancel when a message is received
This option automatically cancels the scheduled message if the recipient contacts you first.
Conclusion
We hope our blog helped you gain a fair understanding of how to schedule WhatsApp messages on Android and iPhone. Gupshup is one of the first and a sought-after solution provider for WhatsApp for Business. Our WhatsApp Business API enables businesses to supercharge customer interactions via rich media options, deliver timely notifications, drive better lead generation, and much more.
#LetsGupshup to integrate AI chatbots into your business communication model and take your WhatsApp automation game to the next level.
FAQs
1. How to schedule WhatsApp messages on iPhone?
Leveraging the Siri Shortcuts app is one of the top methods to schedule WhatsApp messages on iOS. You'll need to download and install the app from the Apple App Store.
2. Is it possible to schedule a WhatsApp message?
There is no option to schedule messages within the app. However, you can leverage third-party applications to schedule WhatsApp messages on Android, iPhone, or the web. Brands can also use the 'Away Message' on WhatsApp Business to schedule messages.
3. How do I schedule WhatsApp messages on Android?
There are various third-party apps that can help schedule WhatsApp messages. However, SKEDit is considered the top one because of its cost-effectiveness and user-friendly functionality.
4. Can you automate WhatsApp messages?
Yes, you can partly automate WhatsApp messages with the help of third-party applications like SKEDit, Do It Later, and others.
5. Is WhatsApp business API free?
The WhatsApp Business API is not free. The price depends on the WhatsApp Partner that sets up the API for the business.
Blogs you will want to share. Delivered to your inbox.
Business Email
×
Read: Mastering Customer Care with Unified, Frictionless Conversations