3 Benefits Of Conversational AI In The Consumer Electronics Industry
On May 23, 2022
|
5 Minutes Read
Chatbots
Consumer Electronics
Conversational AI
Conversational Engagement
Messaging API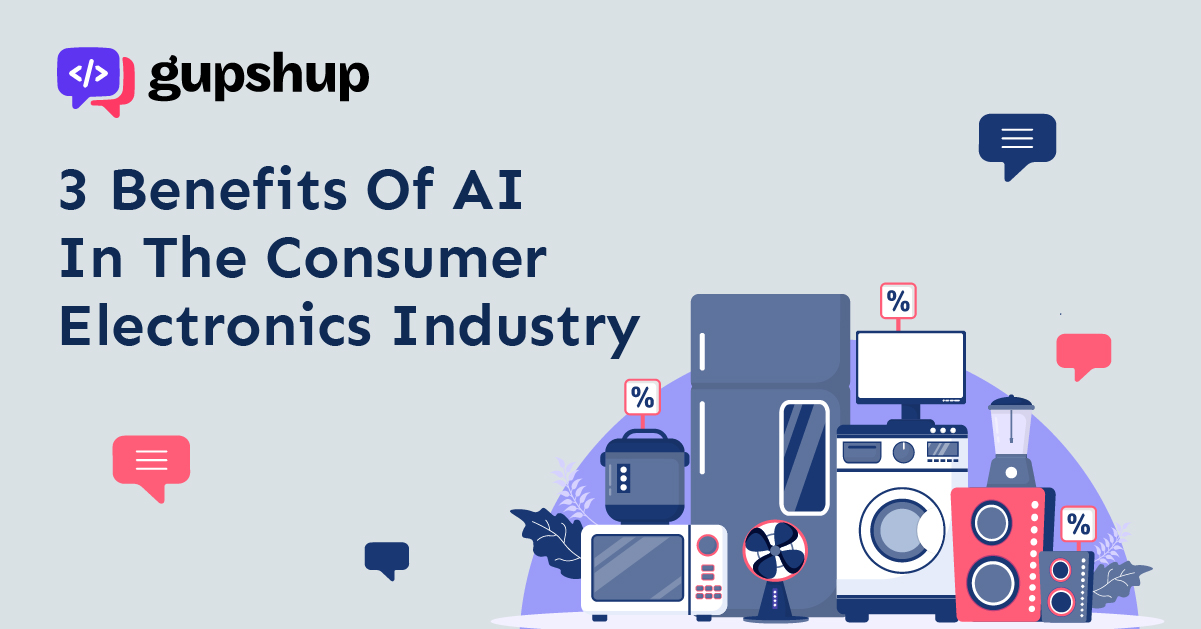 Is your consumer electronic business struggling to boost customer engagement with users throughout their shopping journey?  Are you looking for a modern user engagement strategy that will make users enjoy shopping at your store?
The Indian consumer electronics market is rapidly expanding. By 2025, the industry, worth $10.93 billion in 2019, is predicted to be worth $21.18 billion. This upsurge significantly resulted from consumers' changing lifestyles, rising demand, and improved consumer buying capacity. Apart from that, as the government decides to spend heavily on electricity, we will start seeing an uptick from the rural sector as well.
Consumer technology firms, on the other hand, are battling several headwinds due to the intensifying competition. The consumer purchasing experience has become highly complex owing to the multitude of market alternatives and changing consumer behaviour.  Every appliance's ultimate purchasing choice is influenced by several factors, such as early awareness, Internet ratings, previous experiences with the brand, as well as its price.
Key CX problems faced by businesses in the Consumer Electronics space:
Consumers are spoilt by the plethora of choices.
Consumers don't trust people easily with recommendations.
Consumers want a hassle-free and quick purchase experience.
Consumers want better after-sales support.
Benefits of conversational AI for consumer electronics businesses:
Available 24*7 to customers.
Offers convenience in online shopping.
Enhances customer engagement by making shopping more conversational.
Order status and tracking notifications.
Timely notifications of discounts and limited offers.
Ease in booking and obtaining after-sales support.
Let's take a look at our strategy to boost customer engagement for consumer electronics companies .
Boosting online  engagement with Gupshup
Increased spending in online procurement can help businesses compensate for lower foot traffic in physical locations. This approach will necessitate reallocating funds formerly allocated to broadcast media, now to digital outlets. Companies are adjusting their methods to accommodate for variations in customer behaviour as they invest more now in online marketing. Paying closer attention to sponsored search (for instance, focusing on not only keyword success but also customer intention) and boosting the "shoppability" of social media channels are two examples of these changes.
1. Simple ordering and payment interface for users
Users can get a minimalist and simple interface to browse product catalogues, add items to the cart, use coupon codes to avail offers and make secure payments. After making a purchase, they can track their order by requesting a tracking link from Gupshup .
Your business will be open for users 24×7 for everyone worldwide. Help customers make better and more informed decisions before they make a purchase. Share product images and videos with customers to get a better idea of product quality.
You can verify users when they sign up on your app with Gupshup. They'll be notified of everything, from order tracking to sending promotions to customers. With this single API, you can now transform your commerce, support, and marketing domains.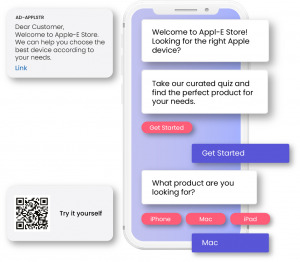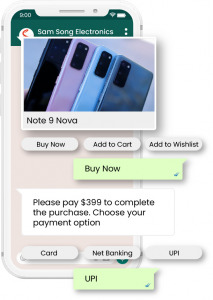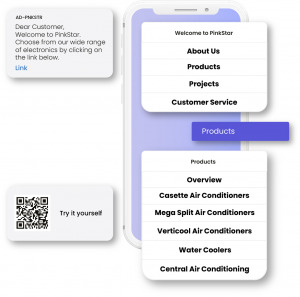 2. Connect with multiple messaging channels
Gupshup works with more than 30 messaging channels and applications to help you connect with users wherever they are. These messaging channels include WhatsApp , Instagram , Telegram , Viber , and more.
Users can now get answers to their queries regarding an electronic product at your store from the chatbot. If a user comments on your post asking for details for a product, the chatbot will message them and provide the details. You can also notify interested patrons when a product is back in stock.
With Gupshup's WhatsApp-based commerce, you can offer an interactive shopping experience to users directly on the messaging platform. They can view catalogues, proceed to checkout, and make secure payments with WhatsApp payments.
Promote offers and discounts to old customers by sending timely notifications on their devices. Convert unique customers to loyal customers forever by encouraging repeat purchases. Notify them every time a new product launches at your store. That way, you can enhance brand recall as users are always connected with you.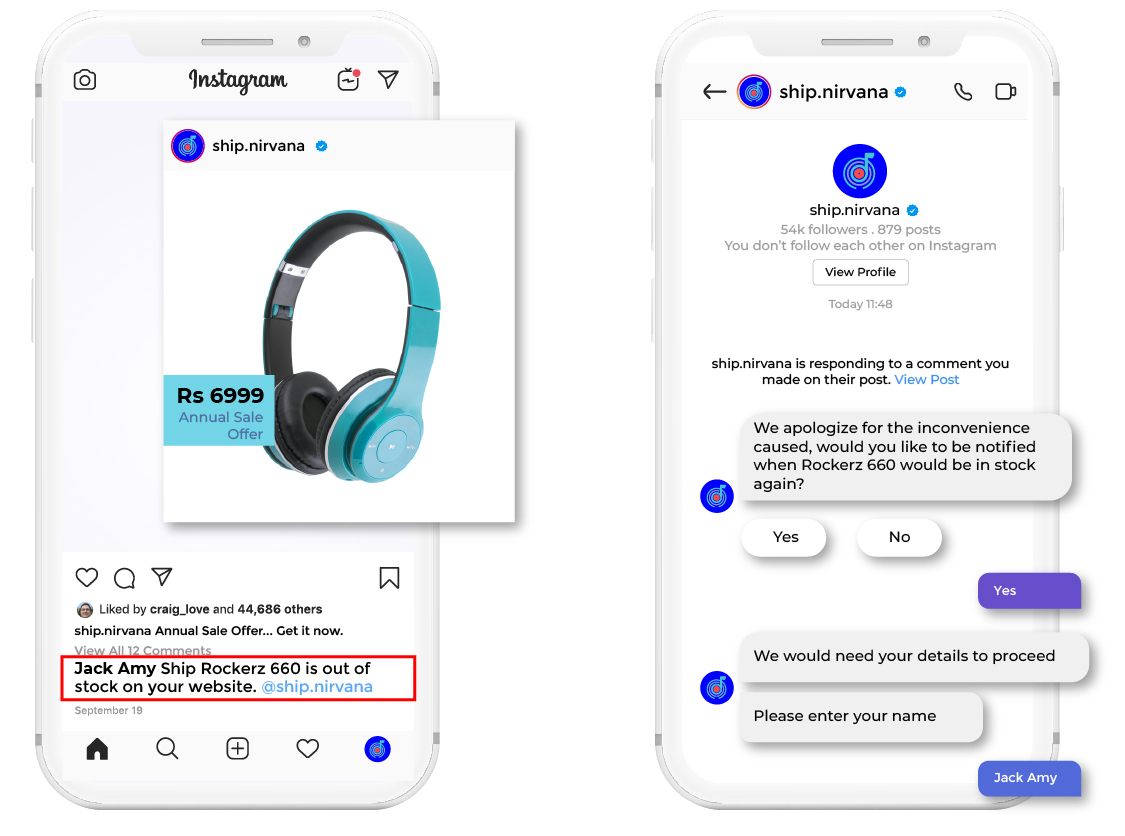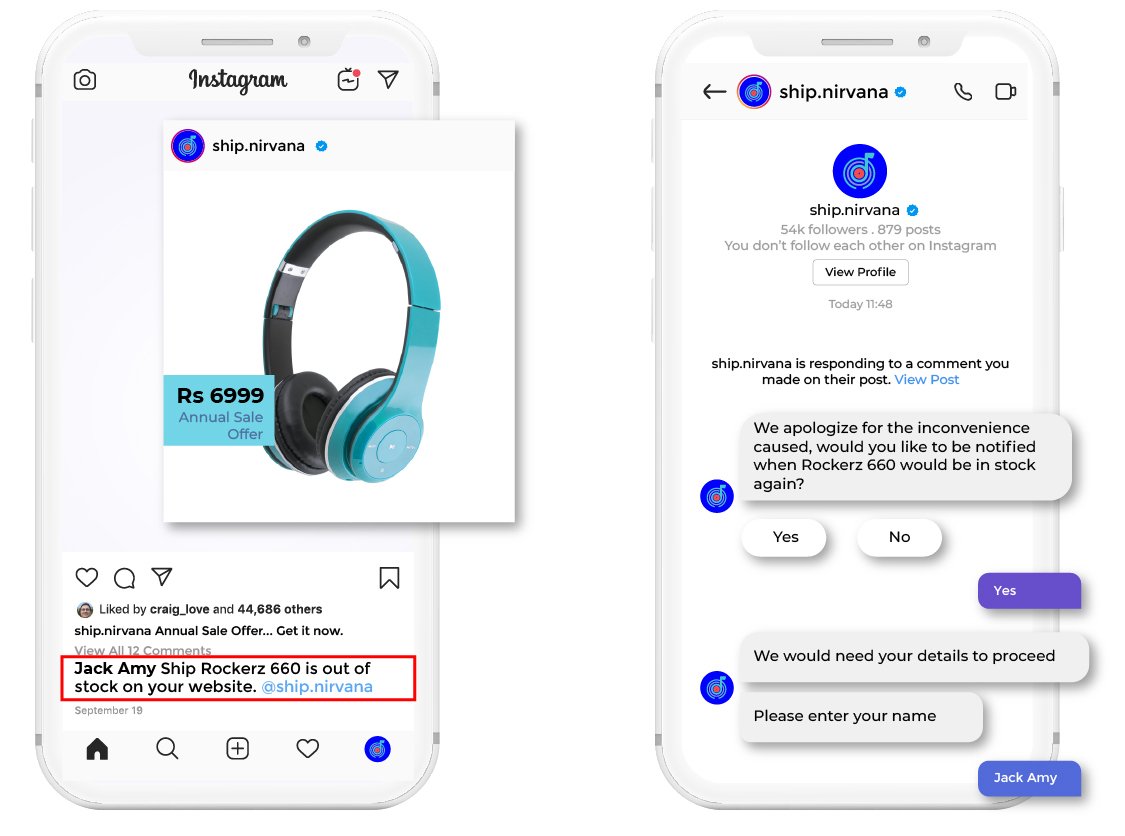 3. Effective customer support and feedback systems
Users can get an effective customer support and feedback solution with Gupshup. They can raise complaints using the chatbot by providing details regarding their issues. Gupshup collects user and issue details, and connects with your support team.
Someone from your support team can contact the user and resolve the problem. The chatbot also allows users to give feedback on their shopping experience after delivery.
Users can rate the delivery, order placing process, and product quality based on their experience and let the bot know they are satisfied. These insights will help you evaluate customer satisfaction and engagement, and plan innovative strategies.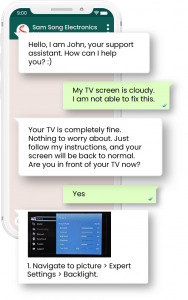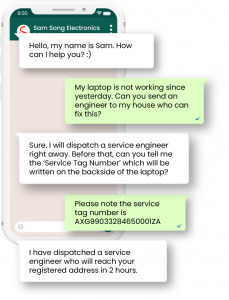 Conclusion
Accessibility is a term these days, and commercial electronics stores have benefited the most from it. Consumers' access to sophisticated, functionality-packed phones and tablet computers, combined with vastly enhanced Internet technology, is compelling merchants to integrate portability and flexibility in their business environments.
Customers now have access to marketing and product data, ordering abilities, and financing alternatives through mobile devices, thanks to aggregators. Per a recent study, over 45% of merchants plan to use mobile applications to meet fast-changing consumer demands.
Considering the nature of these products, electronics businesses are considerably more likely to embrace a mobile platform to drive sales.
The Gupshup conversational AI chatbot will help consumer electronics business owners transform their shopping experience for users. You can enhance customer engagement by increasing convenience for users with conversational commerce . Redesign your company's marketing, support, and commerce systems with Gupshup.
Getting started with the API is quick and simple. Businesses are on boarded faster, and the Gupshup support is available 24×7. Your business data is safe with Gupshup as it is a data and security complaint.
The best part is you can try it before you buy it .
So, why miss this chance of a lifetime?
Request a demo from Gupshup today.
Blogs you will want to share. Delivered to your inbox.
Business Email
×
Read: 11 Ways How Conversational AI Enhances CX At E-commerce Stores