CPG & FMCG Brands Can Benefit from Conversational Messaging
On November 12, 2021
|
5 Minutes Read
Chatbots
Conversational Commerce
Conversational Engagement
CPG & FMCG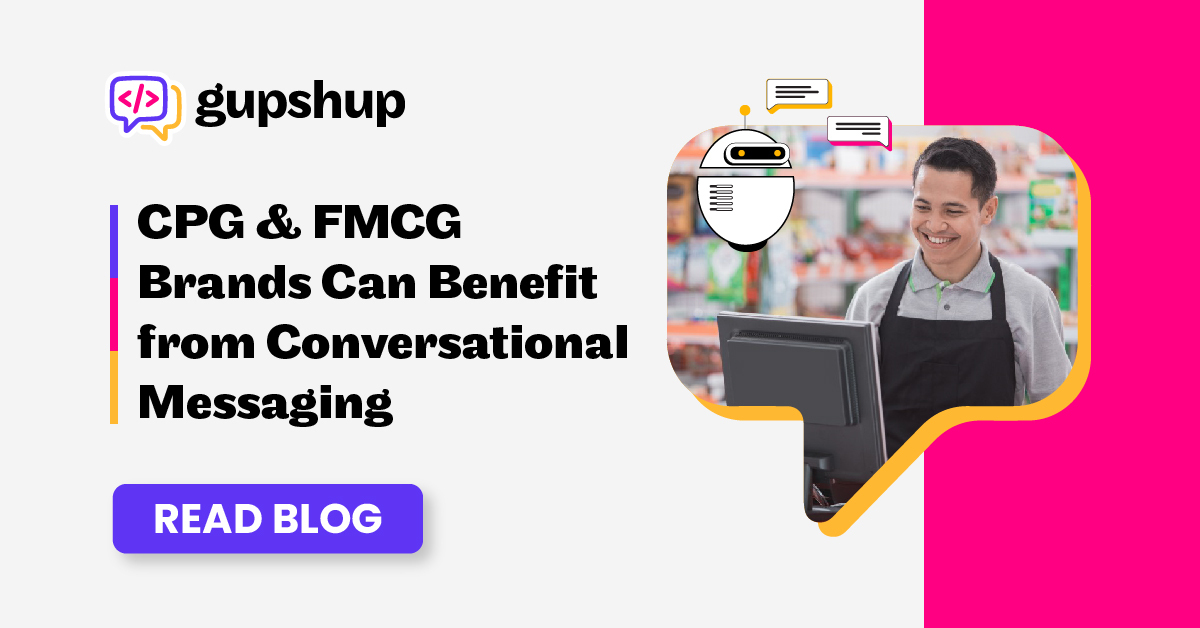 CPGs wanting to reach users on their phones – especially the younger demographic – should make it easier for them to browse information and place orders. Three out of four teens regularly make purchases online, and the majority of them make these transactions from their phones. When it comes to social media, more than 50 million consumers engage with brands on Facebook alone each month, with at least 25% of those interactions happening via a mobile device (compared to only 2% in 2010).
CPGs who are looking for new ways to reach consumers can find just that by connecting with customers through their phones. And it doesn't have to be expensive. It's simple, quick, and effective! Most of the consumers anyways use their mobile devices to connect with their favourite brands. With so many people being on a messaging app at any given time, it makes sense why so many FMCG brands are using social media to connect with their customers.
Role of Conversational Messaging
Conversational messaging is a great way to engage new customers by allowing them to have a conversation regarding your service or product and helping them shop in an easier, more personalised fashion. With conversational commerce, CPGs have the ability to connect with their customers by making a brand personality directly reach out to a targeted age group through social media and messaging. This also is the first step towards conversational marketing.
There are several ways that you can use this new medium to drive sales, launch products, improve customer experience and deliver a better user experience.
Gupshup for CPG
CPG brands usually have a lot of content on their website or mobile app, which confuses the customers who are browsing for the right product. Also, the traditional catalogue style lacks personalisation. AI-powered chatbots effectively give customers personalised experience in such scenarios by understanding their requirements and suggesting the right products/service to the customers. Also, customers do not want to visit the website (or app) repeatedly for small things. They want the option to communicate and address issues via popular messaging apps like WhatsApp.
Gupshup's end-to-end solution for CPG and FMCG brands enable conversational interactions between them and their consumers. There are ready-to-use workflows for marketing, commerce, and support use cases. It also facilitates live chat interactions between customers and agents who are always ready to resolve queries. The solution also facilitates omni channel communication between brand and customer on any of the 30+ channels.
You can compare the CPG bot with a personal sales rep who answers all customer queries. The chatbot is initiated via a QR code placed on physical surfaces such as packaging labels, brochures, catalogues, leaflets, print ads, etc. The chatbot can also be initiated by a link or widget placed on the website or app or any other digital surface of the brand. The chatbot link can also be sent to customers via SMS and WhatsApp.
Features
Make any entry point conversational
Place QR code on a physical or digital surface
Add and send links on SMS and WhatsApp
Embed chat widget on the website
Efficient bot workflow
The workflow gets triggered when the QR code is scanned, the link is clicked, or someone visits the website.
There is a selection between different menu items (e.g., Sales, Service, Other)
After choosing a menu option, a workflow is triggered to collect information from the user and give an appropriate response.
The collected information is passed on to different integrated systems such as CRM, support, etc.
The bot also notifies human agents to take on important queries that need intervention.
The user is sent an SMS afterwards to reinitiate the chat or with the resolution of the inquiry.
Benefits
Engagement
Chatbots on the website can engage with visitors spontaneously. They help guide the visitor through the website, suggest products and even prompt sales with attractive offers.
Consultation
Chatbots help answers generic queries and address frequently asked questions. Intelligent chatbots ensure that more complex queries are handed over to human agents. Consultations can be prompted to be dealt with by agents via live chat.
Replies & Answers
The AI engine answers frequently asked queries such as showing available products, suggesting products as per requirements, checking the availability of the products, sharing detailed documentation of particular products to generate interest, etc.
Interaction
Customers can interact with the brand and submit feedback through WhatsApp, Telegram, SMS and other messaging channels. Customers can even choose to get offers and notifications on WhatsApp and SMS.
Personalisation
Offer personalised and interactive interface to your customers. 24*7 availability for customers ensures higher response rates and high customer engagement.
Automation
Automate all processes like marketing, sales, operations, and support, and in turn, offer a true digital as well as smooth conversational experience for customers. Additionally, ensure immense cost-saving due to less requirement of overall workforce.
The Future Is Here
CPG brands, FMCG brands, Pharma companies, Consumer Durable Companies, Electronics Brands are some of the industries that stand to benefit by integrating conversational messaging and commerce in their workflows. CPGs have the option to think out of the box and come up with innovative ideas with the help of advanced technology like Conversational AI to better engage with their customers and stay ahead of the competition.
Conversational messaging platforms like Gupshup help brands build unique bots and workflows that ensure engaging conversational experiences. Grow faster by automating business conversations. #LetsGupshup to know more.
Blogs you will want to share. Delivered to your inbox.
Business Email
×
Read: Everything You Wanted to Know About SMS API