Empowering D2C Businesses With WhatsApp In 2022
On February 9, 2022
|
4 Minutes Read
Conversational Commerce
Conversational Engagement
D2C & E-commerce
Retail
WhatsApp Business API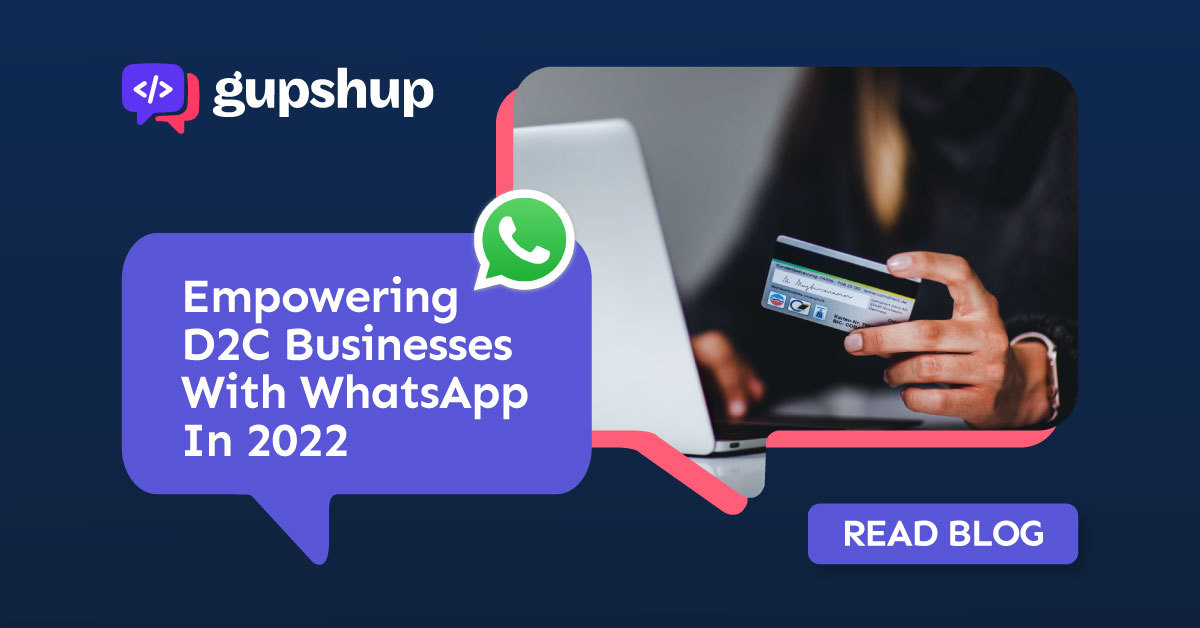 The D2C sector stands at the threshold of yet another digital disruption, with the rapid growth of conversational commerce. Digitization in ecommerce and the global pandemic have brought many significant changes to customer experience. With 2 billion actively using WhatsApp, the messaging platform's global reach is massive. Also, over 68 percent believe that WhatsApp is the easiest method of contacting a business.
Given this, D2C and retailers who are slow to embrace this paradigm shift will find themselves at a serious disadvantage. Let us understand how these brands can get future-ready in 2022.
WhatsApp Commerce Rollout
Given the increasing adoption by both users and businesses, WhatsApp has been taking rapid strides towards becoming a complete conversational commerce platform. WhatsApp has started rolling out new interactive features to merchants and retailers across the globe through select partners. Gupshup has been partnering with WhatsApp to launch commerce capabilities and  these powerful features to the market powering the next digital commerce revolution.
As WhatsApp continues to make shopping easier for merchants and users, it is increasingly being seen not just as an engagement tool, but a platform to enable conversational commerce. 'WhatsApp Commerce' is a potential game changer given its capabilities to offer and sell products and services to customers using WhatsApp as the primary channel
What is in it for D2C brands?
As much as it makes the customer's life convenient, warehouse managers, and sourcing specialists can now leverage WhatsApp Commerce and its exciting new interactive features that now include product catalogs and shopping carts resulting in:
Boosting reach and conversions
Businesses can reach a wider set of audience by establishing a two-way form of communication. Here, brands are not only resolving customer queries but also empowering customers proactively when it comes to helping them shop, finding what they need and completing the whole transaction on WhatsApp itself.
Increasing Customer Satisfaction
With WhatsApp Commerce, customers don't have to browse through multiple apps and websites to find what they're looking for. WhatsApp Commerce enables them to discover their preferred products, get more information and make payments streamlining the entire shopping experience.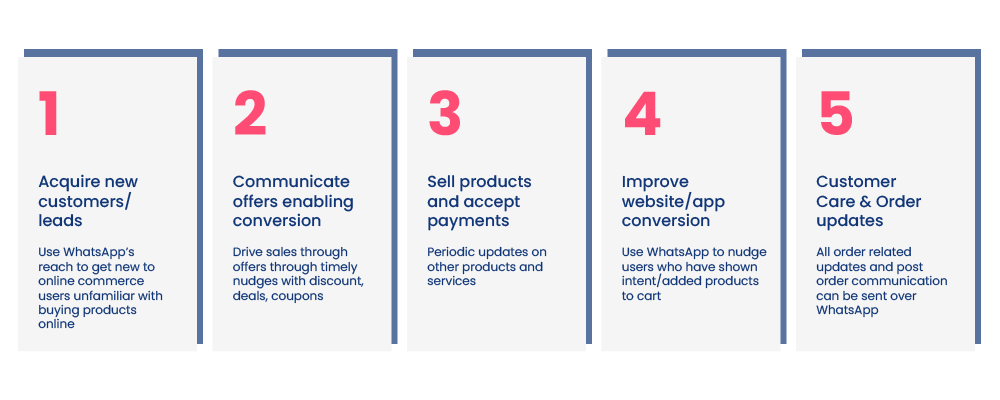 DRIVE HIGH-QUALITY CONVERSATIONS ACROSS
         CUSTOMER JOURNEY WITH WHATSAPP
Power the entire customer lifecycle with WhatsApp
Businesses already leverage WhatsApp for pre-purchase and post-purchase journeys and with WhatsApp Commerce they can now power the entire shopping journey of customers. Let us understand some of the features and benefits of WhatsApp commerce:
Simpler and easier conversations with interactive elements
We have already heard about single-product and multi-product messages to showcase their offerings through the store's catalog.
What makes this feature more exciting is that the user can add multiple products to the cart at the same time by sending only one message to the store manager or restaurant owner for food orders from restaurants around them or clothes from different brands.
 Browse, Shop and Pay
Enabling payments and support instantly on WhatsApp
Gupshup's WhatsApp Commerce solution enables D2C retailers to help customers browse, shop, and even pay instantly on a single window. With shorter attention spans and customers preferring a flawless experience in buying products enabling this continuity has become a mandate for businesses.
Let's take an example. Jane has just selected 2 of her favorite bags from your WhatsApp product catalog. Instead of redirecting her to your mobile website or app to purchase the product, Gupshup's WhatsApp Commerce solution enables all this be done inside WhatsApp
The takeaway here being Jane could browse, select and even pay for her order without requiring to toggle between multiple apps.
All this with instant and real-time support on WhatsApp with interactive AI-powered conversations. Be it a product inquiry, feedback, return requests or refunds, WhatsApp Commerce capabilites power the end-to-end customer journey by being inherently a 1:1 chat window.
If your brand is looking to explore these new capabilities on WhatsApp, you can talk to our experts here.
#LetsGupshup
Blogs you will want to share. Delivered to your inbox.
Business Email
×
Read: Adopt RCS To Boost Your CX In The Year 2022