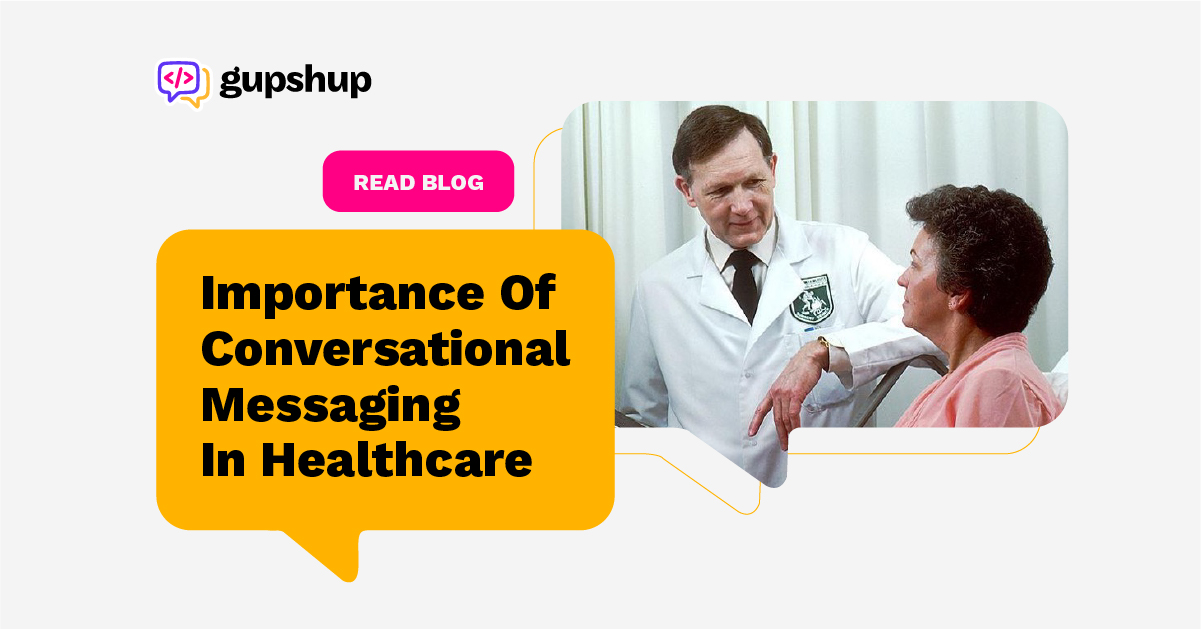 Importance Of Conversational Messaging In Healthcare
Chatbots, Conversational Engagement, Healthcare, SMS API, WhatsApp Business API
On December 20, 2021
Every patient comes with their set of different health issues but does not get the specialised attention and care that they deserve. In such scenarios, message-based interactions make them feel that their healthcare provider is always with them, and is just one ping away.
What conversational chat provides is continuous and personal access to healthcare whenever needed, making it easy for patients to access their care at a pace that works best for them. They no longer have to feel as if they have to travel from doctor to doctor each time they need a check-up or have a question about one of their vitals! This has been shown to reduce the number of visits required by those who don't live within reasonable proximity of a health center or hospital.
Enter – healthcare bots
What are Healthcare bots
Chatbots are incredibly powerful but few recognize their potential for healthcare. Influenced by how people communicate with one another, bots relay information through text or voice systems to help clarify inquiries and relay tasks. Furthermore, intelligent personal assistants can make sense of multiple data sources to access specific information without trouble. Conversational healthcare is rapidly being recognized as a means of providing the best care possible based on the patient's needs since it offers one-on-one communication that doctors want to provide for their patients.
A healthcare chatbot is initiated via a QR code placed on physical surfaces such as a billboard, poster, leaflets, print ads, etc. The chatbot can also be initiated by a link or widget placed on the website or application or any other digital surface of the brand. The chatbot link can also be sent to customers via messaging channels such as SMS and WhatsApp.
So what can be the probable entry points? To summarize:
QR code placed on a physical or digital surface
Links sent on SMS and WhatsApp
Chat widget on the website
The chatbot workflow on the other hand is designed to trigger when the QR code is scanned, the link is clicked, or when someone visits the website.
The bot prompts the visitor by a greeting and display of a standard menu. After choosing a menu option, a workflow is triggered that will collect information from the user and give an appropriate response. The collected information is passed on to different integrated systems such as CRM, customer support, sales, etc. The chatbot also notifies human agents to take on important queries that need intervention. The user is also sent an SMS afterwards to reinitiate the chat or with the resolution of the inquiry.
Capabilities of conversational messaging in chatbots
Conversational messaging enhances the quality of a conversation between a chatbot and a user. Chatbots are equipped to make human-like interactions and indulge users in performing a variety of actions.The capabilities include appointment booking, telemedicine, 1-1 communication with doctor for emergency help, diagnostic report access via messaging, EMR (Electronic Medical Records) access, post treatment followup, feedback collection, etc.
A chatbot on the website engages with visitors to collect patient information and book appointments. The AI engine answers frequently asked queries such as suggesting the right health procedure for patients, giving answers to health related information and also giving out suggested slots as per doctor's availability.
Patients can also engage with healthcare departments through popular messaging channels like WhatsApp, Telegram, SMS, etc. Other services include getting notifications, prescriptions, and reminders on WhatsApp and SMS.
Benefits
When talking about the various capabilities and features of the healthcare AI chatbot, it's also important to quickly summarize the various benefits attached to using the conversational messaging-powered Gupshup healthcare bot:
Indulge in personalised and interactive patient engagement
Automate all processes like marketing, operations, and support
Experience cost-saving due to less requirement of overall workforce
Provide humanized and conversational experiences to patients
Make payments in a cashless manner through one-click-bill-pay
Get real time consultation in the time of emergency
Provide 24*7 availability for all patients
Offer real time support

Enable real-time communication between patients and healthcare providers
You can have a conversation with chatbots in the same way you would speak with someone you know personally – using words, phrases, and statements – to converse about various health issues. They are equipped to interact with humans by drawing context from their statements and often work through text or voice input that is enabled via Conversational AI. Healthcare chatbots can also access multiple services as well as data silos in a matter of seconds and present it to the users, in response to their queries.
Gupshup for Healthcare is needed in the healthcare industry because it represents two of the most crucial needs from patients – realtime two-way communication, and a personalized experience. The solution comes loaded with journey templates that customers can use to create journeys that are customized to their own business processes. It also comes equipped with integrations that customers can use to make it fit into any workflow.
#LetsGupshup to know more.
Blogs you will want to share. Delivered to your inbox.
Recommended Resources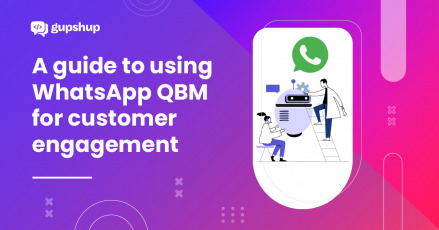 Whatsapp quality based Messaging QBM| Why use Gupshup QBM.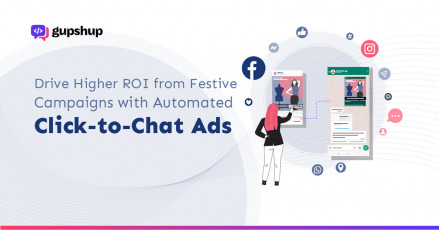 Learn how click-to-chat ads can help you drive higher ROI from Festive Campaigns with Automated Click-to-Chat...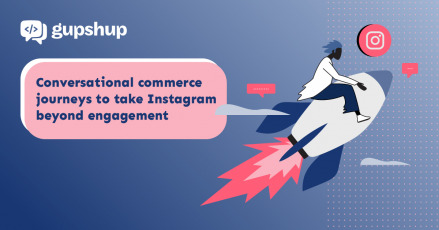 Know how to leverage automated conversations to drive commerce on Instagram through conversational commerce journeys
×
Read: Future of Mobile Messaging For Customer-focused Brands