6 Reasons Why Brands Need Google Business Messages In 2022
On May 13, 2022
|
6 Minutes Read
Conversational Engagement
Generic
Google Business Messaging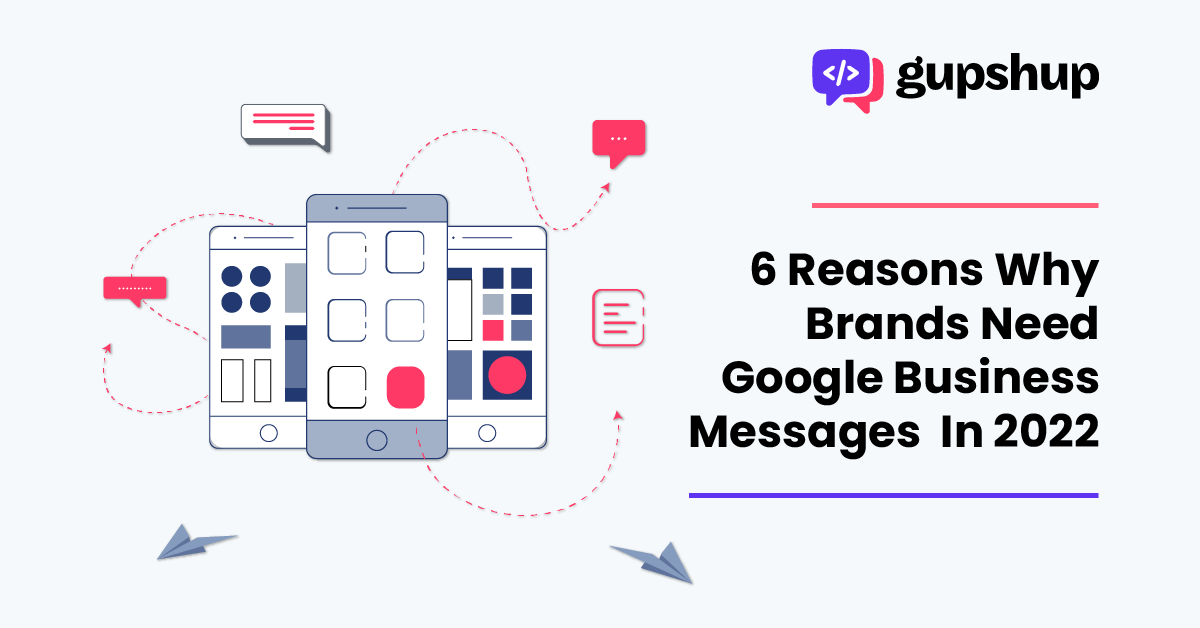 Messaging has become the preferred mode of communication for all of us. Be it for reaching out to our friends, family, or even our most reputed clients. Messaging apps is where we try to connect with them first, for very simple reasons – it is easy, it is time-saving and it gets us the quickest response possible. Messaging has therefore become an obvious expectation in the market. Consumers want to connect with brands over it and they expect brands to deliver services over messaging itself. It is no wonder we see numerous research suggests the same:
75% of consumers now prefer to engage with a brand over private messaging channels versus traditional channels.
72% of customers would make a purchase online if they could ask questions in real-time.
76% of respondents are interested in purchasing products using chat or messaging
As a Marketing or a business leader, it is, therefore, imperative that you start building conversational capabilities on popular messaging platforms if you haven't already. And Google Business Messages should be on your top priority list, including WhatsApp and Instagram. Why? Because with over 3 billion monthly active Android devices around the world, Google products such as Google Search, Google Maps, and Google Phone dialers have become an indispensable part of your customer's life. And Google Business Messages give your brand the capability to initiate conversations with your customers from all these google platforms and more. Let's try to understand this in detail.
What is Google Business Messages(GBM)?
As the name suggests Google Business Messages, is a messaging channel from Google which enables brands to connect with their customers over messaging. What sets it apart from the other messaging channels available in the market, such as WhatsApp, Instagram, or RCS, is that it helps customers connect with a brand from Google Products such as Google search, Google Maps, and Google phone dialers. The channel helps brands drive higher customer satisfaction by enabling them to be available for customers right at their moment of need. And with commerce and support automation from Gupshup, brands can also offer a complete customer cycle on Google Business messaging itself.
6 reasons to adopt Google Business Messages in 2022
1. Connect with customers from Google Search
More than 5.4 billion searches are made on Google per day. While until now brands could only become a part of these searches by creating relevant web pages, Google business messages now enables brands to initiate conversations with their customers every time they search for their product or services on Google search.
Think about it – customers usually go to Google search when they need to buy or research about a product or service. By offering a chat option right on the search result brands can bring more value to their customers by answering the questions they might have in real-time. Thus ensuring higher CSAT, an increase in brand affinity, and establishing a personalized connection with customers right at the beginning of their customer journey.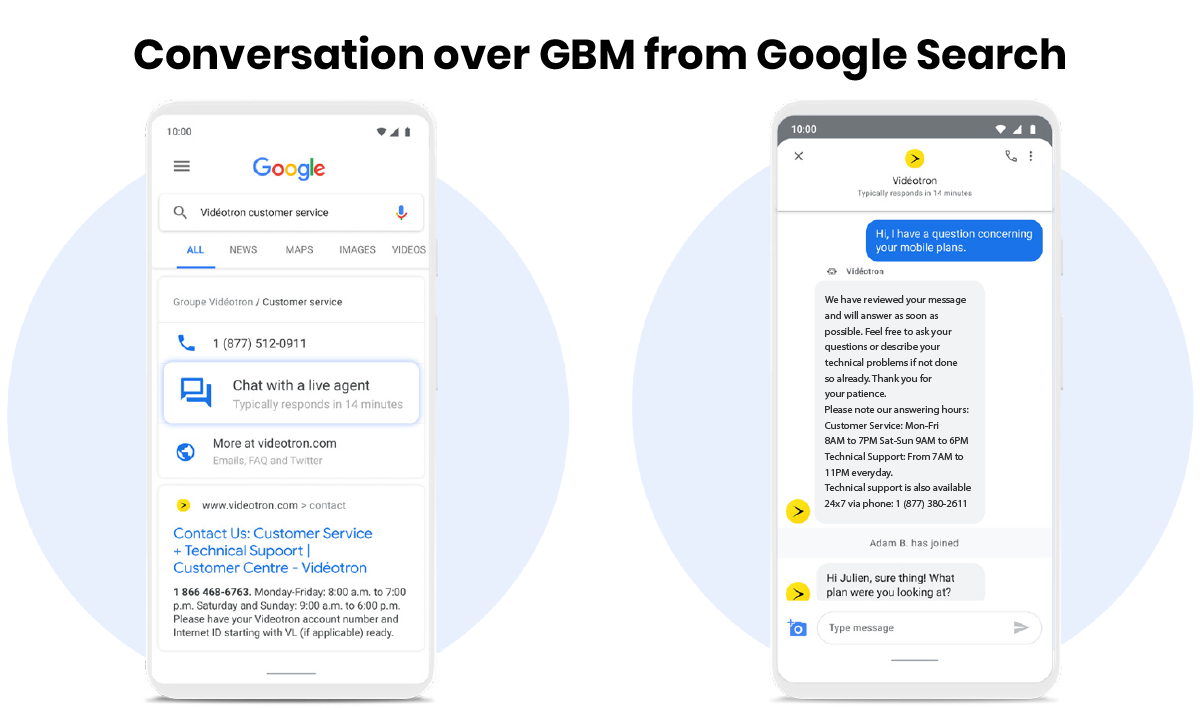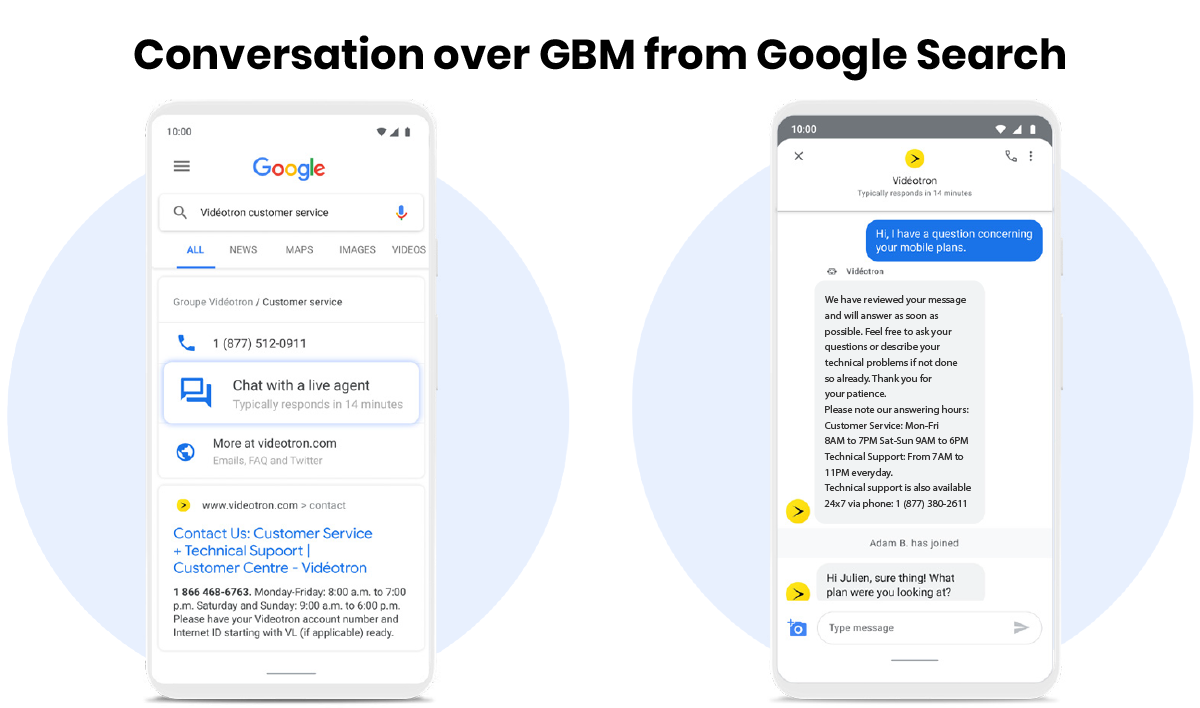 2. Offer a seamless messaging experience
Google business messages enables brands to offer seamless messaging experience. It enables brands to start conversations with their customers not only from Google search but also from assets like Google Maps (which has 154.4 million monthly active users), Google Phone dialers, and brand-owned assets like websites and apps. This means fewer hurdles for the customers when it comes to getting in touch with a brand and a frictionless messaging experience across all entry points. Furthermore, with Gupshup's advanced messaging APIs, brands can extend the messaging experience crafted for GBM on other channels, such as WhatsApp and Instagram too.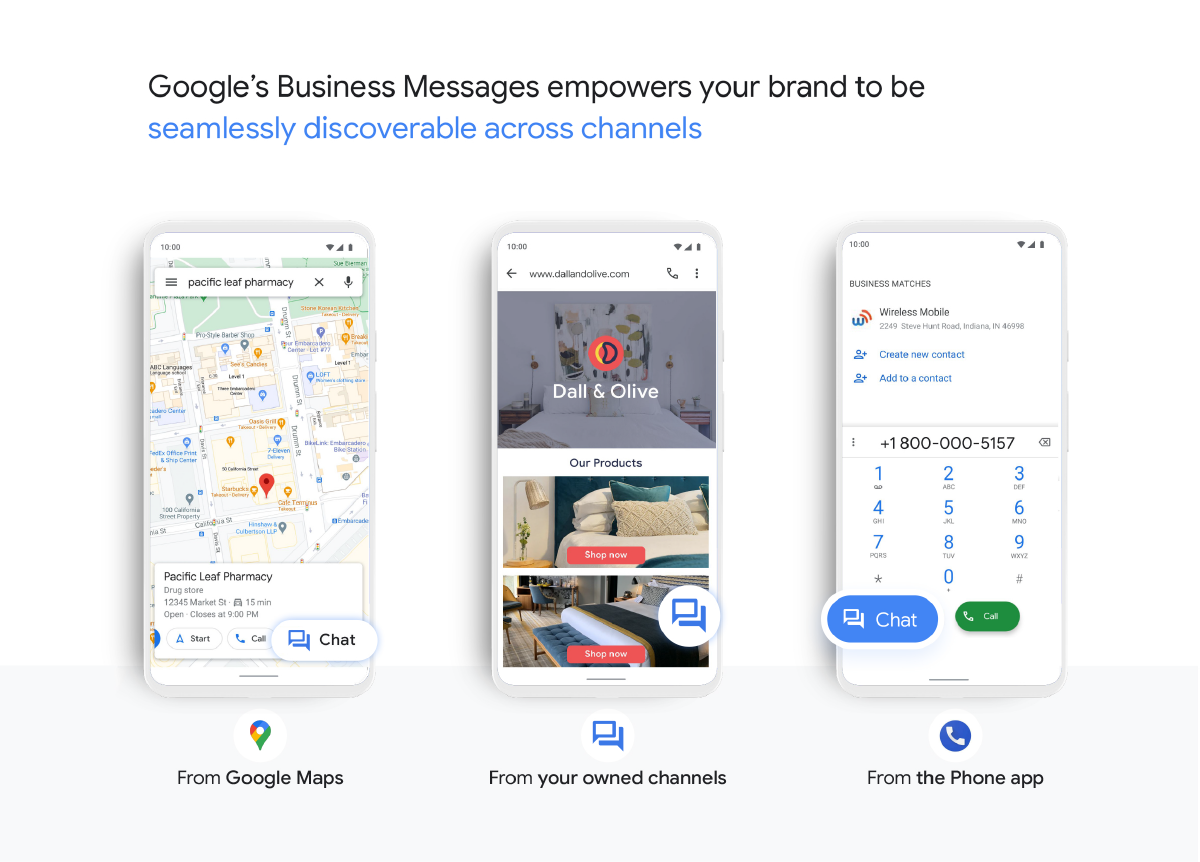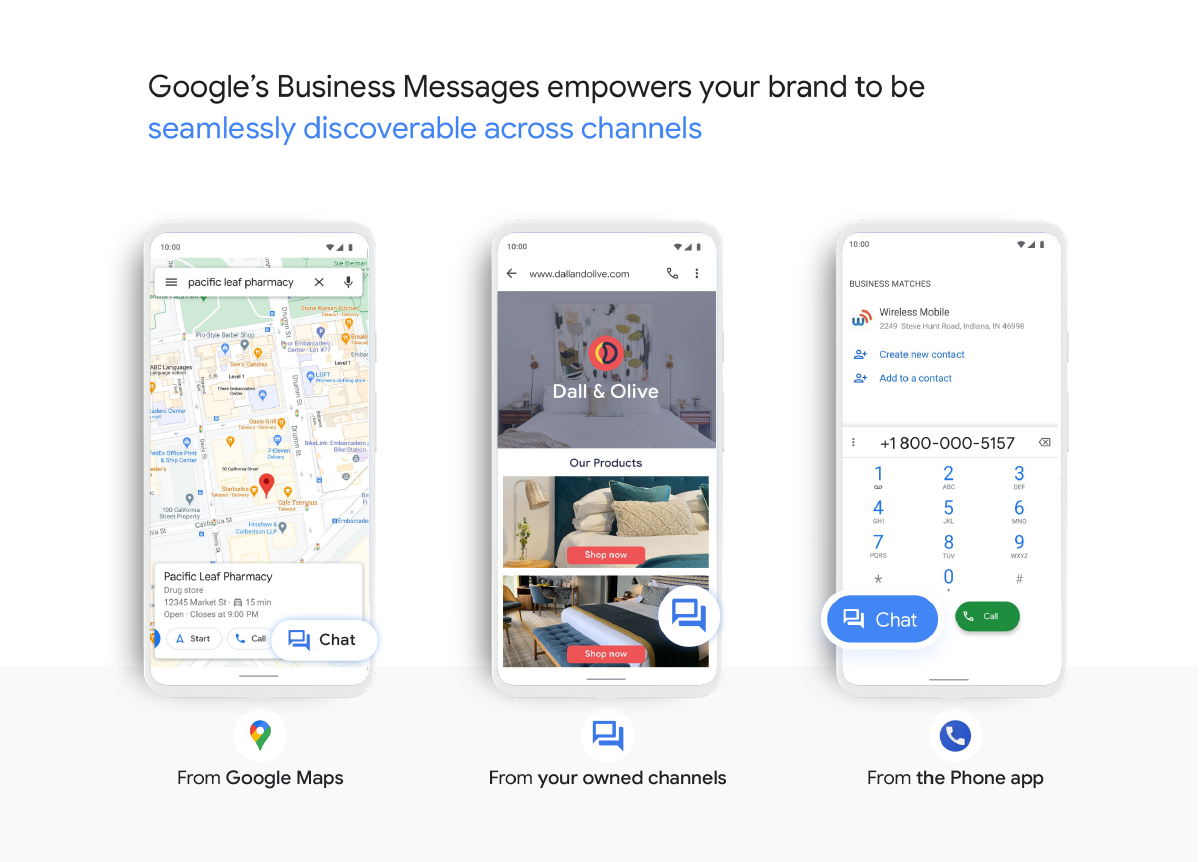 3. Engage customers with rich media
Google business messages come power-packed with rich media. This enables brands to keep customers engaged in conversations by sharing audio, video, photos, etc during a conversation. It also helps motivate customers to try new products and services by availing them right from Google Business Messages.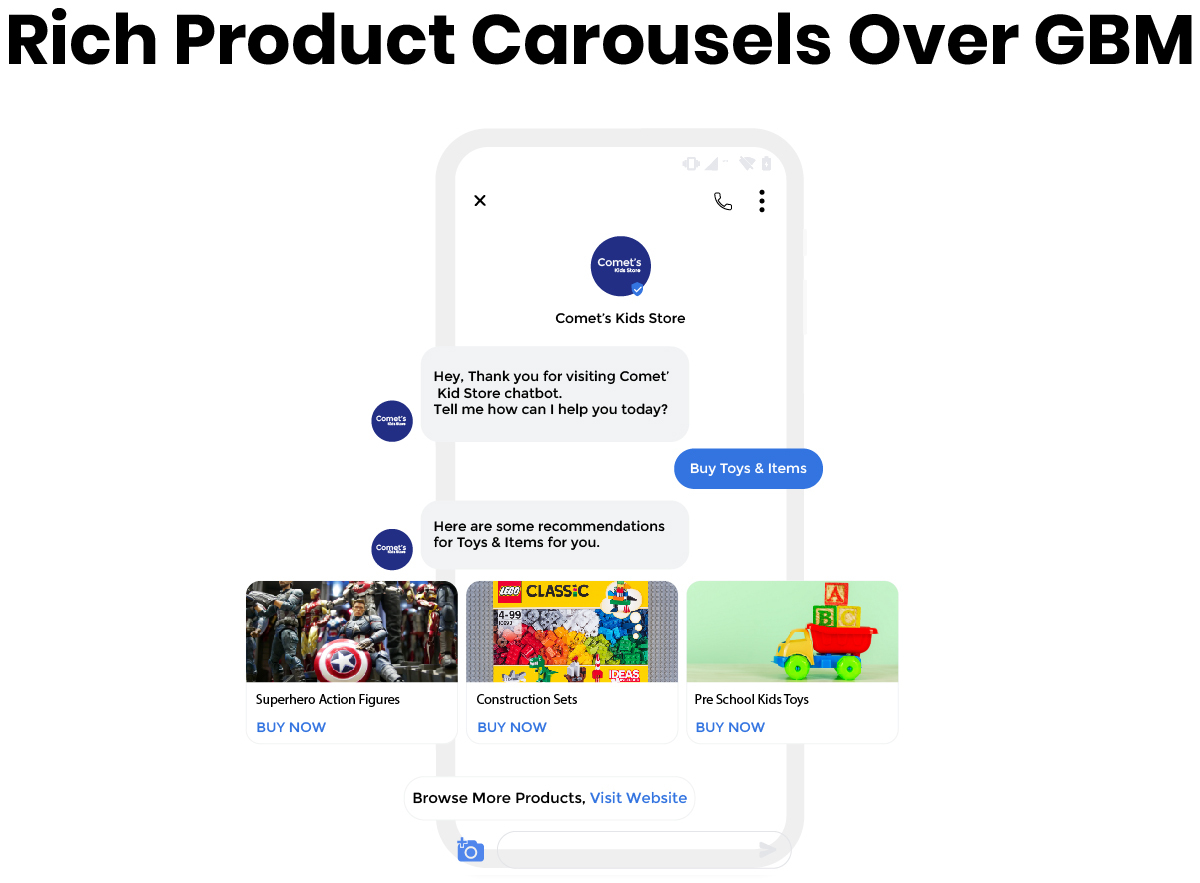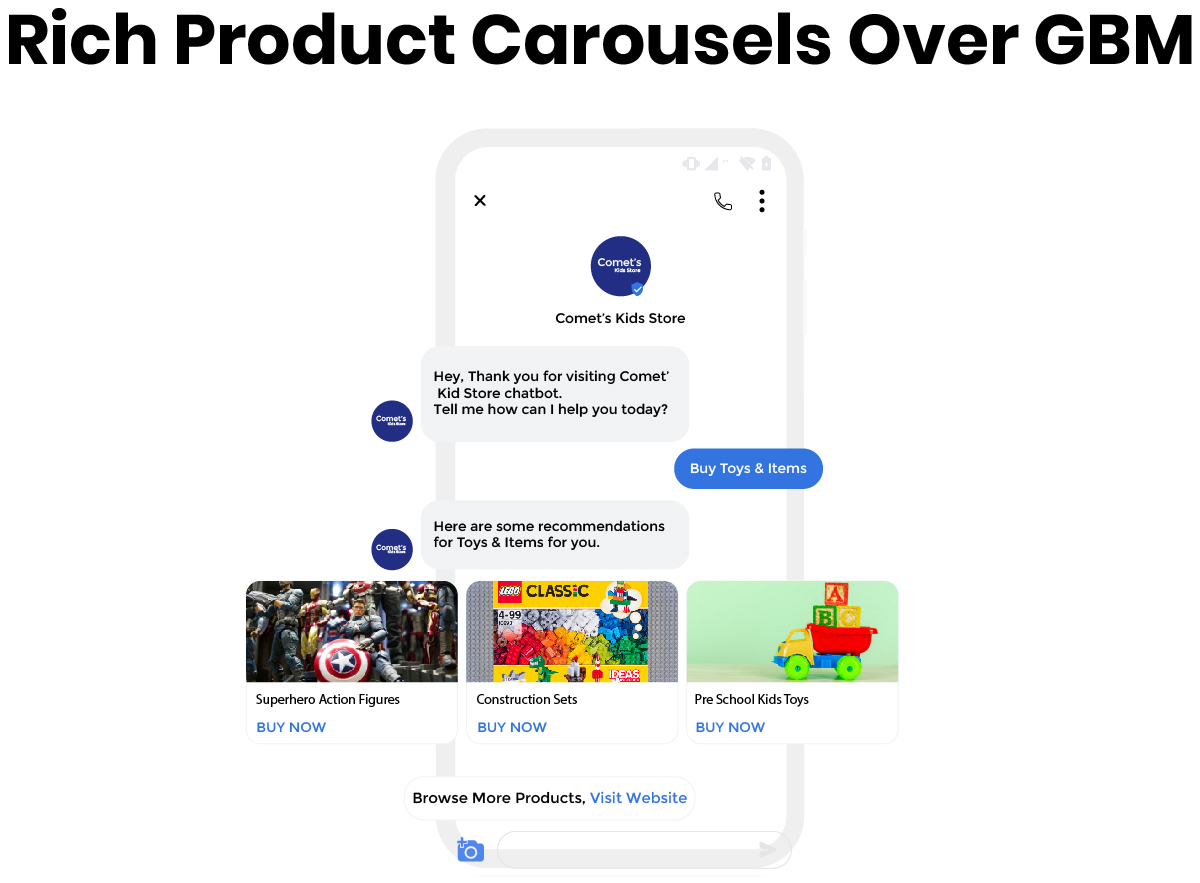 4. Drive sales with Google Business Messages
According to the survey conducted by Google, 65% of people buy products from brands that can be messaged. Google business messaging (GBM) helps businesses with advanced tools to drive sales and build a super customer experience. With an amalgamation of rich media and conversational commerce capability from Gupshup, GBM allows brands to sell and upsell over messaging. It becomes a personal assistant for your customer suggesting and recommending products based on your customer's preference with AI-based automation. And with various integration available from Gupshup, the processes are seamlessly integrated into your CRMs/any third-party systems.
5. Offer a 360 degree customer journey via conversations on GBM
Customer service is the key to winning customer loyalty – Google business messages enable brands to achieve that. Right from product discovery(from google search/maps and brand assets) to sales to customer support, brands can offer 360-degree customer service to customers right from google business messages. With AI-based human escalations, the customer support offered is truly personalized. And with automated chatbots, you get to answer your customer queries 24*7. Not to mention the millions that could be saved in the process by reducing your overheads on sales and support.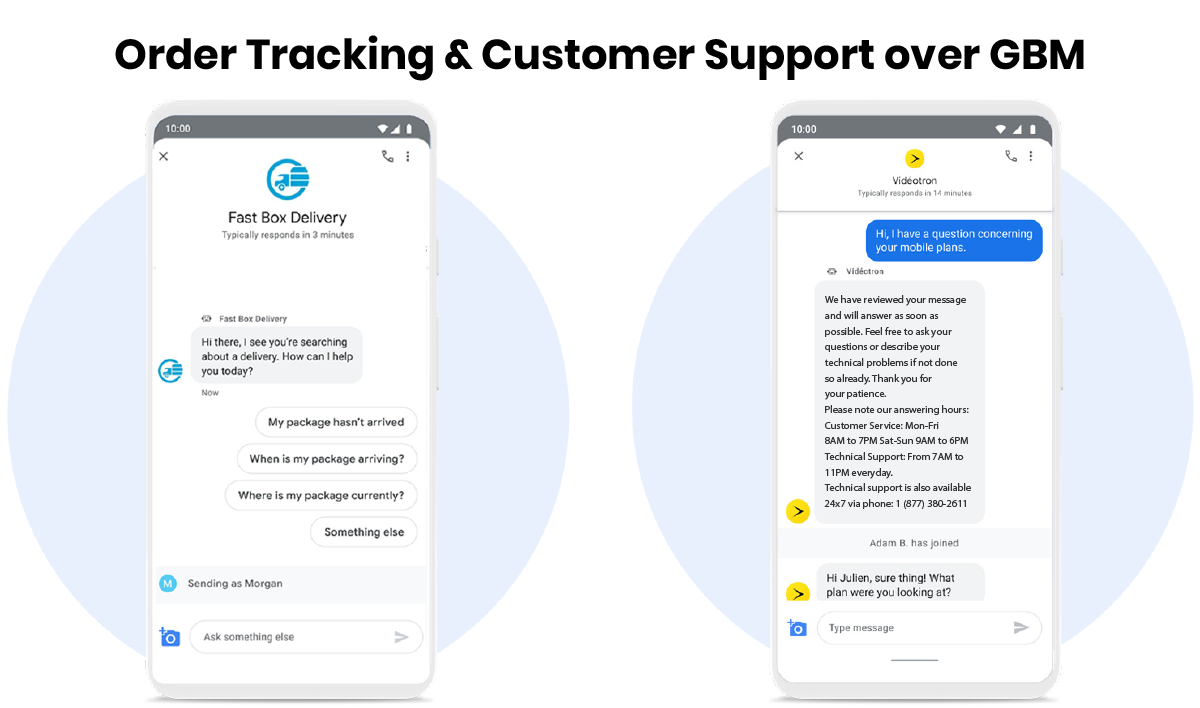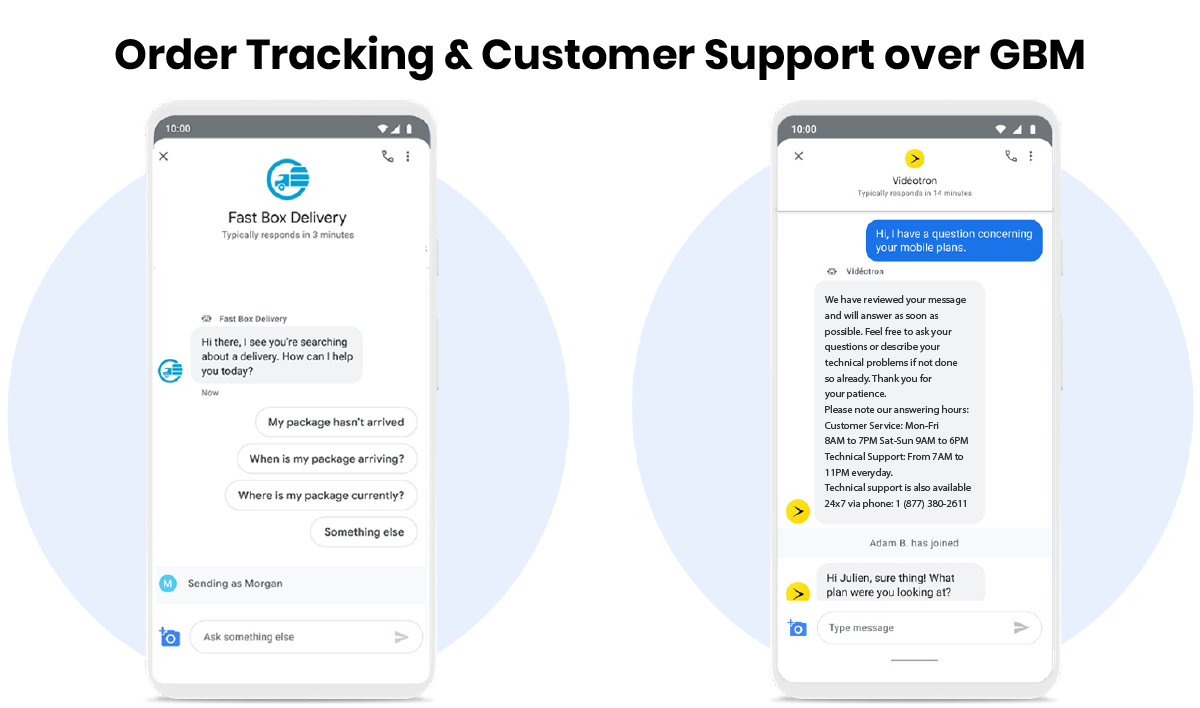 6. Google Business Messages success stories have been incredible
It is obvious to feel apprehensive about any new technology. But Google Business Messages have been shattering all apprehensions with its success stories. Popular brands from all around the world have seen impressive outcomes after adopting Google business messages. While Levi's CSAT score surpassed 85%, Bajaj Automobile's (an India-based multi-national auto-mobile manufacturer) lead conversions skyrocket by over 14x with Google business messages. While Tedi (a German retail brand) witnessed over a 10% increase in customer service productivity and Videotron (a Canadian Tele-commuication company) saw an increase in CSAT to 82%(surpassing industry standards).
Get Started With Google Business Messages Now
Gupshup, a leader in conversational messaging has been helping brands leverage Google Business Messages to drive marketing, sales, and support. With customized conversational journeys, brands can get started with Google business messages tailored specifically to the customer and industry needs.
While Gupshup's pioneering solutions in conversational marketing, commerce, and support help brands get started with Google Business Messages with smart automations, Gupshup's unique partnership with Google helps brands stay ahead of the curve with best practices and industry-first features. Not to mention the benefits of our advanced messaging APIs, which help brands build a truly omnichannel conversational experience for their customers.
Blogs you will want to share. Delivered to your inbox.
Business Email
×
Read: 6 Ways Conversational AI Improves Customer Experience In BFSI