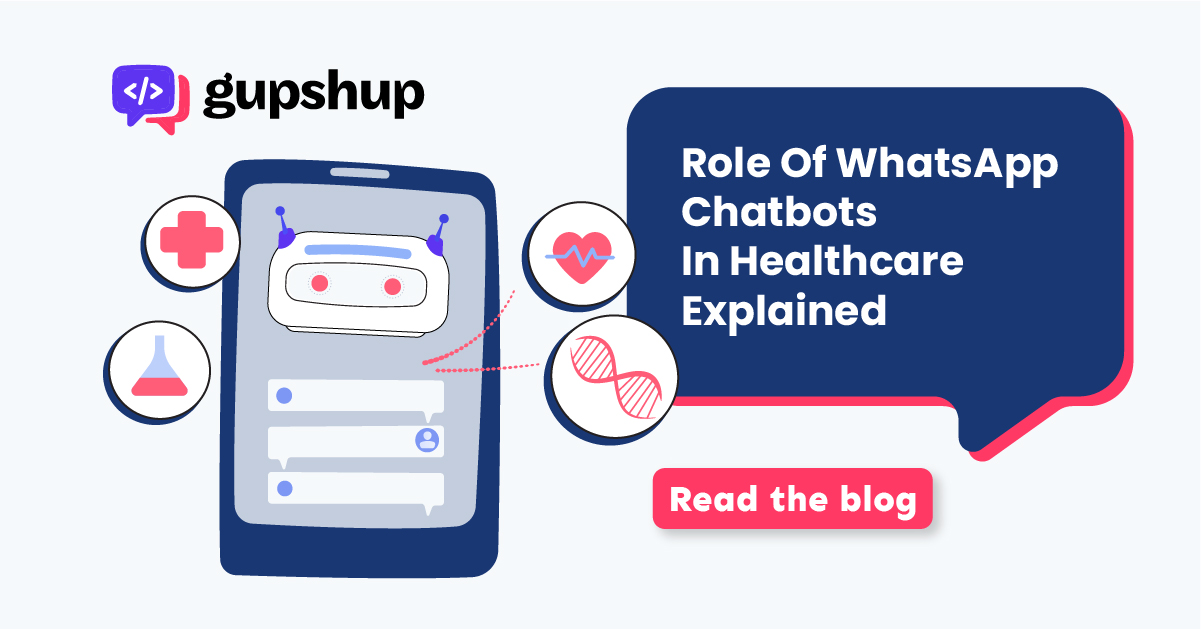 Role Of WhatsApp Chatbots In Healthcare
Chatbots, Healthcare, WhatsApp Business API, WhatsApp Commerce
On January 17, 2022
The healthcare industry is under a lot of pressure lately, especially due to COVID and its ripple effects. The way hospitals traditionally conduct business isn't enough to deal with the current demands being placed on the system by an increasing number of people who are looking for quality healthcare without the face-to-face barriers that prevent so many from seeking treatment. How can something be done about this?
Well, in large part the answer lies in better ways to reach patients than relying on traditional platforms like landlines and even SMS when you consider that a person checks their phone as many as 23 times each day which means there's nothing more likely to grab someone's attention than a text message. Healthcare sector needs to think about whether or not their target audience uses messaging services and then take the time to converse with those who happen to use them on a regular basis. This form of digital engagement is an excellent way for people to get the service they need in the moment that they need it most: when people are online.
The most popular messaging channel today is undoubtedly WhatsApp. As of 2021, WhatsApp is the most popular global mobile messenger app worldwide with approximately two billion monthly active users, outranking Facebook Messenger at 1.3 billion and WeChat at 1.2 billion users. Following Facebook and YouTube, it is the third most popular social network worldwide. Integrating WhatsApp chatbots into a business is not only crucial today but a necessity.
WhatsApp Chatbots For The Healthcare Industry
Hospitals around the world are facing pressure due to increasing patient numbers – and they need to embrace digital transformation in order to provide healthcare services more efficiently, while also scaling up and improving overall satisfaction. To accomplish this, it's important that hospitals look towards today's most popular messaging app WhatsApp in order to engage with their patients and residents on a more personal level, right when they need them the most. For example, deploying inspired health-focused chatbots that can help people find medical facilities or ward information is an effective way for hospitals to reach out to their customers while also automating these conversations via a messenger, helping them scale and reach more people simultaneously!
Some use cases where WhatsApp chatbots are crucial in the healthcare sector:
Booking appointments for healthcare services
A WhatsApp chabot can help patients in scheduling appointments for ailments. The chatbot can refer the patient to particular hospitals, or departments and doctors within a hospital. The chatbot can also share doctor schedules, and even help patients book appointments for consultations and check-ups.
Appointment reminders
Missing an appointment can be quite frustrating for patients. Especially when an appointment is booked online, there are chances that patients might miss the exact times and schedules. A WhatsApp chatbot can send timely reminders of upcoming appointments and also send confirmation messages to both the patients as well as the concerned department/hospital/clinic.
Test results
Hospitals can send across test results via a WhatsApp chatbot effectively. Patients can thus avoid going to the centre for physically collecting the reports, and better manage their time. Patients can even book for tests, view the pending reports, get reports over the chatbot, etc.
Health tips
WhatsApp chatbot for healthcare can easily send daily health tips and prompt notifications for exercising, maintaining hygiene, having a balanced diet, etc. to promote overall good health and eating habits. This will not only draw patients to have a more healthy lifestyle, but also gives a boost to your overall brand value.
Feedback and patient support
Hospitals get a lot of calls on a daily basis and they need to deal with a majority of these calls which are about grievances. Bots can handle these queries, document them, provide them with relevant information, transfer them to the appropriate department, and even collect feedback. Complex queries can be smoothly handed over to live agents or support teams who can take it further for resolution. WhatsApp chatbots even offer the patients the record of past conversations, and relevant information provided.
The Gupshup Solution
The healthcare industry is in the midst of change and it's now finding itself in a position where it must implement digital transformation strategies to meet the needs of patients. To do this, healthcare businesses need to see whether or not they can engage with their customers as much as possible over things like mobile apps and messaging channels like WhatsApp. How do they go about implementing chatbots into their business processes?
The easiest way to get WhatsApp API for your business is to partner with a WhatsApp-approved BSP like Gupshup. With Gupshup's low-code platform, you can integrate the WhatsApp chatbot into your communications stack easily. With Gupshup, you not only get hassle-free, fast setup; you also get pay-as-you-use pricing, world-class technical support, and zero worries about long numbers, short-codes, or country-specific telecom regulations.
To know how Gupshup's WhatsApp chatbots can conduct conversations and help you scale your efforts and amplify your brand's reach, #LetsGupshup.
Blogs you will want to share. Delivered to your inbox.
Recommended Resources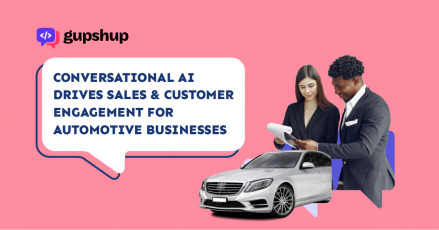 From product discovery to after-sales support, Gupshup offers an end-to-end solution that enables conversational interactions between...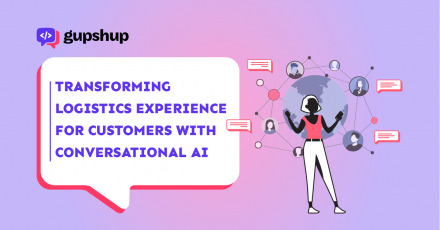 Improve your logistics business by enhancing user experience with conversational AI. Read on to know about...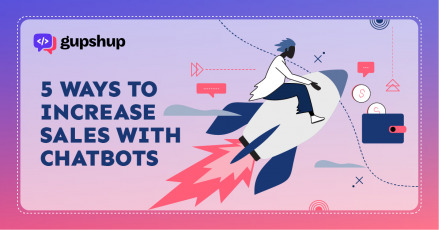 Chatbots not only enhance the overall customer experience but also add more value to your brand-customer...
×
Read: Exploring The Power Of Voice APIs