Top 3 Benefits Of SMS Marketing For Enterprise Communication
On February 25, 2022
|
4 Minutes Read
Conversational Engagement
Conversational Marketing
Generic
SMS API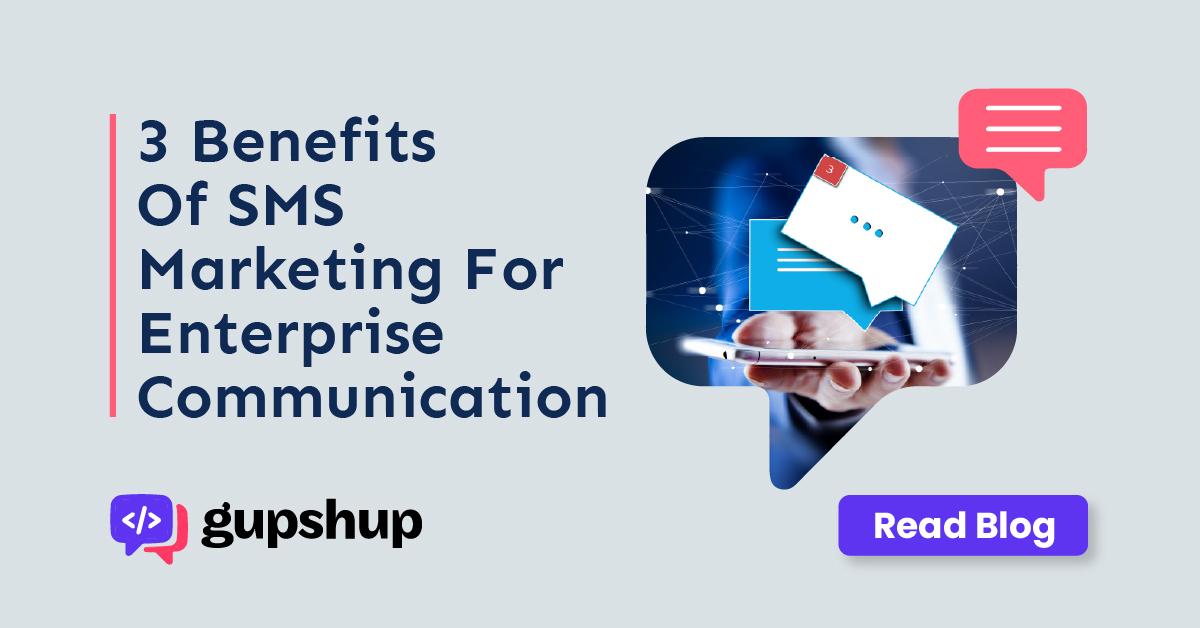 Enterprise communication is an integral part of marketing today. In these times, enterprises have to adopt a differential approach not only in their positioning but also in the way they reach out to the customers. This sometimes turns into a challenging experience as the clutter in marketing has gone through the roof.
According to Aaron Angius," As people change their behaviors, marketers, salespeople, and customer support reps will need to react. Instead of thinking of a desktop experience, a mobile experience, a tablet experience, and an Apple Watch experience, we'll need to pursue one, holistic approach, an omnichannel experience that customers can use whenever they want.'
If you want to create an integrated experience for the end-user, then read this article to understand how you can enhance enterprise communication over an omnichannel communication platform by using SMS marketing.
SMS provides excellent economic value to enterprises, and today, more than ever, it is critical for enterprises to leverage the advantages of SMS marketing.
Benefits Of SMS Marketing
1. High Open Rate
The open rate for SMS is 98%, which means that enterprises can reach out to the mobile-oriented millennial with information which will be read. However, tracking these users may be a challenge for enterprises. Many brands report a massive increase in traffic after launching their campaigns on an analytics portal.
Many service providers, like Gupshup, are offering an ingenious omnichannel analytics portal for tracking, conversion, and optimization of clicks that are generated over SMS. With this avant-garde feature, enterprises can gain insights about the end user's activity and redistribute their marketing budget wisely.
2. Instant Delivery
Fast delivery makes SMS the most potent low-cost model for enterprise communication. Big brands seeking expansion in markets where feature phones abound also make use of SMS to do so. By leveraging the power of SMS marketing, organizations can interact better with the consumer and improve the efficiency of business activities. It can also be a game-changing communication tool for social causes like social awareness campaigns and governmental issues.
Gupshup's messaging platform includes outbound SMS — a non-intrusive messaging tool. If the campaign aims to send information about a proposed policy or decision of the government, urgent updates re crisis, the launch of new schemes, and outcomes of global interactions and so on, then outbound SMS is your best bet.
Banking and financial sectors have revolutionized the way that transactions are made?
When you want to withdraw money from the bank, all you have to do is log in to your account, and to authorize your request, the bank sends an OTP to your mobile number. This means that irrespective of your geographical location if you want to purchase something on the net, all you have to do is type in the OTP to gain access to your money in the bank.
3. Personalization and brevity
It has been reported that a 5% increase in customer retention increases the company's profitability by 65%. With advanced customization of SMS, enterprises can now invest in customer retention.
Gupshup's Scalable SMS API
Improve two-way communication between the client and customers through the power of SMS by leveraging the power of mobile! Engage customers through seamless automation and start building solutions with Gupshup's Messaging API. We can scale with you, whether you need thousands or millions of messages, our SMS API ensures the timely delivery. Also, you can add more channels such as MMS, WhatsApp, and more using the same single API.
Enrich your customer engagements with our quick, reliable and scalable SMS API
Deliver text messages to 225 countries through a cost-effective and programmable single API to harness the power of SMS. #LetsGupshup to know more.
Blogs you will want to share. Delivered to your inbox.
Business Email
×
Read: Top 5 Reasons Why Businesses Should Go For Hybrid Chatbots