Enrich customer engagements with Global SMS API
On August 4, 2021
|
4 Minutes Read
Conversational Engagement
Generic
SMS API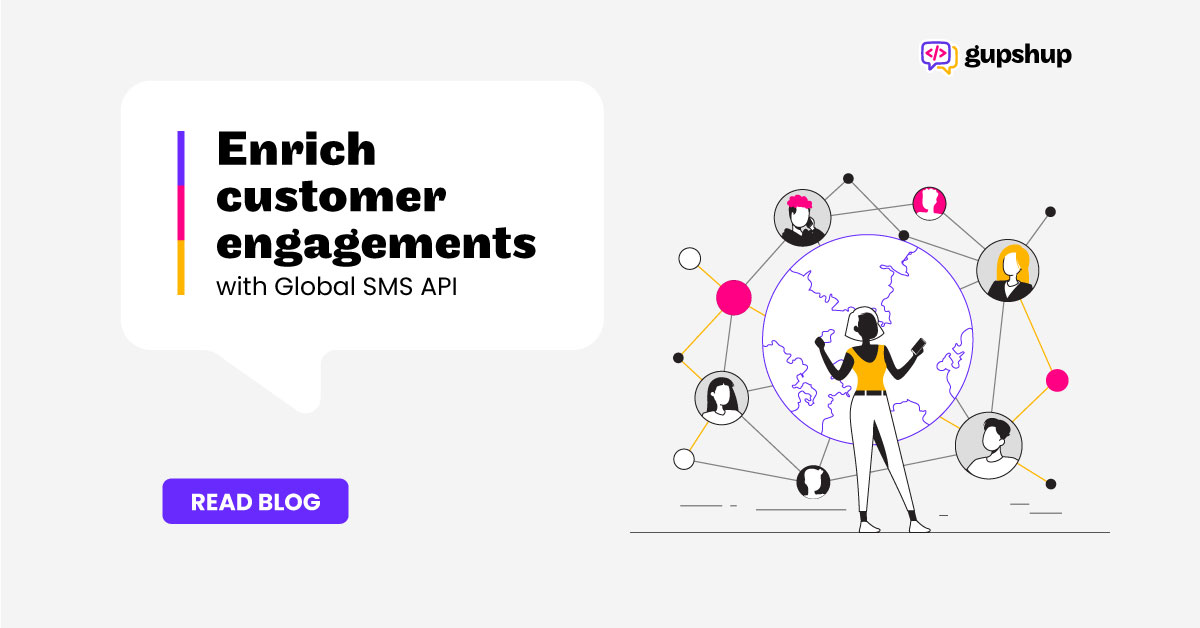 Thirty years since it first arrived on the scene, SMS is still the dominant messaging channel, with more than 2 trillion messages sent annually. One of the reasons SMS is still popular for application-to-person (A2P) messaging is the ease of reaching any phone in any region across the economic and global strata. It is a native messaging capability that every phone has. SMS is also favored from a regulatory point of view in many countries with highly regulated industries like BFSI using SMS for informational and transactional notifications.
Gupshup empowers enterprises to deliver text messages to 195 countries through a cost-effective and single programmable API and harnesses the power of a simple SMS as a medium to communicate with their target customers.
Gupshup's Global SMS solution
SMS is a key channel from the 30+ channels that brands can use through Gupshup's Messaging API, which forms the core of the messaging layer of the conversational messaging platform.
Types of SMS messages we support
Transactional Messaging
Notify customers with updates, reminders, and alerts in a timely and reliable way. Some features of transactional messaging include:
Secure, reliable, and scalable platform that handles billions of transactions every month
Comprehensive API coverage to send transactional messages via HTTP, HTTPS, SMPP, XML
Supports long messages
Supports Unicode for special characters and regional languages
Two-way Messaging
Get instant feedback and enable users and enterprises to interact and engage with each other using text messages. Some features of two-way messaging include:
Supports incoming and outgoing messages using an easy-to-use interface
Offers dedicated long-codes or short-codes for high brand recall
Measures effectiveness with messaging insights and link tracking
Creates triggered communications with unlimited keywords, each with a personalized response message
Promotional Messaging
Market a product or service to a targeted audience, promote brand building, and increase customer base. Some features of promotional messaging include:
Send messages to 81 million interest-based opt-in profiles and 750 million location-based profiles
Influence customer behavior through up-sell or cross-sell of new products at the right time
Drive higher RoI for your marketing campaigns and engage your customers based on their behavior and actions
Messaging Templates
Get built-in interactive messaging templates. Some types of messaging templates include:
Advanced APIs
Provide access to multi-step messaging journeys with Advanced APIs. Some features of advanced APIs include:
Two-factor authentication, KYC
Lead generation journeys
Customer feedback journeys
EMI collections journey
Custom forms based on business requirements
Secure Messaging
Gupshup ensures that it follows all necessary security protocols to maintain user privacy at all times. Some secure messaging features include:
Protect sensitive customer information like transaction value, account balance with captcha, disappearing text, and 3-factor authentication.
Gupshup is ISO 27001 certified and a GDPR compliant company that supports SSL encryption techniques with TLS 1.2 256 bit AES.
Failover Options
Send messages that don't make the DLT filter with Gupshup IP (GIP) messaging and actively drive conversations.
SMS Dashboard
Get access to a comprehensive SMS dashboard and keep track of your global SMS sends and responses in real-time.
Benefits of Gupshup's Global SMS solution
Scale-up
Whether you need thousands of messages or millions, our SMS API ensures the timely delivery. You can also scale up and expand to MMS, WhatsApp, and more using the same API.
High volume support It does not matter where your customer is placed worldwide; we can deliver SMS with our direct connections with over 225+ carriers in over 195 countries – fully scalable for high volume traffic.
Developer friendlyReceive and send SMS via our API, built-in with codes, or with our ready-to-use Global SMS API
Final takeaway
Gupshup's Global SMS solution is apt for any enterprise business, like BFSI, fintech, retail, ecomm, edtech, etc. If you are a developer who works for enterprises or agencies building solutions around marketing, commerce, and support, the Gupshup solution is ideal for you. Ensure global reach with enterprise reliability by enabling engaging conversations seamlessly across 30+ channels using a single API.
Acquire, engage and retain customers using Gupshup's Smart messaging platform for all your business messaging needs. Get in touch with us to get started today.
Blogs you will want to share. Delivered to your inbox.
Business Email
×
Read: Get Google Messaging API for your Business