Top 5 Benefits of APIs in Business
On January 5, 2022
|
4 Minutes Read
Advanced API
Generic
Messaging API
Single API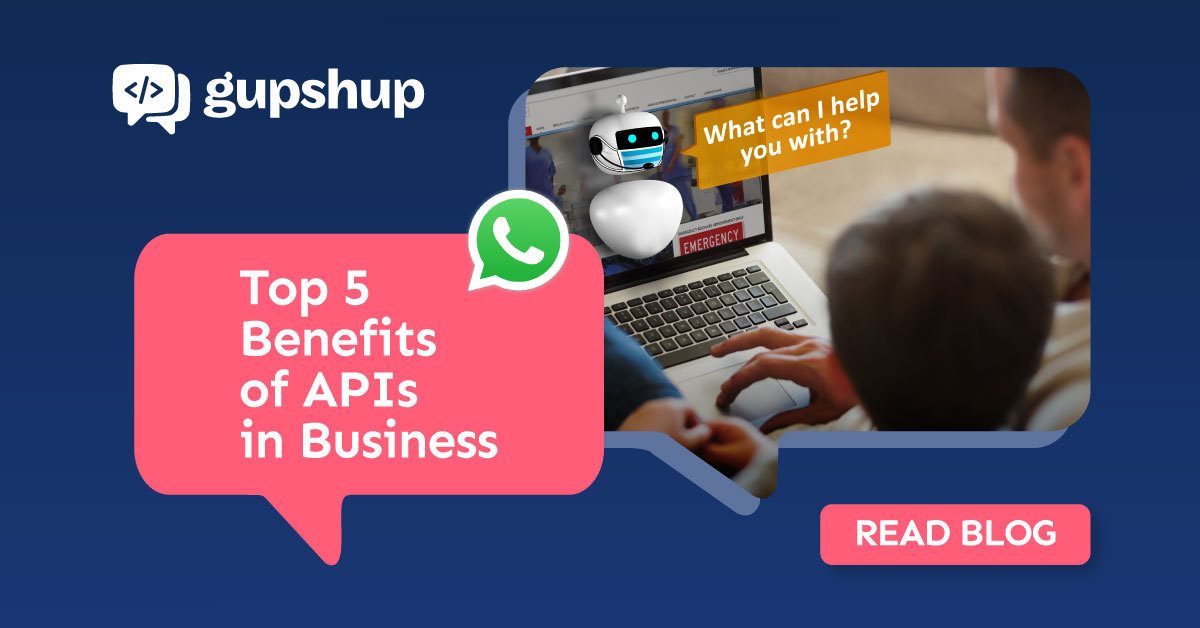 Businesses are attempting to make massive changes to move faster today. Whether you want to build on top of what you already have or start from scratch, there are software systems available that allow you to make these improvements.
When you think about it, every business which was working in seclusion earlier is now associating itself to an API platform for gaining access to potential leads. For instance, cab companies need to take the support of more prominent platforms like service aggregators such as Uber to generate more revenue.
As Patrick Emmons notes, 'Historically, API's were developed to encapsulate business functionality for internal end-users to incorporate into web applications, BPM solutions, mobile applications, etc. Nowadays, businesses need to open them to their external users, such as customers, partners, and suppliers.'
APIs are made for leveraging the power of connectivity. If you want to enjoy the perks of using a new app, then you have to provide access to Google and Facebook also so they can see what other apps you are using. The same goes for when you are trying to create an account. This, in other words, is known as API authorization or API integration so that SMEs can work with third-party platforms for their software, giving them the flexibility they need in gathering contact information which can otherwise be a time-consuming job. APIs surround us everywhere. Usage of APIs has led to tremendous growth for companies.
Significant advantages of API integrations
Efficiency
Developers can meet their objectives on time and do more in less time due to API support. The API itself has no implementation, but it specifies how software components should be assembled to develop a program. As developers, we often hear this statement, 'do not reinvent the wheel.' An API helps you to do exactly that.
Bridging the Gap
One does not have to understand all of the technical stuff about Amazon to start their own online business. Learning how to work with APIs can bridge that gap for you, which you will usually find in the API documentation.
Here's a glimpse of what you might learn: 'by aggregating features/functions set together and exposing these functionalities through endpoints (typically URL patterns used to communicate with the API) you can interact with any API. Each endpoint will have a specified format for both its requests and responses — you usually find this format in the API's documentation.
Selling your clothes on Amazon? Well, that's the magic of API for you. It allows you to integrate your website with Amazon's portal to reach out to a broader audience.
Promotes Innovation
APIs have led to rapid innovation, as those who know the benefits, can utilize it to create solutions to make newer things happen. By providing standardized interfaces to external developers, the API revolution took off. Before that, only those developers could make use of APIs who had a thorough understanding of the data exchange models, as they were provided with very rigid interfaces on how to assemble the software components. This ensured that thinking outside the box was forbidden.
Integration and Personalization
One size does not fit all. By integrating your application with a third-party platform, you can gain deeper insights about the users and how they interact with the application, and improving their experience makes them far less likely to shift to an alternative, less robust model.
A method in the madness
We all go through dozens of business processes every single day. For example, WhatsApp business APIs allow businesses to streamline operations by minimizing issues which require technical skills. By leveraging the power of connectivity, enterprises can quickly eliminate the chaos of using multiple services for different usages. Instead of using many channels for marketing, they can now use an omni channel communication platform.
The Gupshup Solution
Gupshup's Single API enables seamless customer engagement across 30+ channels, like WhatsApp, SMS, Instagram, RCS, Google Business Messages,Telegram, to name a few. With our conversational messaging solutions across various popular messaging channels, leverage our unmatched channel, operator and handset partnerships. Acquire, engage and retain customers using Gupshup's Smart Messaging platform for all your business messaging needs.
#LetsGupshup to know more.
Blogs you will want to share. Delivered to your inbox.
Business Email
×
Read: WhatsApp Chatbots For The Travel & Tourism Industry