WhatsApp Chatbots For The Travel & Tourism Industry
On January 7, 2022
|
6 Minutes Read
Chatbots
Travel
WhatsApp Business API
WhatsApp Commerce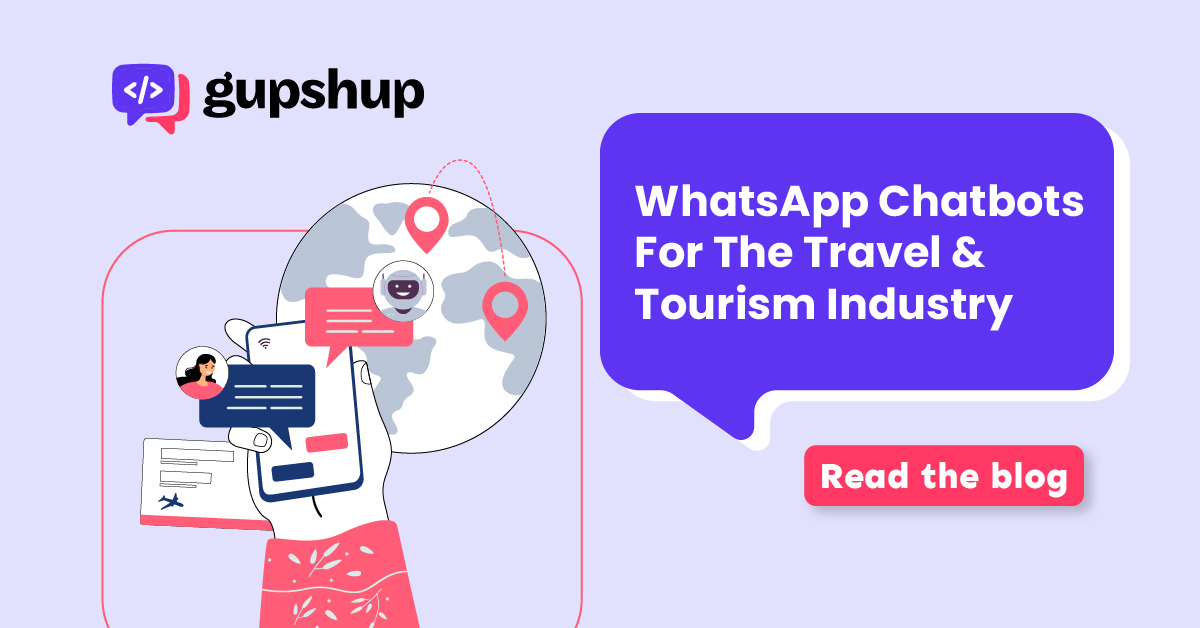 When was the last time a travel agency booked your flight or a hotel room for you? Travel agencies did this back in the day, but that needed to make way for something more convenient and less stressful! These days instead of checking with travel agencies or standing in long queues, we simply type in a few keywords and the second we reach our destination we already know what's ready and waiting for us.
Chatbots are the new travel assistants. You can ask them generic questions as well as specific queries. All the questions are answered with equal elan and minimal turnaround time. This is possible only because of the development in technology and businesses being open to integrating the same in their operations. Chatbot integrations have become a must for any industry that wants to reduce their operational costs involved in customer support and customer interface. Be it real estate, fintech, edtech or the travel industry.
Here are a few compelling facts about why chatbots are the future:
WhatsApp Chatbots For The Travel Industry
Now that we understand how chatbots are an easy to use mechanism for brands and businesses in the travel and tourism industry to provide customers with the support they need, how would it be if they could provide the same on the platform they are already on? Like WhatsApp? Getting the best of both worlds, be it personalized recommendations with varied options and the comfort of having information at the fingertips? Yes, it's possible with WhatsApp chatbots for travel and tourism/hospitality.
Due to the pandemic, WhatsApp sees a 40% increase in usage. Today, WhatsApp delivers roughly 100 billion messages a day. 
WhatsApp has always been an essential means for brands to market their products successfully with individuals and create a seamless, personalized experience for its users. And while it is one of the most common forms of communication today, due to some restrictions, WhatsApp isn't as simple to use for businesses when they need to send personalized content. That's why using an API platform as well as a chatbot are great tools in order to provide your customers with this two-way communication channel where each customer will receive unique content that was developed by your business specifically for them.
Let us understand some ways to use WhatsApp chatbots in travel and tourism:
Making reservations for flights and hotels
A WhatsApp chatbot can help customers in taking an informed decision in the midst of the plethora of options available for flights as well as hotels. It helps in avoiding confusion and gives direct answers to travellers looking, for example, for a direct flight to a destination, a hotel in a specific location, depending on their budget and other requirements.
Making detailed itineraries
Sometimes travellers are just looking for some suggestions. For example, they may have a destination in mind, but might be clouded on the other specs. A WhatsApp chatbot can understand the preferences of the traveller and suggest itineraries based on their likes and dislikes. This helps the travellers in making an informed decision, rather than just giving up on an idea because of the multitude of options available on the web randomly.
Handling customer queries
The tourism and hospitality industry is largely dependent on human interaction. People have a number of questions before they make a booking, and more so after they make a booking. This could be quite overwhelming for a human agent to pick up on a daily basis, just because of the sheer number of queries that come in on a daily basis. WhatsApp chatbots can pick up these queries and provide answers in real time, which reduces the overall workload from human agents.
Notifications for reminders and updates
Once a booking is in place, travellers need reminders on various details like flight schedules, in case there's a revised schedule, hotel arrangements, pick and drop arrangements, etc. These can be automated with the help of WhatsApp chatbots. Additionally, chatbots can also be configured to send extra reminders on documents to be carried, do's and don'ts, weather conditions, etc.
Handling customer complaints
Customer service is a 24/7 department. Customers can call in if they face issues at any point in their journeys, and support should be available to them promptly at such times. Live agents may not be available at all times to pick up calls and provide them the assistance they need, but WhatsApp is available round the clock at their fingertips. Registering customer complaints and finding solutions and providing relief to the customers can be handled better by WhatsApp chatbots.
The Gupshup Solution
It was ten years ago when people had to visit a travel agency to book a hotel or plan a holiday. The travel agent would make suggestions based on their experience in the field but ultimately it was your responsibility to choose which flight or hotel you wanted to go for. Today's travellers do not have the patience for such solutions.
Chatting with a business, be it your travel agency, is the new comfort that consumers expect. And a WhatsApp chatbot fulfills all these requirements and more. So how easy is it to build a chatbot on WhatsApp? For any successful WhatsApp chatbot strategy these three things are essential:
an API account to set up the channel
a chatbot enabling people to collaborate or converse in an elaborate way and lead you into the future of Artificial Intelligence
an automation platform which will enable you to reach out to your entire database of customers at once who have opted in for your services
Being an authorized distributor of the WhatsApp business solution, Gupshup facilitates easy coordination between brands and WhatsApp and saves them a lot of trouble. While most of the communication is automated, Gupshup efficiently takes care of processes that WhatsApp has deliberately left to human expertise.
Gupshup's WhatsApp API is the easiest and quickest way to introduce WhatsApp to your technology stack. Build a WhatsApp chatbot with us. #LetsGupshup to know more.
Blogs you will want to share. Delivered to your inbox.
Business Email
×
Read: 2022 Conversational Messaging Innovations