Build A WhatsApp Chatbot For Fintech
On December 29, 2021
Chatbots
Fintech
WhatsApp Business API
WhatsApp Commerce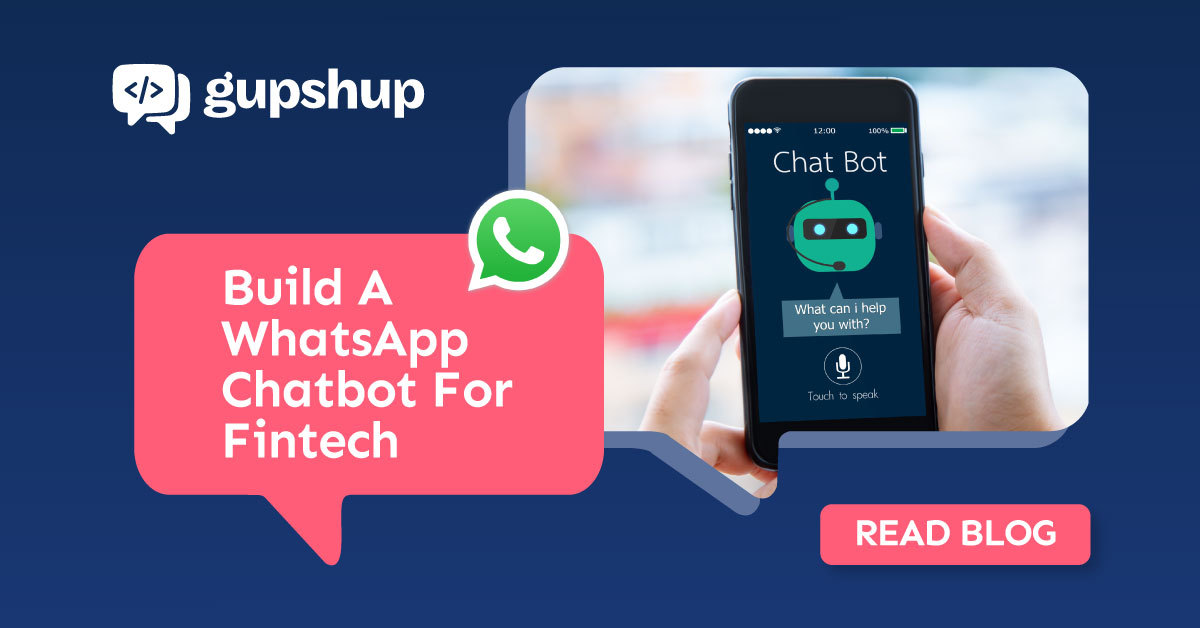 With the evolution of AI and its implementation across various domains, chatbots have emerged as one of the most important tools to improve the user experience for businesses across the globe, including fintech. Like every other major sector of the economy, fintech is an area that is a big beneficiary of the boons of AI. A study conducted by Deloitte emphasised the importance of digitisation in the fintech sector as the industry continues to grow and embrace mobile-centric customer experiences.
A chatbot is a conversational computer program designed to interact with humans with several  input and output methods, like text, voice, touch, and gesture. Chatbots online have become a very common and in-demand function for websites, portals, and platforms in 2021.
So, how do chatbots work, and how can it boost conversational fintech capabilities? Let us understand all this and more.
What Is A WhatsApp Chatbot For Fintech?
Simply put, a chatbot is a piece of software that's deployed on mobile messaging apps like WhatsApp. It simulates human conversation by following a predetermined set of rules. Chatbots are most commonly used for customer service or sales on WhatsApp messaging apps. WhatsApp chatbots can be used by financial services and businesses to generate leads, offer support, and deliver assistance on the world's most popular messaging app.
The WhatsApp API for business has come a long way in terms of bridging the gap between business networks and their customers across the world. Chatbots can conduct intelligent conversations with customers and help them conduct need-based conversations at 1/10th of the cost. Intelligent bots that are based on Natural Language Processing offer engagements to valued consumers by understanding their needs and helping them get things done faster than ever before. The unique advantage is offering customers personalised communication depending on who they are or what they need because it has been able to understand each user in turn.
A basic WhatsApp chatbot can serve many purposes, such as answering FAQs, assisting users in their transactional journeys, or providing relevant links to the users searching for something on a website.
Here are a few compelling facts about why WhatsApp chatbots are the future:
WhatsApp Chatbot Use Cases For Conversational Fintech
Generate Leads
The main step towards a successful sales funnel is generating ample leads. A WhatsApp chatbot can help communicate with customers and generate high quality leads.
Qualify Leads
Leads generated need to be further routed to the correct departments and fructified. Once the leads are qualified, agents no longer have to spend time asking qualification questions and can instead focus on immediately closing the lead.
Answer Frequently Asked Questions
There may be many generic questions that customers might have around the plethora of products offered by a fintech company. Answering queries faster and efficiently ensures that customers proceed through the sales funnel quicker. Also, by answering generic queries and FAQs, a WhatsApp chatbot helps improve CSAT (customer satisfaction) and NPS (net promoter survey) scores drastically.
Share Documents
Document submission is a vital process in any fintech onboarding process. WhatsApp chatbots allow transfer of high quality images, documents, and other rich-media elements. End-to-end encryption ensures secure transfer of data.
Timely Alerts and Notifications
Reminding customers about upcoming bills, dues and non-payments through notifications gets easier via WhatsApp. WhatsApp has a better delivery as well as open rate, which ensures both better engagement and awareness.
Handle Inquiries
With a WhatsApp chatbot in place, generic queries like account balance inquiry can be easily automated. These include basic queries like balance checking, delivery inquiries, refund statuses, etc.
Answer Complex Queries
While low-level queries can be automated, certain issues need to be handled by agents. Certain queries need to be addressed by specific departments and handled efficiently. Smooth bot-to-agent handoffs enable live agents to answer tricky or complex queries faster.
Collect Customer Feedback
Understanding how satisfied the customers are is a very important part of the sales funnel. It plays a huge part in improving CX. Negative feedback or remarks can affect a company's profile no end. A WhatsApp chatbot allows fintech companies to track the drop offs and help understand where these drop offs happen during the process.
Upsell By Sending Offers and Discounts
As is widely known, WhatsApp does not allow promotional outbound messages. However, if there is a response from the customer end to an outbound message, a company can send further messages offering discounts and promotions.
The Benefits
WhatsApp chatbots help businesses gather valuable customer information and deliver high-end CX. Here are a few benefits of using WhatsApp chatbots for the fintech industry:
WhatsApp chatbots guide customers through the process by offering personalised tips and help upsell products or services.
Chatbots are very effective in optimising online operational costs, reducing overhead, so that staff can focus on other tasks.
Chatbots automate most of the tasks like social media messaging, SMS, calls, emails, and much more.
WhatsApp chatbots conveniently provide conversational services to customers 24/7.
With chatbots, easily deliver a frictionless experience with quick responses to meet customers' demands.
Conversational data gathered from user interactions by chatbots holds a lot of value for businesses.
With deep analytics and conversational AI, businesses can better understand customer sentiments, understand trends, and gain valuable insights about customer behaviour.
Build A WhatsApp Chatbot
Creating a WhatsApp chatbot for your fintech business with an API partner like Gupshup ensures that there are minimal efforts involved in creating one and making it live within hours!
Implementing a chatbot across your preferred platform with Gupshup is quite easy, and does not require much assistance from engineering to ensure that the chatbot performs well across the tech stack you operate with. Additionally, these are not basic chatbots – you can personalise them and add advanced AI features from Gupshup's advanced conversational messaging tools.
Gupshup offers various simple graphic interfaces available for creating a chatbot for your business. Choose the one that fits your use case, and select additional customizations based on your requirements. Integrate the various NLP capabilities in your chatbot to enhance its capabilities, and manage the dynamic response variations to manage small talks and guided user journeys
The Gupshup conversational system automates lots of business use cases of the fintech industry. Gupshup provides fintechs with the ability to offer faster onboarding, support more secured transactions, manage and administrate day-to-day operations and provide seamless service support to customers.
#LetsGupshup to know more.
Blogs you will want to share. Delivered to your inbox.
Business Email
Recommended Resources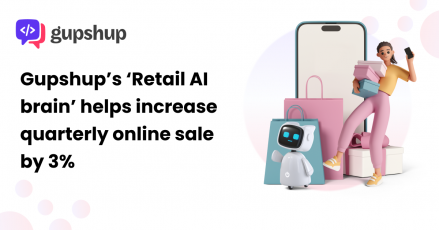 Learn how Gupshup's retail AI Brain helped a Austrian skinwear brand increase quarterly sales by 3%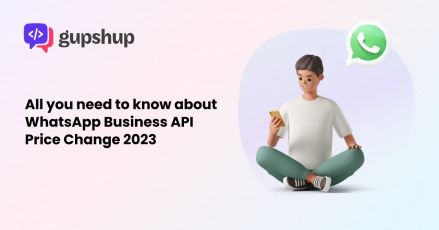 Learn about WhatsApp Business API's new value-based pricing and all the new features to look forward...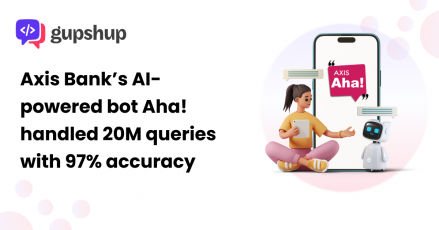 Learn how Gupshup's omnichannel conversational support solution helped Axis Bank increase user growth by 40X
×
Read: Power Of WhatsApp Chatbots In E-commerce