Power Of WhatsApp Chatbots In E-commerce
On January 3, 2022
|
6 Minutes Read
Chatbots
Conversational Commerce
D2C & E-commerce
WhatsApp Business API
WhatsApp Commerce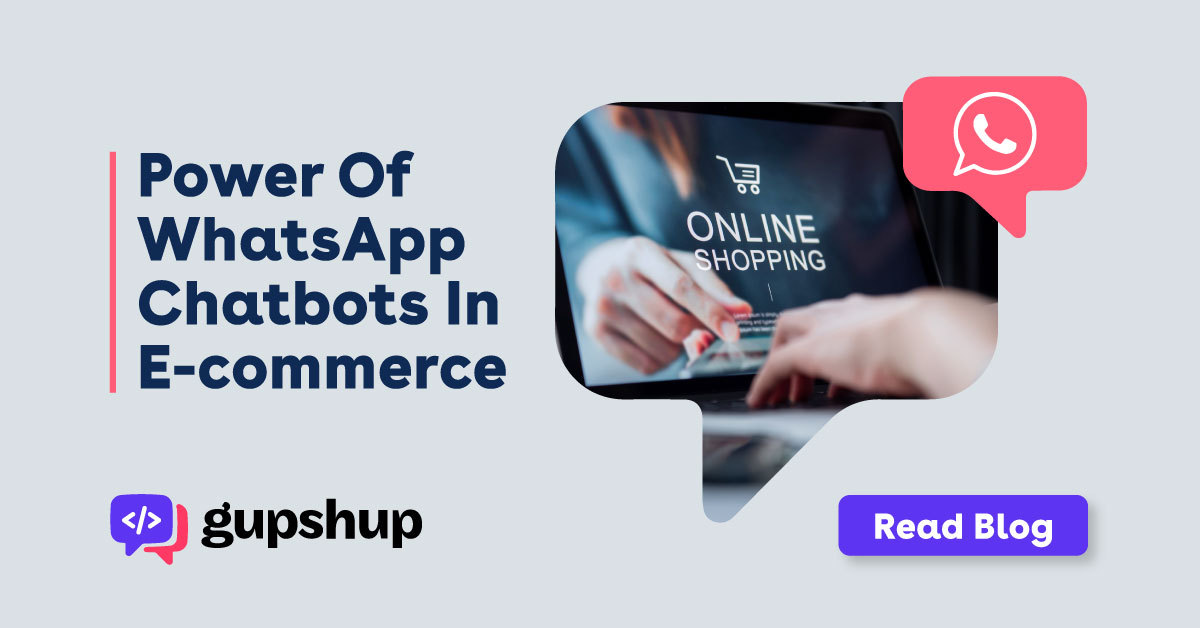 The development of smartphones has given e-commerce companies a much easier way to use mobile messaging to get their brands across. Now, instead of waiting for people to come looking for them, businesses are targeting individuals directly through messaging apps such as Facebook Messenger, Instagram Stories and WhatsApp. And when it comes to the business potential behind WhatsApp chatbots and Facebook Messenger marketing, it makes sense that in terms of profitability and numbers, WhatsApp is currently the top messenger platform.
Here are a few compelling facts showcasing how e-commerce is on a rise:
Brands should encourage their existing customers/prospects to use the WhatsApp messaging channel to communicate with them quickly, easily – and very affordably.
WhatsApp Business API
As an enterprise or even a startup, you are capable of handling end-to-end sales on WhatsApp. Customers can browse aisles for the products they want via chatting with your business and can even change the quantity or ask for a return. Social commerce has been gaining popularity because social channels enable features that businesses and customers alike appreciate. Communicating in real-time through text messaging channels like WhatsApp is quite personal as shopping from a marketplace like Amazon so it's easy to see why some businesses are quickly adapting to it. WhatsApp business API offers rich conversational features to help you reach more customers, more personally. Reimagine your business with robust AI-powered chatbot solutions for better ROI.
Embed rich content in messages
Drive engaging conversations by sending images, stickers, docs, attachments, PDFs, audio, locations. Quick start a conversation with customers scanning unique QR codes.
Create hassle-free WABA 
Leverage lowest turnaround time to go live with a dedicated account manager, avail 24×7 technical & general support.
Enjoy extremely seamless user experience
Assist customers on WhatsApp via bots or live agent panel, create FAQ flows for reduced ticket lifespans and create a personalized customer experience.
Get higher read rates
Send your customers order and delivery updates, appointment reminders, location-targeted alerts, payment confirmation details, service and booking confirmations and much more.
WhatsApp Chatbots In E-commerce
WhatsApp chatbots can benefit the company and their customers in a multitude of ways. They not only help increase revenue by generating highly qualified leads, but also help reduce support costs by automating low-level queries. Let us look at some of the use cases of WhatsApp chatbots in e-commerce.
Answer frequently asked questions
Customers have questions and most of them might be quite generic. These can range from basic product query to details about a particular product. Chatbots can handle these queries quite efficiently and guide customers through documentation on the same.
Help place orders
Placing an order drives sales numbers and hence it is one of the most important steps in the sales funnel. Customers can place orders from the comfort of their mobile devices with chatbots helping them make an informed decision.
Help track orders
Be it details about product shipments or order tracking, chatbots help by answering instant queries on the same. Customers can also reply on the chat, reschedule or change delivery addresses through WhatsApp chatbots for e-commerce.
Schedule refunds or replacements or lodge complaints
Addressing complaints and addressing refund related queries are some of the trickiest things to be handled by a customer support department of an e-commerce company. A bad experience can lead to bad reviews and poor publicity. WhatsApp chatbots enable customers to file for refunds quickly and get queries resolved.
Collect customer feedback
WhatsApp chatbots help increase customer engagement, by increasing read and reply rates for feedback communication. Get quantitative metrics for customer engagement to improve usage and ROI.
Monitor abandoned carts
Abandoned carts are those customers whom a business loses at the last step. These are customers who have shown some interest in the purchase, but backed off at the last moment. WhatsApp chatbots target these customers and re-engage them to make a transaction.
Referrals, discounts and more
Customers love discounts and recommendations. WhatsApp chatbots can make recommendations based on the shopping traits and preferences of customers. Offering them a discount or exciting offer on the same can induce sales faster.
Easy payment collection
WhatsApp chatbots can offer easy payment solutions right from the comforts of their mobile devices. Collect payments with 1-click payment messages sent via WhatsApp using options like 1-Click Bill Pay.
WhatsApp Chatbots For E-commerce
WhatsApp is one of the most popular messaging apps out there, with over 2 billion active users to date. This makes it both extremely powerful and highly useful when it comes to reaching consumers on a platform they are comfortable with. However, like many social media channels it's not always as hands-off as you might initially think. For WhatsApp marketing strategies to be successful, businesses have found that three things are vital: an API account for posting updates about content or products, a chatbot for handling customer service enquiries or questions, and a marketing automation tool that can help with scheduling your messages in advance (and saving you the stress of doing so manually!).
​WhatsApp Business API enables you to connect directly with your customers through a mobile messaging application. The platform can help you better monetize user engagement, strengthen business relationships with consumers and create a trackable community of faithful clients. W​hatsApp Business API is ​for any consumer business that has over 10k monthly active users (MAU).
Gupshup's WhatsApp API is the easiest and quickest way to introduce WhatsApp to your technology stack. The API well-bundled with some advanced features for you lets you do a variety of things. Gupshup facilitates easy coordination between you and WhatsApp and saves you a lot of effort. While most of the communication is automated, Gupshup efficiently takes care of processes that WhatsApp has deliberately left to human expertise. Gupshup with WhatsApp Commerce is the new mobile storefront for brands to scale and grow their business. Reimagine the future of shopping with the power of WhatsApp – the next e-commerce revolution.
#LetsGupshup to know more.
Blogs you will want to share. Delivered to your inbox.
Business Email
×
Read: Simplifying Payments With 1-click Bill Pay