Building trust on WhatsApp with Compliant Chats
On August 4, 2023
|
7 Minutes Read
Conversational Engagement
Generic
WhatsApp Business API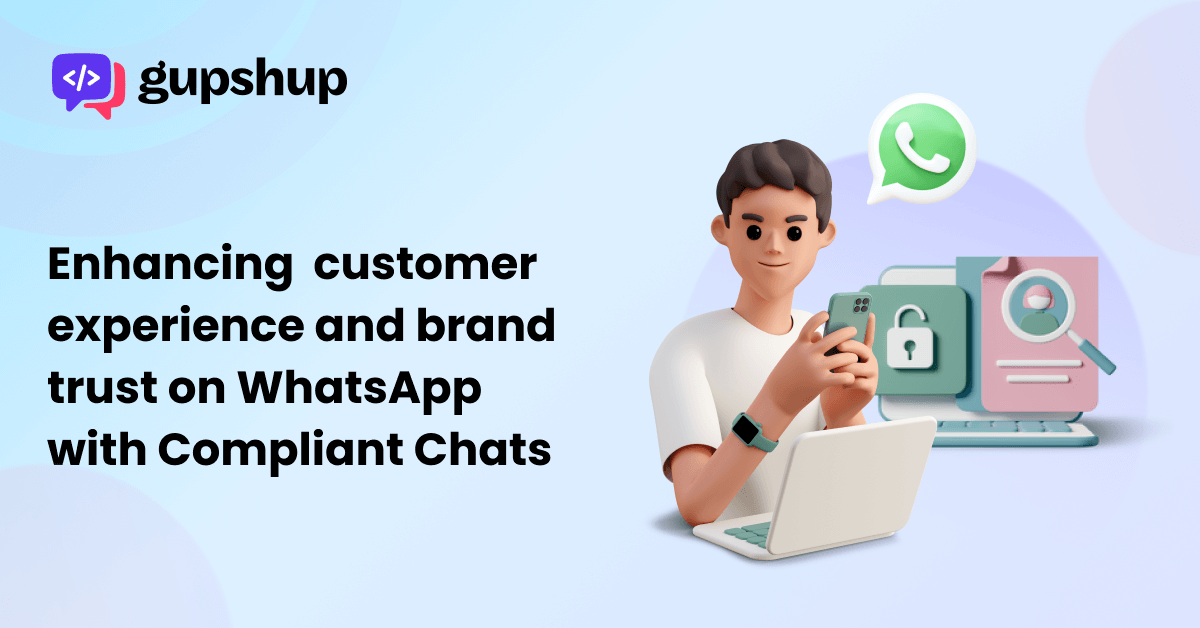 Sometime during last year, Wall Street was rocked by a spate of fines. Securities and Exchange Commission (SEC), the US financial regulator levied $1.8 billion in fines to some of the marquee banks for not monitoring employee chats on WhatsApp. The messaging app's convenient user experience means that both bankers and customers prefer it but the lack of monitoring brings it under the regulatory glare. 
For years, investment banks and financial firms have faced a dilemma – the desire to leverage popular messaging apps like WhatsApp for seamless customer communications while navigating the regulatory landscape that forbids the use of encrypted platforms.
Enter Compliant Chats on WhatsApp, a revolutionary new feature that intercepts and tracks messages, offering a secure and regulated channel for communication. To put it simply, these are chats that are done under the supervision of a brand with the brand being able to keep a record of the messages. In sectors where guarded and compliant communication along with customer engagement is a necessity, WhatsApp's compliant chats score well above the traditional, unidirectional mediums such as email.
Securing communication is imperative for brands as today's customers prefer one-on-one conversational mediums such as WhatsApp where they can ask questions and get instantaneous responses. Particularly in the financial sector, it's the speed of information that matters. In the era of digital trading, share prices rise and fall in seconds, making kings and paupers out of common people.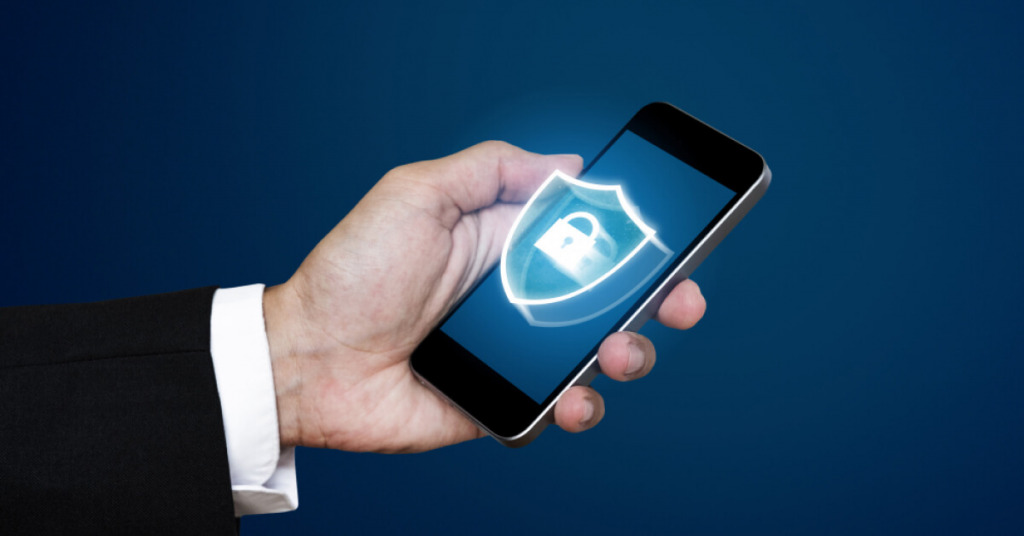 Compliant chats on WhatsApp with the comfort of P2P messaging are a match made in heaven. Brands can use their usual WABA (WhatsApp Business API) handle to communicate with customers, and bring in relationship managers wherever needed with the enhanced ability to log the complete conversation. It's applicable vice-versa too, i.e., when customers message a brand or chat with a relationship manager on the brand's chat window, the conversation can be recorded.
Compliant Chats: Possible Scenarios
There are several scenarios in which Compliant Chats can come into picture. As an example, consider this- A customer initiates a chat on the published official WhatsApp handle of a bank, requesting for their relationship manager.  Bank connects the customer to the RM on the same WhatsApp window and gets the service request actioned. The entire chat is logged for security and compliance purposes. Even if the customer connects directly with the RM, the brand can ensure compliant communications by issuing a set of official WhatsApp numbers for key RMs and field representatives.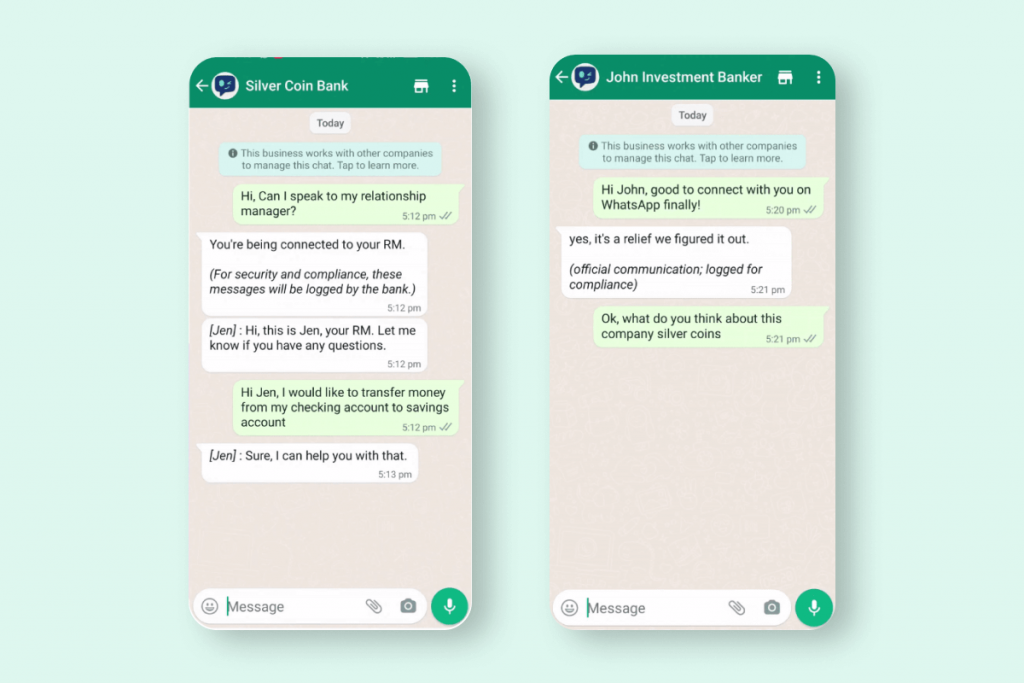 There may be a situation where a brand sends promotional messages to customers igniting their interest in speaking with an agent. The agent can take the conversation forward with the customer in the same chat window and the chat can be recorded for compliance purposes.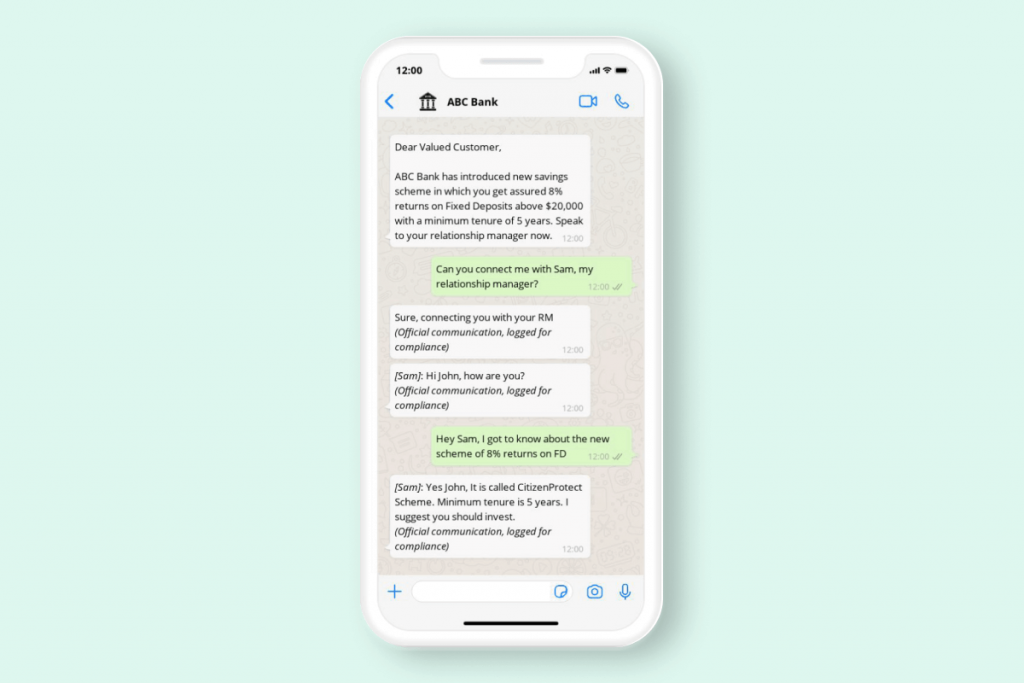 Yet another scenario could be a relationship manager or a field representative wanting to connect with the customer directly. The RM messages the bank's official WhatsApp number, which then shares a virtual number for the RM to connect with the customer. The chats through this virtual number are under the bank's supervision and recorded.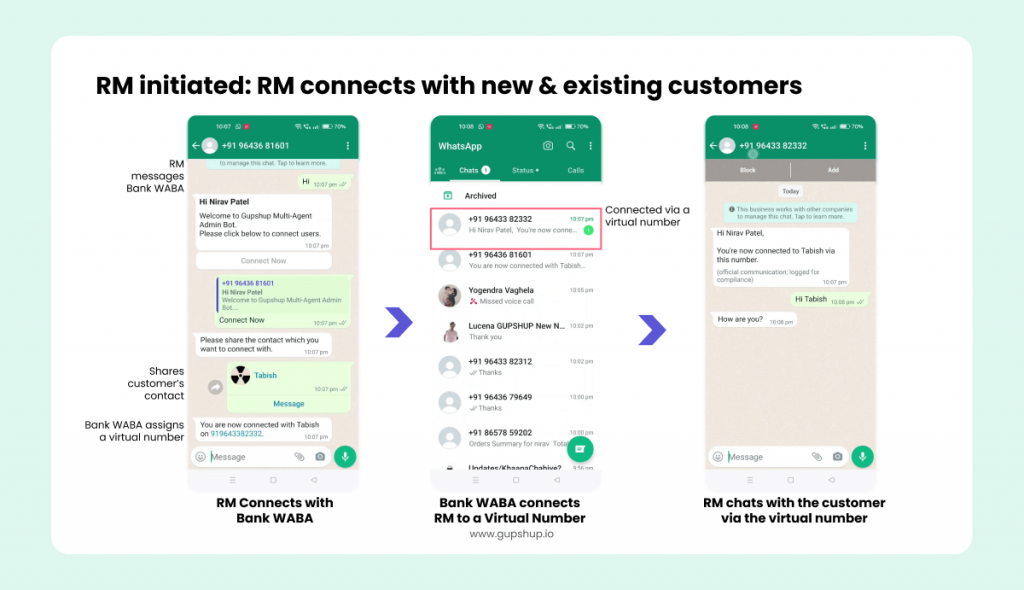 In the spotlight: Sector-specific use cases
While the biggest use case for Compliant Chats, also known as Moderated Chats, is for the financial services sector where ensuring message logs is mandatory, there are other industries that could benefit from it as well. This is to do with the fact that secure communication is a necessity across sectors. Customers, in general, are concerned about data leaks and contact initiated by executives outside of business purposes. With virtual numbers, brands can eliminate these possibilities. Let's look at some sectors where compliant chats could be valuable for brands-
E-Commerce/Food Delivery-  There have been ample instances of delivery personnel misusing customers' contact details. Food delivery and e-commerce brands can avoid this and earn customers' trust by bringing this on to a compliant chat where delivery partners can connect with the customer, without the brand losing sight of the interaction. 
Retail– Retail brands that employ personal shoppers for their customers need to ensure that conversations are relevant and useful. With the brand acting as a bridge, compliant chats effectively serve that purpose.
Real estate– For real estate developers, establishing trust with potential clients is the cornerstone of success. However, concerns over data leaks and unsolicited contact from agents have led many prospects to be cautious in sharing their contact information. Compliant Chats offer a way to bridge this gap of trust by providing a secure and regulated platform for communication. Prospects can feel confident that their personal information is protected while still engaging in meaningful conversations with agents.
Home Services / Consumer Durables- Home services and consumer durables brands that deploy field staff for installation and services can bring all the communication between field staff and customers onto Compliant Chats on WhatsApp so that it's safe, secure and within the context.
Closing the feedback loop in case of irate customers– When an irate customer reaches out with feedback or a complaint, it's crucial to acknowledge their message promptly. The secure and efficient nature of compliant chats ensures that customers' concerns are heard, addressed, and documented, leading to enhanced customer satisfaction and loyalty.
Benefits of using Compliant Chats
There are multiple benefits of implementing Compliant Chats. Particularly for financial firms, Compliant Chats on WhatsApp break down the barriers that once hindered them from harnessing the full potential of encrypted messaging. By offering a secure and regulated platform, banks can now build stronger relationships with clients, foster teamwork among employees, and confidently navigate the regulatory landscape. Here are some key advantages of using Compliant Chats-
Improve customer retention–  Compliant chats ensure that communication channels remain open and uninterrupted, even if a Relationship Manager or representative leaves the bank. When clients have ongoing conversations within the secure chat platform, the transition to a new point of contact becomes smoother. 
Secure communication– With virtual numbers for Compliant Chats on WhatsApp, brands can be sure about secure communication between the business and the customers. Sensitive information and personal data are protected. The customers do not have to worry about data leaks or any contact initiated by executives outside of business purposes.
Ensure regulatory compliance– Compliant chats automatically record and archive all conversations between customers and representatives. These records include the content of messages, timestamps, and user details, ensuring that a comprehensive history of interactions is stored. This feature helps brands meet the requirements set by regulatory bodies, which often mandate the retention of customer communication data for a specified period.
No need for new software– Existing solutions in the market require new software downloads, along with an understanding of the software. However, with Gupshup's Compliant Chat solution brands do not need to worry about a new software as it's available within the familiar user experience of WhatsApp.
Build brand trust– Customers are typically hesitant to offer ride-sharing applications and delivery businesses their phone numbers. Compliant Chats with virtual numbers, on the other hand, gain the trust of customers, improving customer engagement. 
Conclusion
As our journey through the world of Compliant Chats on WhatsApp unfolded, we discovered how this secure platform has the potential to reshape customer experiences across diverse sectors. From the financial services industry, where maintaining message logs is mandatory, to other sectors like e-commerce and real estate, where data privacy and secure communication are paramount, Compliant Chats have proven to be the catalyst for seamless, efficient, and trust-building interactions.
With the world embracing digital communication, the secure future lies within Compliant Chats on WhatsApp. We are at the precipice of a new era in customer communications, where trust, transparency, and personalized interactions lay the foundation for enduring partnerships.
Forget worrying about new software. Gupshup can help secure communications between customers and your representatives with this revolutionary new feature, truly elevating your CX.  Given Gupshup's expertise in Conversational engagement through WhatsApp, we can help you accomplish a lot more in terms of CSAT. So, take the leap, embrace Compliant Chats, and unlock the true potential of WhatsApp for your business. #Let's Gupshup today.
Blogs you will want to share. Delivered to your inbox.
Business Email
×
Read: The Business Of WhatsApp