Get Direct Customer Engagement With Google Business Messaging API
On May 27, 2022
|
5 Minutes Read
Conversational Engagement
Generic
Google Business Messaging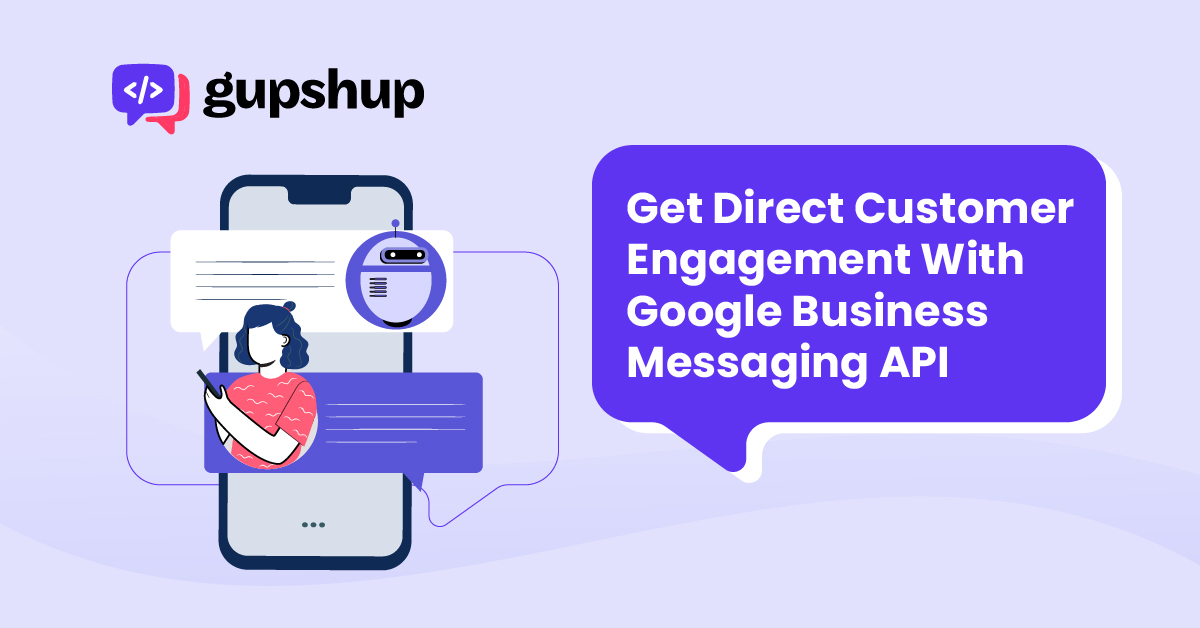 Google has occupied an essential space in our daily lives. Be it looking for the nearest ice cream parlor or learning about celebrity news, Google has all the answers!
Even businesses can leverage the world's most popular search engine that:
Marked a global market share of 85.55% in December 2021
Owns a market value of 94.19% in India
Has around 40,000 search queries per second and 1.3 trillion searches per year
Addresses 5.6 billion searches per day as per Hubspot
Spent more than $7 billion on traffic acquisition costs in Q2 2019
Was visited 89.3 billion times in February 2022
Has 246 million unique users in the US
There's no denying that customers are more likely to use Google to search for your business. Thanks to the advent of Google Business Messaging, it has become easier for companies to interact with their customers. It enables consumers to message you directly via Google Search and Google Maps. Gone are the days when customers were required to visit your website to message you. If you've been looking to up your customer engagement game lately, you must consider leveraging the power of Google Business Messaging API.
This blog will discuss all the critical nuances around Google Business Messaging and how it drives better customer engagement via Google Searches and Google Maps.
Who should get the Google Business Messaging API?
Google provides you with its Business Messages functionality in two ways. One is via the Google Business Profile, and the other is through Google's Business Messages API. Well, the Google Business Profile is apt for local small businesses. However, if you're a national-level business or want to enhance your chat capacities, Google's Business Messaging API is perfect for you. Once you incorporate Google's Business Messages API into your communication platform, you can easily integrate it with chatbots to conduct intelligent business interactions with your customers.  It becomes more convenient to automate your business communication.
Converting Google searches into business opportunities
A Google Business Messaging API allows your customers to connect with you over their preferred channels such as SMS, Telegram, WhatsApp, and many others and encourages personalized 2-way conversations. Let's look at some of the points that highlight the importance of Google's Business Messages when it comes to driving customer engagement via Google searches:
Google's Business Messages provide your customers with a more direct way to initiate meaningful conversations. All they need to do is click the "Message" button presented to them in the search results. This way, custom support agents get more free time to concentrate on complex customer issues rather than attending calls to address common queries. But there are some common guidelines that businesses must adhere to when using Google Business Messages:

Prioritize the security of your customer's personal information, including credit card numbers, passwords, and others. Avoid discussing sensitive content during chats with customers.
Refrain from messaging about a product or service that is unrelated to the original request. Avoid excessive use of emojis and URLs in your response.
Make sure to reply to messages within 24 hours to build business trust.
Never make misleading claims about your company, product, or service.

Today's new-age customers always want information in one go. Google's Business Messages provide you with rich media support. Sharing product or service recommendations via carousels, business brochures, and user manuals becomes easier.
Many companies leverage the incorporation of chatbots to address common customer support issues. With conversational AI and the power of virtual assistants and chatbots, you can utilize the Google chat platform to offer round the clock support to your customers.
Business Messages for Google Maps
Imagine you're a restaurant owner and a potential customer opens Google Maps to check for nearby restaurants. Do you know how you can stand out from the crowd to attract your customer?
The answer is quite simple – Google Business Messages! It allows your customer to interact with you right inside Google Maps and gain common information concerning the menu, timings, table reservations, and much more. When you cater to their queries then and there, it is more likely for customers to visit your restaurant.
Google's Business Messages saves your customer from unnecessary browsing and allows you to answer all their queries right where they found you. It tends to boost customer satisfaction and enhance your business reputation.
Why choose Gupshup
With a Google Messaging API like Gupshup, businesses can enhance the entire customer purchasing and support lifecycle. Let us help you drive better customer engagement via conversational messaging. Leverage the power of automated replies, unique welcome messages, and much more to solve customer queries faster and improve customer experiences. Integrate business messages directly into your service platforms and expand your business reach on Google Search and Google Maps. Learn more about the benefits of integrating Google Business Messaging with us.
#LetsGupshup about offering an asynchronous messaging experience to your customers via our Google's Business Messages API.
FAQs
1. Is there an API for Google Messages?
Yes, there is an API for Google Messages. The Google Business Messaging API enables your customers to message you directly via Google Search and Google Map.
2. What are Google Business Messages?
Google Business Message is a conversational messaging channel that combines entry points on Google Search, Maps, and brand websites to create rich messaging experiences that delight customers and drive more business results.
3. How do I get Google Business Messages?
In order to read and reply to messages from your business profile, you need to turn on the chat feature. It allows your customers to find the 'Chat' button on your profile and text you whenever they want.
4. Where are Google's Business Messages stored?
When you turn on the 'chat' feature, all your messages are saved in your Business Profile account. However, if you delete any message from one device, it will be removed from all your linked devices. You can opt to export and download messages to maintain your records.
Blogs you will want to share. Delivered to your inbox.
Business Email
×
Read: How Asset Management Companies Can Grow With Conversational AI