Comprehensive Guide to SMS Marketing for eCommerce
On December 3, 2021
Conversational Engagement
Conversational Marketing
D2C & E-commerce
SMS API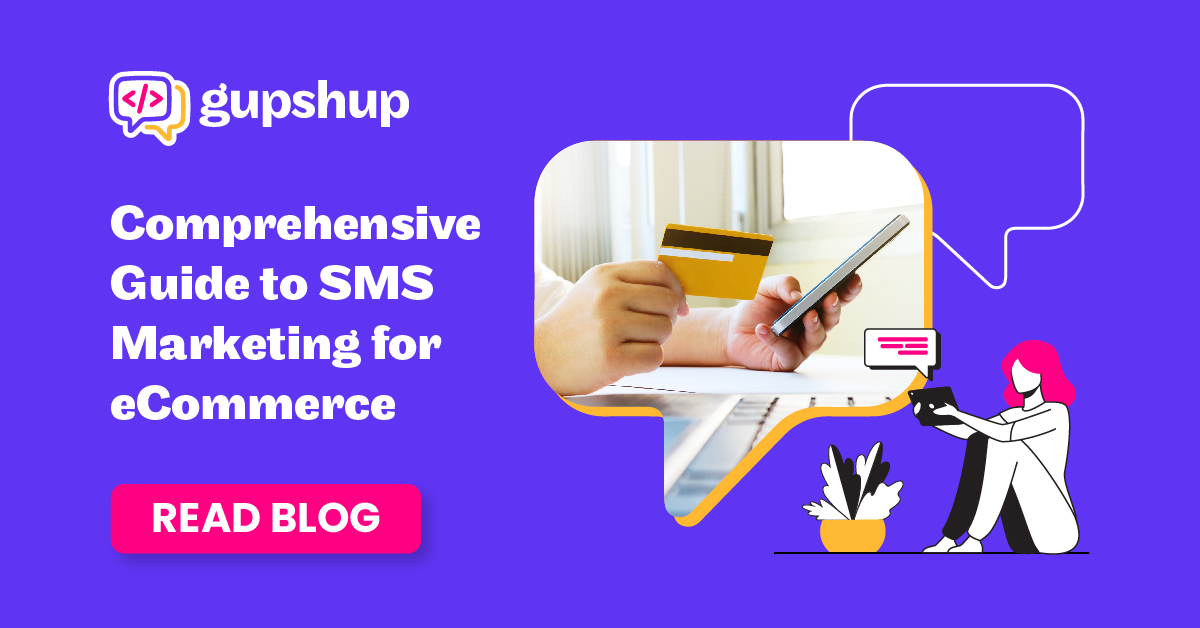 Some cool facts about mobile phones:
In 2017, a U.S. survey found that 46% of people check their phones before they even get out of bed. Another discovered that the average person checks their phone 160 times a day. From these facts, it's obvious that the use of mobile phones – particularly Internet-enabled smartphones – has exploded over the past few decades. This creates many rich opportunities for brands and marketers to connect with their audience.
And for this, SMS marketing is ideal.
65% of marketers say that SMS marketing is a "very effective" method for them, and this guide will explain why.
What is SMS Marketing?
SMS marketing, sometimes known as text message marketing, is a way to connect with customers via text messages. Any business can send short, precise yet compelling text messages to their audience to:
Boost engagement
Increase brand awareness, recognition and recall
Increase conversions, and generate more sales
These are huge advantages, particularly for B2C businesses. SMS for eCommerce is taking off because it provides retailers and eCommerce brands with the most direct line of contact with their target audience.
In eCommerce, SMS marketing is particularly effective for:
Sending out deals, coupons and special notifications
Sharing relevant, meaningful and to the point content
Keeping customers in the loop
Sending notifications or alerts
Sending quick updates
How Does SMS Marketing Work?
SMS marketing messages are usually sent from "short codes", which are special 5-6 digit numbers. eCommerce brands can also use long codes for SMS marketing. Many companies also use toll-free numbers since they support bulk SMS and 2-way communication, allowing them to expand their use of SMS to many use cases in marketing, promotions, sales and customer service.
Many eCommerce SMS marketing campaigns include keywords placed in the message body along with the short code. Some examples of such SMS:
Text "BLACK FRIDAY" to 777777 to unlock special winterwear discounts just for you
Reply "YES" to 123456 receive weekly coupons
Text "DISCOUNT" to get 10% off on your next order of bed or bath linens
In most countries, SMS marketing is a form of permission-based marketing, meaning that eCommerce brands can send out marketing SMS or bulk SMS only to those who have explicitly opted in to receive this communication.
With most SMS marketing services, customers can easily opt themselves into a subscriber list directly from their phones. With a single tap, a pre-populated text message will appear in their inbox. Once they press send on the message to opt-in, they will receive an automated welcome message, which may explain what the user signed up for, summarise the next steps, or include a special sign-up offer. Customers can also opt-in to receive marketing text messages via SMS keywords or web forms.
By getting such opt-ins, the brand can cull its subscriber list to only those subscribers who want to receive its communications. Moreover, some regulatory requirements mandate opt-ins, so adding this step to the SMS marketing process is both an advantage and a necessity.
What are the Benefits of SMS Marketing for eCommerce?
Around the world, Internet penetration is increasing and smartphones are becoming increasingly ubiquitous. These trends create new opportunities for eCommerce and retail brands to market their products to their B2C audience via SMS marketing.
Here are 5 key benefits of SMS for eCommerce.
High Open and Engagement Rates
According to Gartner, texts or SMS have very high open rates of 98%. Response rates are also high at 45%. In comparison, email open and response rates are very low, at just 20% and 6%. The average clickthrough rate (CTR) for paid search ads is even lower at just 2%. Plus, on average, a person responds to a text in 90 seconds. How long does it take them to respond to an email? 90 minutes! Research has also found that 75% of people would be happy to receive offers via SMS.
Thus, with SMS marketing, eCommerce marketers have a great chance to reach their customers, and more importantly, to be seen and heard by these customers.
Fast Delivery
SMS marketing is one of the fastest ways of communicating with customers since SMS messages are almost always delivered immediately. This allows eCommerce companies to control the time and date that customers receive and read their marketing messages. Plus, they can potentially get hundreds or thousands of opens and clicks within minutes.
SMS for eCommerce is ideal for sending time-sensitive or limited-time bulk SMS messages like flash sales or event-related promotions with minimal effort. For example, they can easily bulk SMS messages to hundreds or thousands of users about Black Friday or Cyber Monday sales to maximise conversions for that day.
Easy to Scale and Personalise
The average (successful) eCommerce company has thousands or even millions of customers. To reach these customers with the right content, engage with them through special promotions or one-off deals, or gently lure them towards purchase with attractive incentives, these brands require a simple yet scalable marketing medium. And for this, SMS marketing is perfect.
SMS is a great way to send bulk messages that are also timely and personalised. Plus, eCommerce companies can take advantage of SMS templates for eCommerce to quickly send out bulk messages, and exponentially increase sales and repeat purchases.
Trackable
Every marketing SMS is trackable. SMS marketing services allow brands to measure which messages are achieving their goals (e.g. more sales, more website visits, etc.), and which ones aren't.
If more conversations is the goal of the SMS marketing campaign, they can track the end-to-end conversion process from initial delivery and opening to purchase. Over time, they can also identify the best practices to improve their future text campaigns.
Interactive and Two-way
eCommerce marketers can easily leverage and customise eCommerce SMS templates with interactive capabilities. They can add a "Reply" button or website link inside the SMS to request customer feedback, or to direct them to the eCommerce store ("Click here to start shopping").
These messages are short and to the point, invite the customer to participate in the conversation, and are more likely to encourage them to take a particular action ("Buy Now").
What is Bulk SMS Marketing in eCommerce?
Bulk SMS marketing involves sending marketing SMS to a large audience. However, bulk SMS marketing does not mean zero personalisation. If anything, eCommerce brands can send timely and highly personalised messages at scale.
eCommerce brands can easily send out bulk SMS for special campaigns. These one-to-many" bulk messages are ideal to share:
Coupons
Sales announcements
Special discounts
Limited-time promotions
Event details
New product launch updates
Company updates
With the help of an OTP SMS service provider in India (and elsewhere) like Gupshup, companies can even send two-factor authentication (2FA) messages and one-time passwords (OTP) easily and in bulk. A free OTP service API helps secure transactions to protect the company as well as its digital community.
An SMS gateway makes it easy to send out bulk SMS. With an SMS gateway for eCommerce, eCommerce companies can send out many different types of marketing messages to thousands of subscribers quickly and conveniently.
Another easy way to send bulk SMS is with an SMS API like Gupshup. Through this API and Smart Messaging Platform, eCommerce marketers can integrate SMS marketing into their communications flow. They can also enable rich conversational workflows with images, videos, documents, etc. to drive greater customer engagement and loyalty.
This SMS API also offers seamless automation, direct carrier connections, and global reach – everything an eCommerce brand needs to reach its international clientele at scale, and at low cost.
In contrast to bulk SMS, transactional messages are 1×1 messages that are sent to a single recipient and are triggered in response to a specific event or user behavior. So if a customer ordered a product on an eCommerce website, they might receive an auto-generated SMS with details of their order. When the product is shipped, they may receive another message with information about shipping status, expected delivery time, etc.
5 Remarkable Use Cases of SMS for eCommerce Brands
Text message marketing is particularly useful for eCommerce since it lends itself to a wide range of use cases and applications:
Coupons and Exclusive Deals
SMS is a great way to send limited-time coupons to users. It's easy to customise SMS templates for eCommerce and create coupons to entice existing and new customers. A link to the eCommerce store can also be added to increase store visits and conversions.
Promote Special Sales
Clearance sales and sales for special occasions ("It's your birthday sale!"), special days (Black Friday, New Year's Eve, etc.) or special seasons (Diwali, Christmas, etc.) are another great use case for eCommerce SMS marketing. With a short message, eCommerce brands can include store links, as well as keywords like "STOP" or "HELP" to enhance customers' shopping experiences.
New Product Announcements
SMS can be an effective means to announce new products. It's easy to create a text message with the product announcement, images, photos, or videos, and store links. Since the medium is low-friction and highly popular, there is a high probability that a recipient will click on the store link and complete a purchase.
Reminders, Updates and Notifications
A short, to-the-point SMS can communicate important information about purchases, bookings, event registrations, shipping status, cancellations, reminders, and more. The message could include additional information like a URL, phone number, and keywords like "CANCEL", "YES", or "CONFIRM". These messages can be hyper-personalised and timed to go out at just the right time to the right customer.
Customer Feedback
SMS is an easy way to ask customers for feedback on a recent purchase, or recent experience shopping. The message could include simple keywords to collect feedback or a web link to fill out a (short and easy) form.
Another way to interact with customers via SMS, while also promoting the eCommerce brand is by inviting them to participate in a poll or contest. These tactics are also great for cross-promotions and upsell, and to initiate brand or marketing improvements.
6 Powerful SMS Marketing Strategies for eCommerce Brands
Those who already support an eCommerce brand and are loyal to it are highly likely to want to receive SMS marketing messages from that brand. If done right, SMS for eCommerce is a great way to retain customers, increase online sales, and get repeat business.
But to get such amazing results, eCommerce and B2C retail companies should follow some tried-and-tested SMS marketing strategies. Six such strategies are highlighted below.
Always Get Permission
It's crucial to always get subscribers' permission to send them such messages either by:
Creating an opt-in campaign
Adding an opt-in box on the eCommerce website
eCommerce companies using SMS marketing must also tell potential subscribers what type of text messages they can expect to receive, and how often. It's also important to give instructions for opting out. An opt-out can be included in every text. It must be included in the first/welcome text.
Optimise the Timing and Frequency
While there are no hard and fast rules about when or how often to send SMS messages, it's helpful to follow some thumb rules:
SMS marketing messages should not be sent at odd hours (e.g. at 2 AM on a Sunday)
Some countries have laws prohibiting SMS marketing after certain times or on certain days. Every eCommerce marketer should be aware of these laws
Transactional text messages should go out immediately after the user takes a particular action. For example, a "Thank you for your purchase" message should go out as soon as a customer completes their eCommerce purchase
Always pay attention to time zones. An eCommerce business shipping a leather jacket from Mumbai, India should not text the buyer in California, USA at 2.30 PM IST/2 AM California time
SMS frequency should be determined based on the message purpose and occasion. So, a drip SMS campaign for coupons can be sent first after the subscriber signs up, then after 2-3 weeks, and finally, after 2-3 months. However, it doesn't make sense to send 4 welcome SMS messages one after another, or 7 SMS about pre-sale booking reminders for a new book one week before the book's launch.
Include the Company's Name in the Message Body
Almost all SMS marketing campaigns are sent using shortcodes. Such messages appear as text messages from the short code which is used by the mobile service provider, not the business. As a result, recipients may not know that the SMS is coming from a particular eCommerce brand. That's why it's important to include the business name in the message.
Keep it Brief – but Don't Overdo the Abbreviations
eCommerce marketers have very little SMS real estate to get their message across. This is why brevity is vital. But to save space, marketers should not overuse slang or abbreviations that look unprofessional or worse, confuse the recipient. If recipients are confused, they will ignore the message, and even unsubscribe from the brand's SMS marketing programme.
Personalise Every Message (Even Bulk SMS)
When customers receive SMS tailored specifically to them, they will pay more attention and even take action. It's easy to personalise SMS messages by:
Including their name in the greeting
Sending offers based on their location or past purchase history
Referring to past purchases or brand interactions
Sending timely shipping updates, reminders, and alerts
Sending birthday or anniversary messages with special deals or coupons
It's also crucial to make every SMS valuable for the recipient, rather than "salesy" for the eCommerce company. While promoting a sale or nudging recipients towards a purchase are perfectly acceptable uses of SMS marketing, people will ignore such messages if they don't see the value in it for them ("what's in it for ME?"). eCommerce marketers can provide such value by:
Including coupons
Offering referral rewards
Inviting the recipient to join the brand's loyalty programme
Sending exclusive birthday offers
Recommending additional products to complement a previous purchase
Include power words like "Just for you", "Exclusive Discount", "Special Offer", etc.
A relevant call to action should be included to move the customer towards a purchase – without seeming too aggressive about it.
Use Automation
Many types of marketing SMS can be automated:
Welcome
Thank you for your purchase
Reminders
Alerts
Shipping updates
Follow-ups
Store cart abandonment
Automation tools can take care of delivery times and frequency, and schedule drip campaigns to go out at exactly the right time, and to the right subscriber.
Conclusion
All over the world, people are attached to their smartphones. This creates many opportunities for eCommerce brands to reach customers directly, enhance their brand's awareness, generate more revenues and increase profits – through SMS marketing.
Text messages are an easy way to stay in touch with customers, and keep them engaged with the eCommerce brand through timely promotions, sales notifications, purchase reminders, and more. Plus, with a seamless messaging interface and SMS API like Gupshup, eCommerce marketers can easily get started with any kind of SMS campaign. If you're looking to upgrade your SMS marketing programme with RCS Business Messaging, Gupshup can help with that too.
#LetsGupshup to know more.
Blogs you will want to share. Delivered to your inbox.
Business Email
Recommended Resources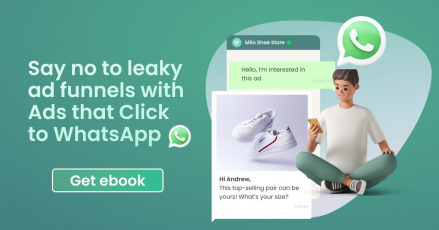 Read the eBook by Gupshup to uncover you can increase your return on ad spends by...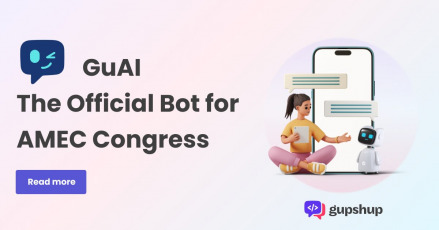 GuAI, the virtual assistant of AMEC Congress, enables attendees to interact with speakers and sponsors, access...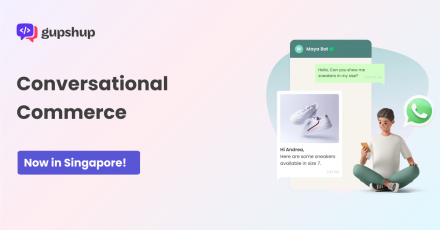 Grow your revenue with the newly launched end-to-end Conversational Commerce on WhatsApp by Gupshup, now in...
×
Read: Features of RCS Business Messaging