Hit a Six with Your Customers During Cricket World Cup 2023
On October 5, 2023
|
5 Minutes Read
Conversational Engagement
D2C & E-commerce
Food & Beverage
Omni-channel Messaging
RCS
Real Estate
Retail
Telegram
Travel
Viber
WhatsApp Business API
Hit a Six with Your Customers During Cricket World Cup 2023
The month of October is full of excitement for all cricket enthusiasts as they are eagerly waiting for the Cricket World Cup 2023. What makes it more interesting for marketers is the timing which coincides with the festive season. Mobile marketing advertisers have to be an extravaganza in capturing the emerging potential of live sports events.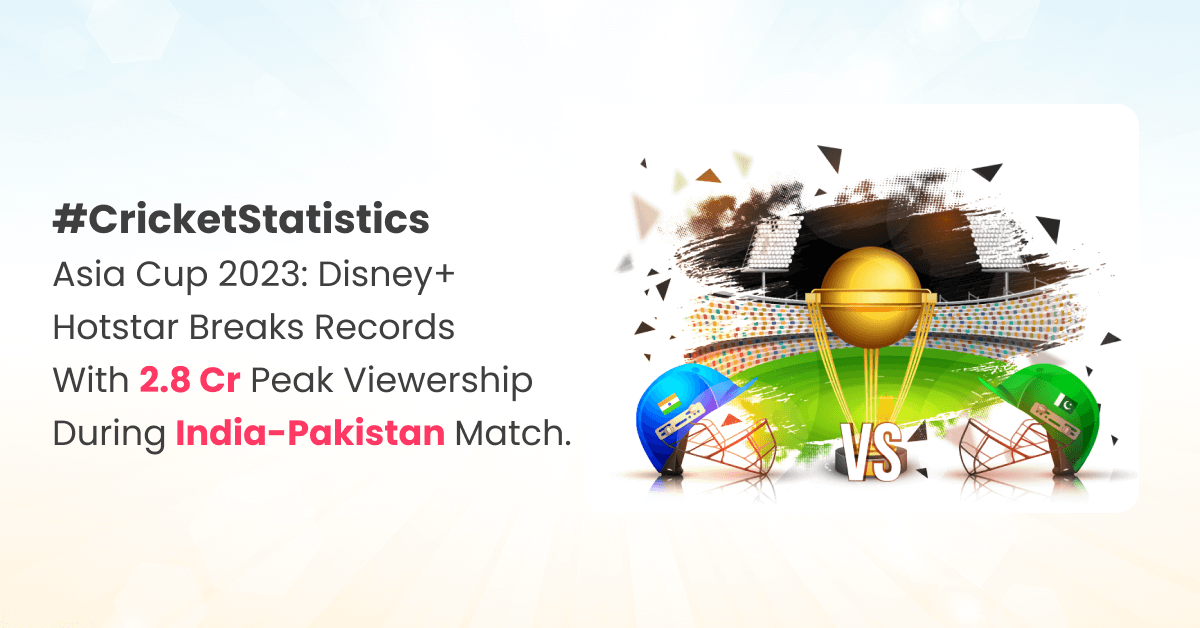 The above statistics from the recent Asia Cup 2023 estimates that the ICC Men's World Cup is expected to break all the records of viewerships, and mobile viewership will be a significant contributor. As cricket fans will be watching matches on their mobile phones it also opens up new avenues for Conversational apps like WhatsApp, RCS Business Messaging, Viber, Instagram, and Telegram to create memorable and engaging customer experiences.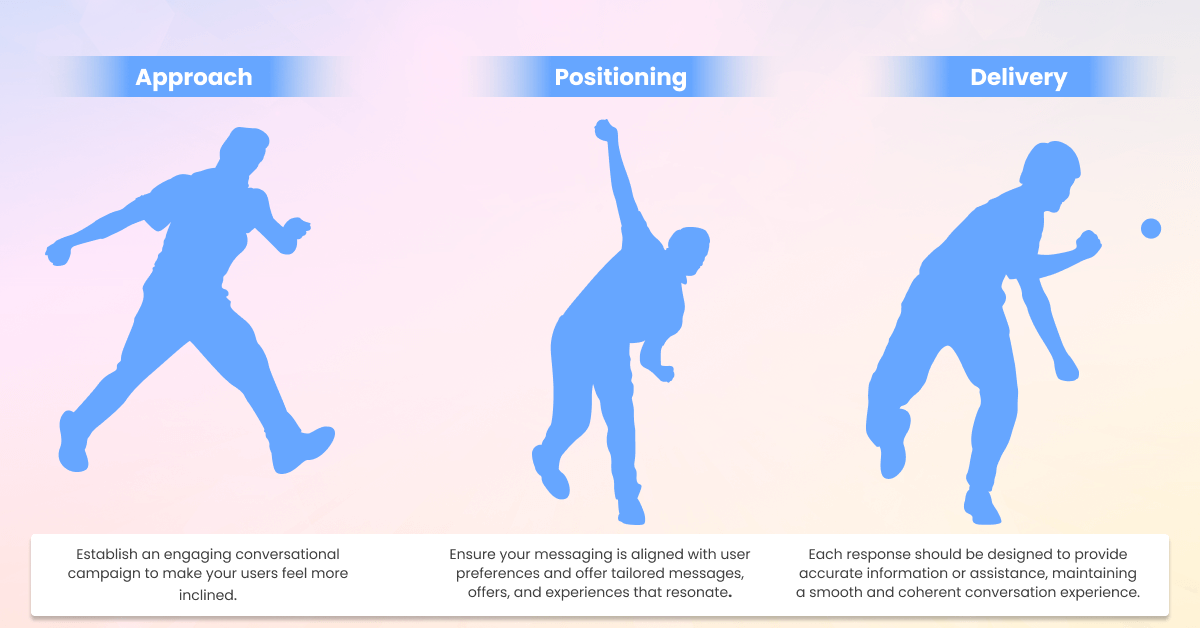 Brand-Customer relationships matter, make the most of it
As all brands are racing to go digital, we tend to undermine the brand promise, and meeting upto your customer expectations. Customers are expecting far beyond merely just purchasing and what sets your brand apart is the Customer Experience you provide to your customers. Prioritise your CX as brands with superior CX bring more revenue than the ones that lag.
Brand love is the talk of the town and brands tend to go the extra mile for that one moment of delight. This doesn't have to be expensive during the World Cup, tailored communication specific to segments can create an engaging experience for all the cricket fans. Thus, it creates an exciting opportunity for all mobile marketers to leverage the immense reach of their brand, increase revenue, and foster deeper connections with cricket enthusiasts.
Here are 5 ways you can maintain a winning streak during this Cricket World Cup 2023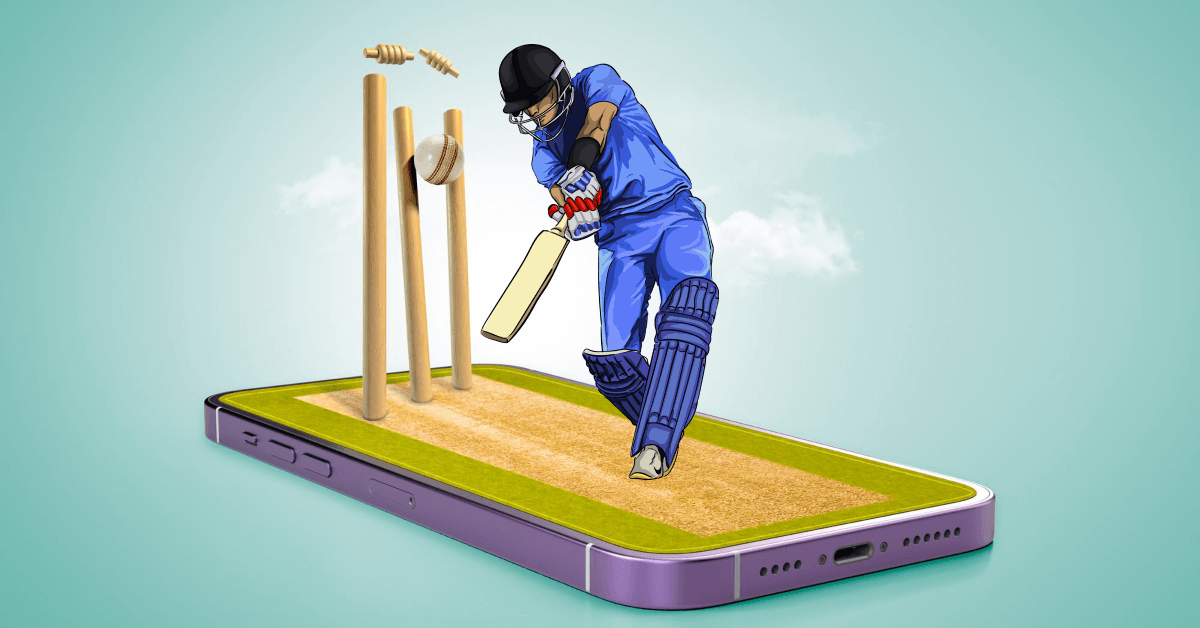 1. Take the Chat Apps approach to keep your customers hooked
Cricket World Cup 2023 is a cultural phenomenon that brings all the people from worldwide together. While most cricket fans prefer watching matches on mobile devices, they are likely to be active there. Leveraging social Chat Apps like WhatsApp Business API, Instagram, Facebook, and Telegram to engage them while they are active. One of the best ways to keep your customers hooked is by creating a one-click shopping experience.  All from ordering food to hotel bookings and online shopping which is just one click away can be done with conversational apps.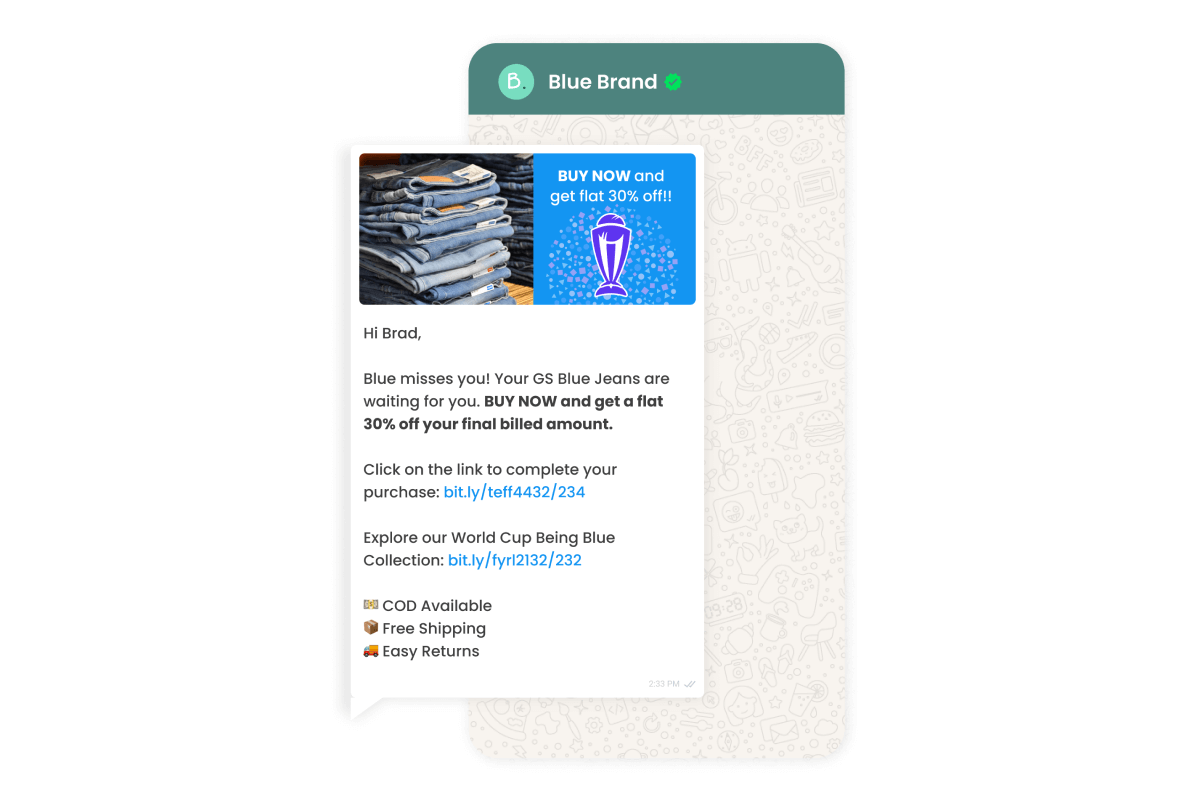 2. Facilitate channel switching while maintaining stickiness
Many customers keep switching from one app to another, but how you keep your conversation ongoing with so many apps by maintaining consistency in-store and online is the real challenge faced by the brands. Creating an Omnichannel Customer Experience makes a shopper's journey more personal and delightful.
For instance, one may simply scroll down to your Instagram ad, and with Click-to-WhatsApp chat you can deliver a smooth funnel of conversations. By doing this, you not only capture leads but also greatly increase your chances of converting these leads into customers. This underscores the effectiveness of messaging through conversational apps.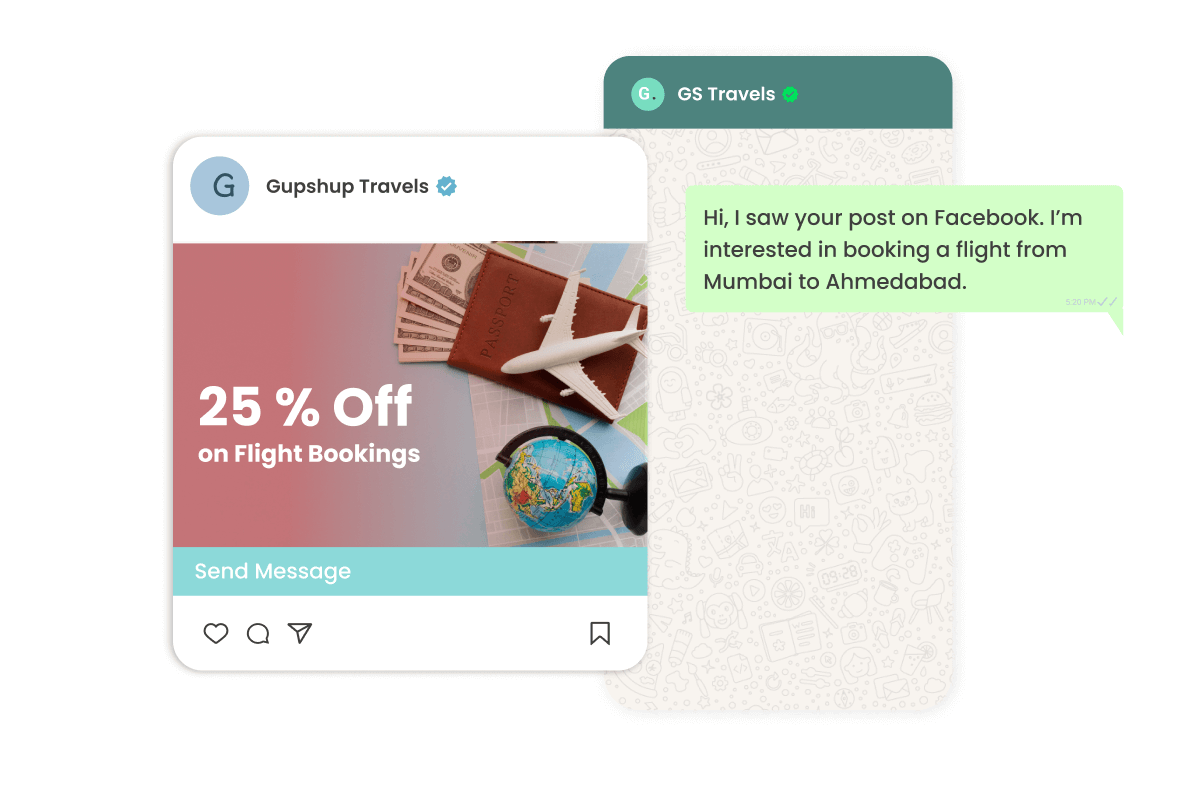 3. Build a cricket community and gift wrap your offering
Cricket is a highly popular game around the world, and it has around 2.5 billion people who follow cricket, and is hugely popular in countries like India, Sri Lanka, Pakistan, and England. Seizing the opportunity by creating a cricket community can help you reach a rich engaging audience and maximise ROI.
To start with the cricket community, brands can start by sending the cricket campaigns before the actual World Cups begin. Grab your cricket fans' attention by sending out special price offers on hotel bookings where the match is going to take place. Boost customer engagement by offering various contests and giveaways that capture your customer's attention.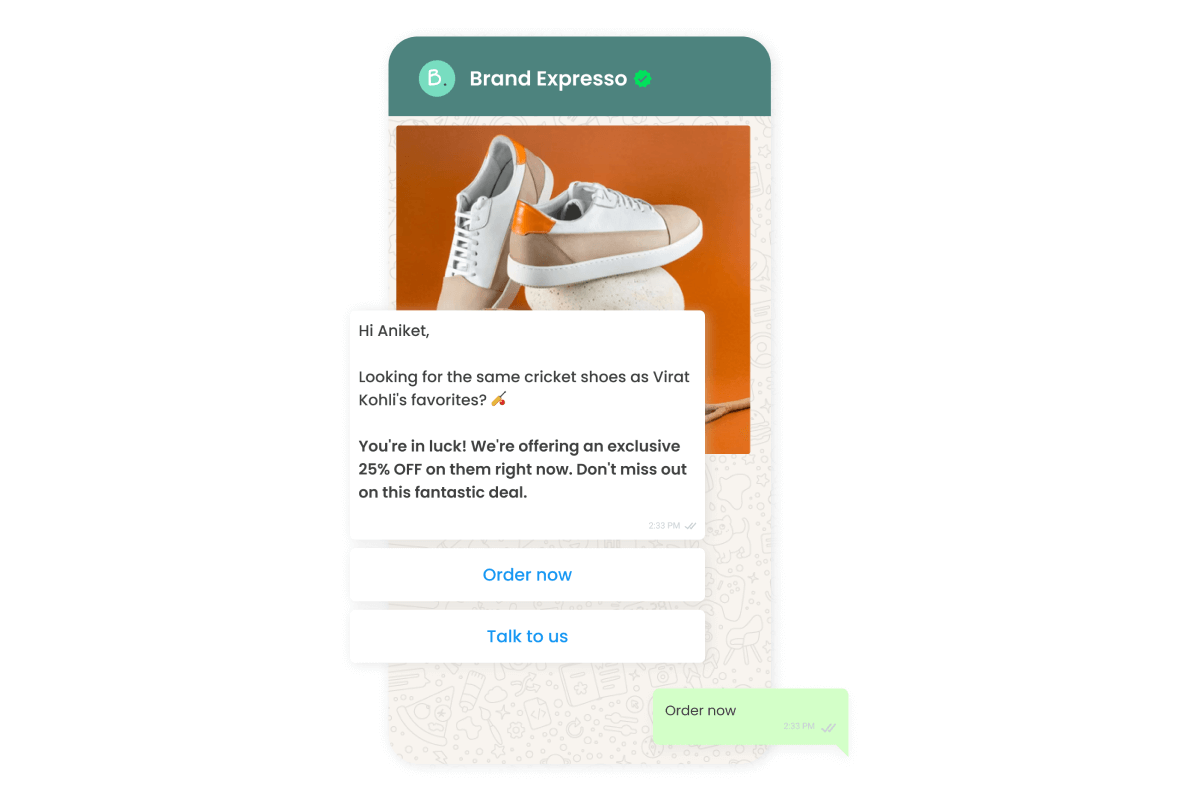 4. Personalize, customize, and deliver superior customer experience
Time has evolved, and your customers expect you to understand their unique preferences and then deliver tailored messages and offers. They don't wish to connect to brands on call for any small queries, they need a customizable approach like conversational agents to take up such queries on the chat itself. Adding a personal touch to your campaigns can empower personalized interactions with your customers. Using a remarketing strategy on your prospect who has left a product in the cart halfway, sending a reminder to them to purchase is the best chance to convert prospects into customers.
For instance, if a prospect doesn't react or purchase from the previous cart abandonment reminder you can send a different product that matches his needs with a promo code stating that it's only available for a certain period of time. By creating a FOMO and implementing various tactics there are high chances of converting.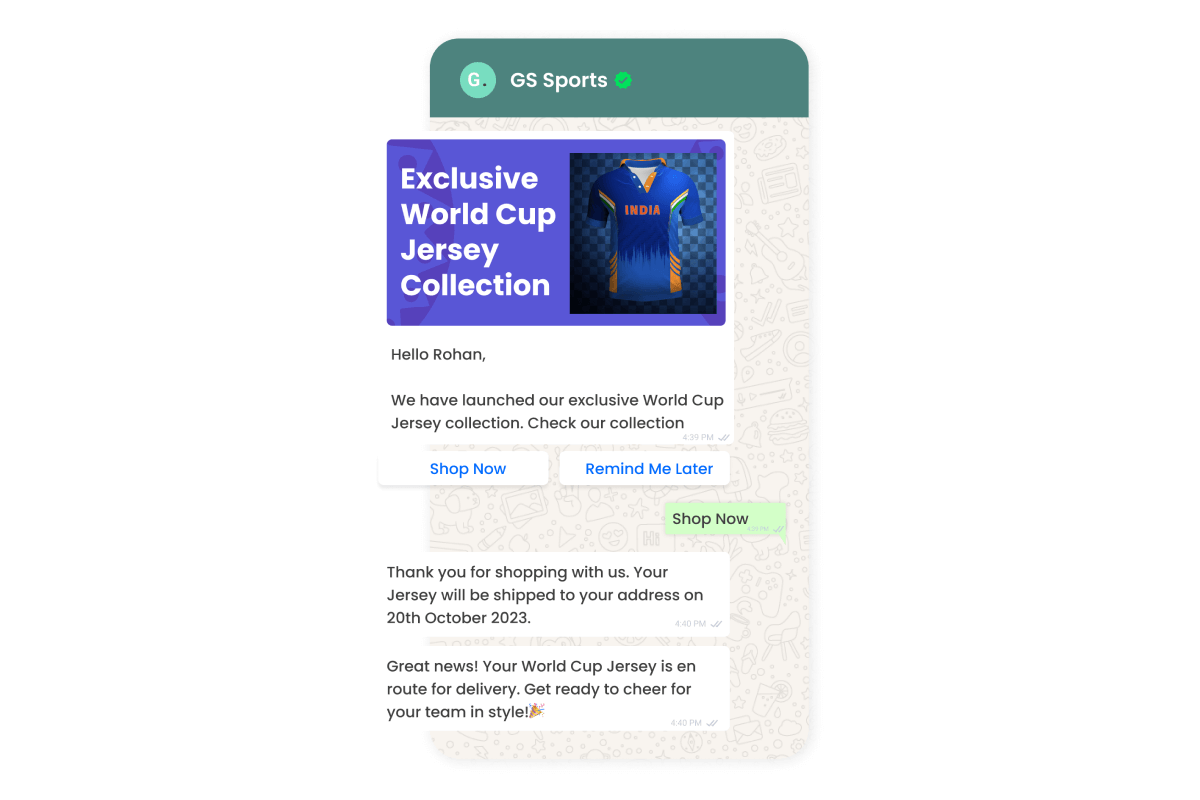 5. Always ask for feedback and act on it
Go beyond just Cricket World Cup campaigns to drive repeat customers by asking for regular feedback from your customers and also by acting on them. If you are overlooking constructive feedback from your customers then probably you are missing out on a huge business opportunity.
Collecting customer feedback on Conversational apps has even made it easier for brands to get honest feedback without depending on the complex tools. Brands gain valuable insights into customer preferences, pain points, and suggestions for improvement. Furthermore, the bond that initially formed during the World Cup should be nurtured and sustained well beyond the tournament.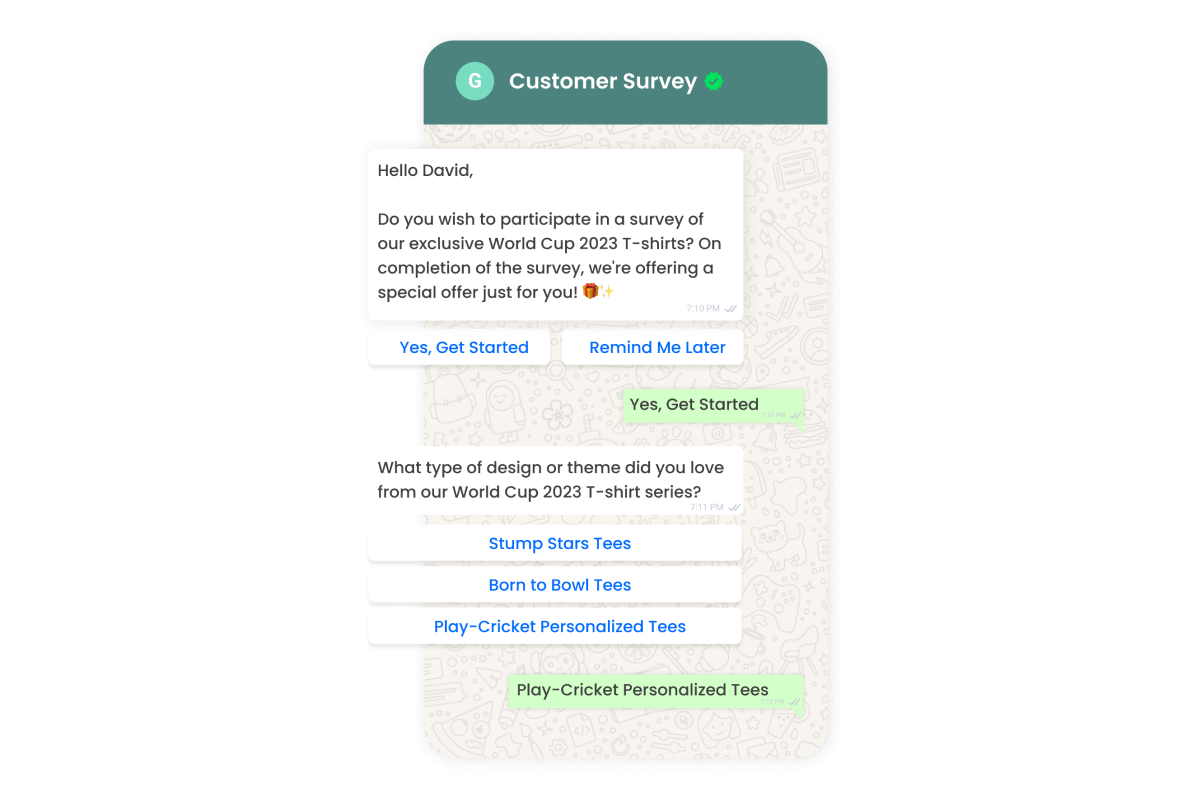 In this new era of cricket advertising, it's essential for brands to leverage the Conversational AI solutions approach in order to attract cricket lovers as your potential customers. The cricket teams are battling on the field, and mobile marketers are on mobile devices. Let's keep this rolling and make every moment of your World Cup campaign count with the help of Gupshup's assistance. Get in touch with us now. 
Blogs you will want to share. Delivered to your inbox.
Business Email
×
Read: Experience Gupshup at GITEX 2023