Conversational Messaging Solutions for Logistics
On November 8, 2021
|
4 Minutes Read
Chatbots
Conversational AI
Conversational Engagement
Logistics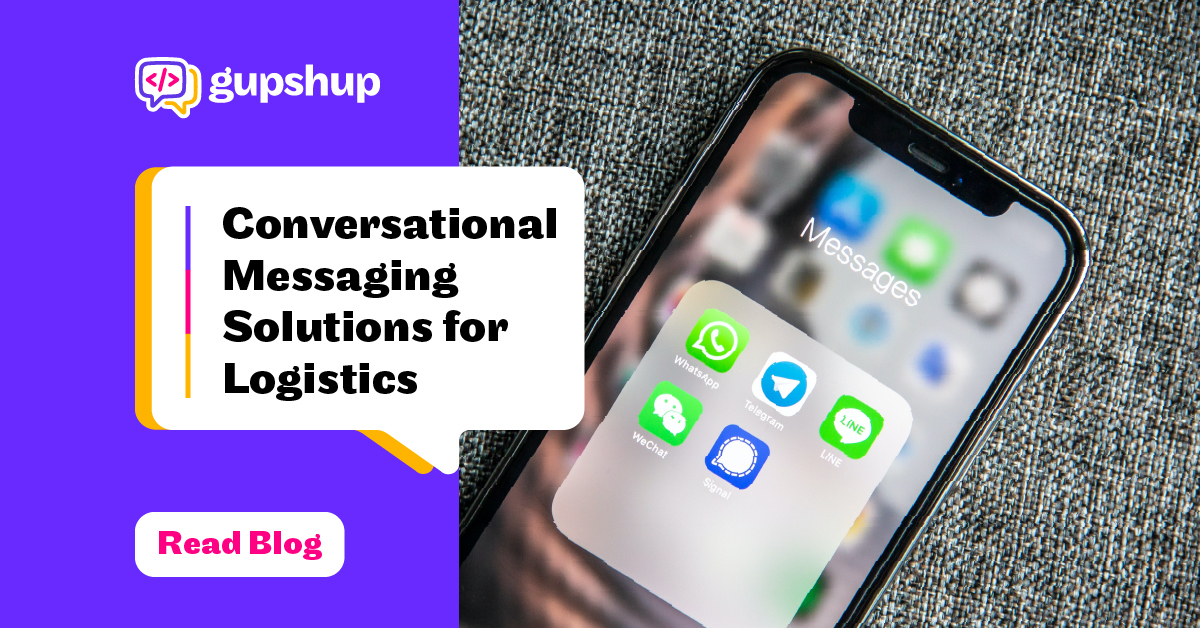 There is no doubt that chatbots have enabled automation and smoothened consumer interfacing processes in every industry. According to Statista, the overall chatbot market is expected to reach $1.25 billion by 2025 compared to $190.8 million in 2016. The number is huge, as is the impact.
The role of conversational messaging and conversational AI-powered chatbots in  logistics and supply chain management cannot be emphasised enough. The automation process facilitates smooth operations and reduces costs as well as chances of errors while increasing efficiency. With a growing demand in production and a higher demand for shipping, more and more businesses are turning to Conversational AI in order to save time. In fact, with many companies expanding their services to wider audiences using marketplaces like Amazon and Flipkart who have been steadily improving customer service through technological assistance, the necessity of physical services for errands is becoming obsolete.
Adopting conversational automation with the help of conversational messaging and chatbots is the need of the hour for the logistics and supply chain management industries.
Conversational Solutions for Logistics and Supply Chain
Optimise supplier, distributor and delivery experience with our conversational messaging solutions and AI tools like chatbots on the messaging channels that your customers are already on. Some other features of our solutions include:
Get pre-trained logistics-specific AI models for automating processes like pre-booking, booking, customer support, payment, and consultative selling workflows.
Provide a smooth experience for new prospects and nurture them from your website/app. Turn random visitors into loyal customers.
Print and paste QR codes on the packaging of the shipments and facilitate easy returns, reorders, refunds, etc.
Schedule delivery and returns of stocks conveniently on a chat-based interface, hosted on your favourite messaging channel.
Reduce customer wait times considerably. Enable suppliers and distributors to place orders and get their payment related queries resolved quickly.
Support suppliers and distributors round-the-clock with the AI-powered tracking assistant. Enable them to handle orders in real-time at all times.
Get AI-powered self-serve conversational tools, specific for your logistics and supply chain workflows.
With advanced APIs, get pre-built, customisable sequences to plugin, use and accelerate the automation of key logistics and supply chain workflows.
Interact and transact with your suppliers, distributors and delivery teams across 30+messaging channels.
Benefits
Zurich Insider stated that 63% of the companies still do not use technology or monitor the supply chain performance effectively. Learn what you stand to gain by integrating with the Gupshup solution.
Provide relevant informationBy providing information with proactive messaging, businesses can share relevant information with probable customers. Businesses can turn visitors to their websites into instant customers.
Improved productivity
The combination of logistics systems and inventory management chatbots can help  keep track of the demand and supply of the inventory. This will ensure timely stock updations and zero wastage.
Improved inventory managementThe automation of the supply chain process also ensures better stock visibility. Moreover, data can be tracked, and efficient supply chain performance can be accounted for.
Optimised lead timesThe logistics department of a business can automate repetitive tasks. This will simplify tracking and reduce the need for arbitrary checks resulting in bringing down lead times for any department.
Improved distributor engagement
Not only can a business improve engagement with distributors, but there is marginal improvement in customer engagement as well. Team this with enhanced support across multiple platforms with real-time messaging to get a well-oiled process.
Scale all support  operations
With the help of automated processes, quickly scale the number of queries handled over time. Businesses can place and track orders, as well as resolve customer queries in real-time.
Simplify distribution communications
Businesses can streamline ad-hoc communication between distributors and manufacturers across channels. There is tracking of all queries and resolutions can be brought in faster.
Boost productivity to scale
Businesses can channelise business priorities by taking care of redundant tasks such as  generating documents, scheduling meetings, updating CRM, etc. The CRM team can focus on more dire tasks and leave automated tasks to chatbots.
Omni-channel benefits
Get consistent experience across marketing, commerce and support modules across 30+ messaging channels and do not miss out on any channel-specific audiences.
Why Gupshup
Conversational AI-powered chatbots are your best bet when it comes to ensuring better productivity and profitability across all business departments. There are various applications of conversational systems in logistics management. With years of experience  building chatbots for various industries, Gupshup's solutions for the logistics and supply chain industry aim to smoothen business processes and customer support. Serve your customers on different channels, such as WhatsApp, SMS, RCS, Instagram, Telegram.
With our principles of confidentiality, integrity and availability, build chatbots that help your logistics team  improve conversations, support and productivity easily with automation and conversational messaging. To know more, #LetsGupshup.
Blogs you will want to share. Delivered to your inbox.
Business Email
×
Read: Role of P2A Messaging & Chatbot Directory