Transforming Logistics Experience For Customers With Conversational AI
On June 24, 2022
Chatbots
Conversational AI
Conversational Engagement
Logistics
Messaging API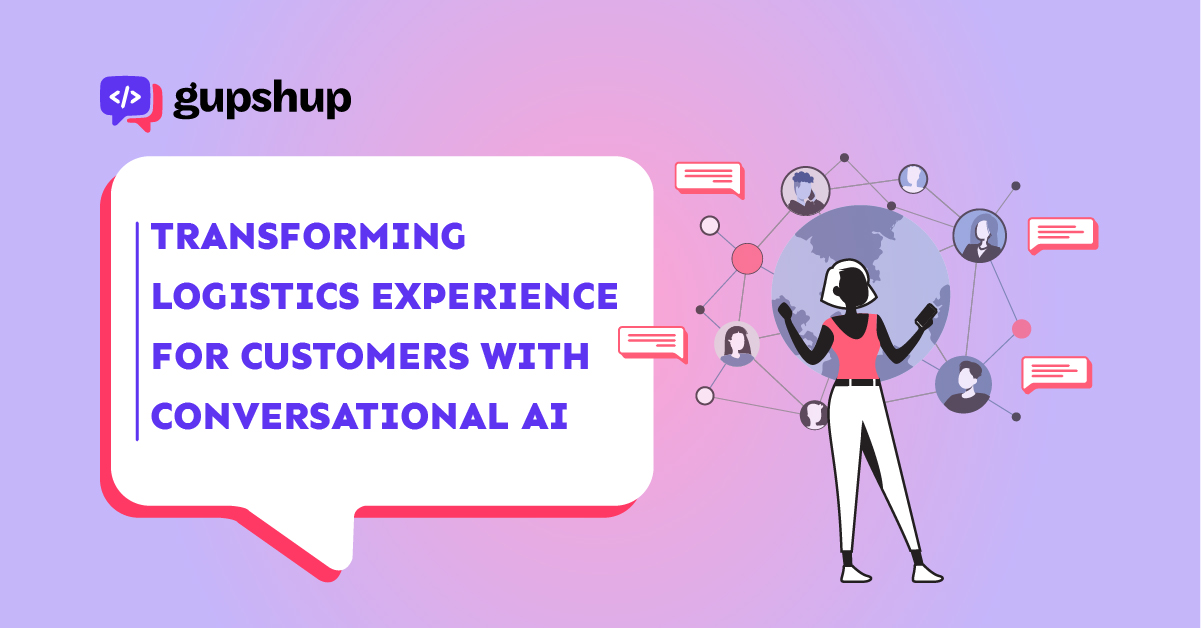 How important is user experience? For all businesses, it is a crucial aspect of their customer journey and engagement. And logistic businesses are starting to realize how essential it is as the industry looks forward to the shifting customer expectations post pandemic. In this article we'll discuss a few technological improvements that a logistics company can opt for better customer engagement and agility at an operational level.
Scaling up is the next step for a logistics business. To enable this growth curve, it is vital to turn agile, maintain an active, real time channel of contact with customers, and track the various components of a supply chain with regular and prompt updates. The latter would be particularly critical for organizations that carry live or healthy produce. Being competent to accomplish these tasks quickly and effectively can help a logistics firm stand out from the crowd.
Transportation, warehousing, and management service choices are becoming less and less dependent on present or future purchases. The influence of transportation, warehousing, processing, and logistics just on consumers and the user's experience with the organization is becoming increasingly important. This creates a fundamental, high-level strategic dilemma for all firms, particularly those at magnitude: how can logisticians, as key players in the supply chain, distinguish themselves as CX becomes an increasingly visible aspect of daily supply-chain management?
Empowering supply-chain operations with conversational AI can help your business provide 24/7 conversational delivery support to customers. The automated AI chatbot deals with everything.
Key CX problems in logistics:
Multiple orders and tracking
Returns and refunds
Customer support executive availability
Grievance redressal mechanisms
Difficulty in pickup arrangement
Few use cases where Conversational AI can help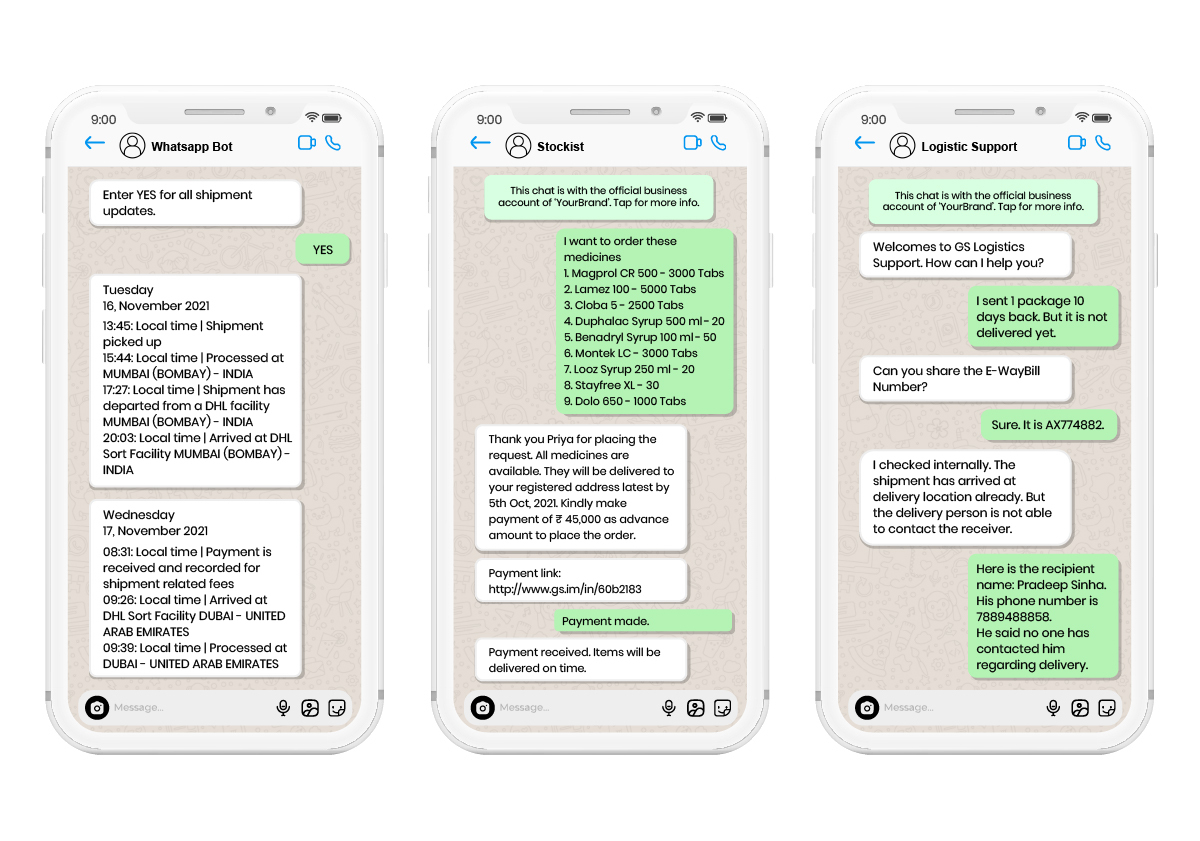 1. Simplified and instant tracking status of orders to customers
Users do not have to wait long for a professional to connect with them regarding their order status. The Gupshup's Conversational AI will instantly provide the tracking status.
2. Convenience and ease to customers
Customers have what they need with just a click of a button. Gupshup understands and helps them out with anything they need without any hassle. They can connect with the chatbot via messaging apps like WhatsApp, Instagram, Facebook, SMS, and so on.
3. Seamless customer support and feedback management
Users can easily raise complaints if they are not satisfied with something during the user journey. Gupshup will collect details regarding the issue faced by the customer and connect with your support team.
4. Accurate delivery notifications
Gupshup will bring accuracy and smartness to your current service delivery. You can notify users about their items' current status or location by providing a tracking link to them. Users can instantly track their orders and estimate the arrival time. In instances of unsuccessful delivery, users can reschedule the delivery date. This feature also ensures customer convenience and smoothness in the delivery process.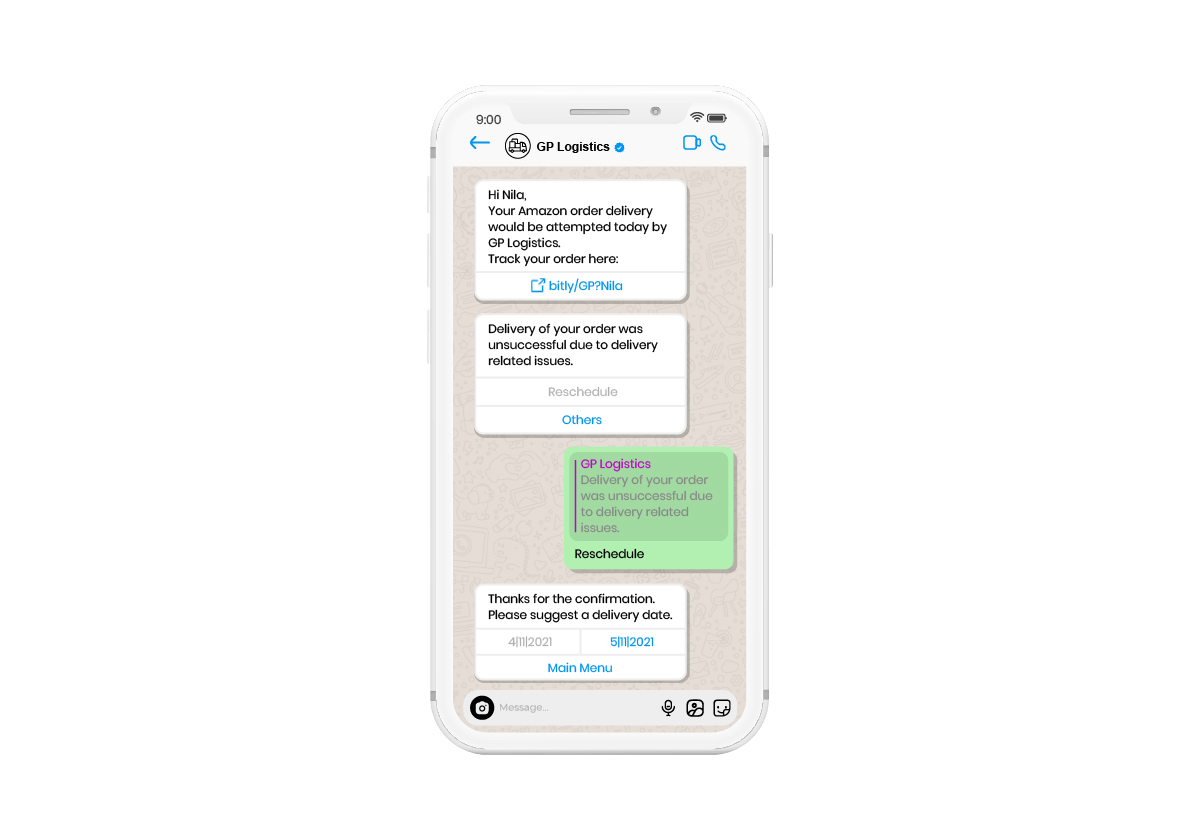 5. Easy pickup scheduling
If users want to schedule a pick-up to return an item, they can do so by scheduling a pick-up date and time using the chatbot by Gupshup. They just have to converse with the bot, and the job is done. Businesses don't have to worry about complex CRM and resource allocation software managing pick-up and delivery orders at the same time when they have Gupshup.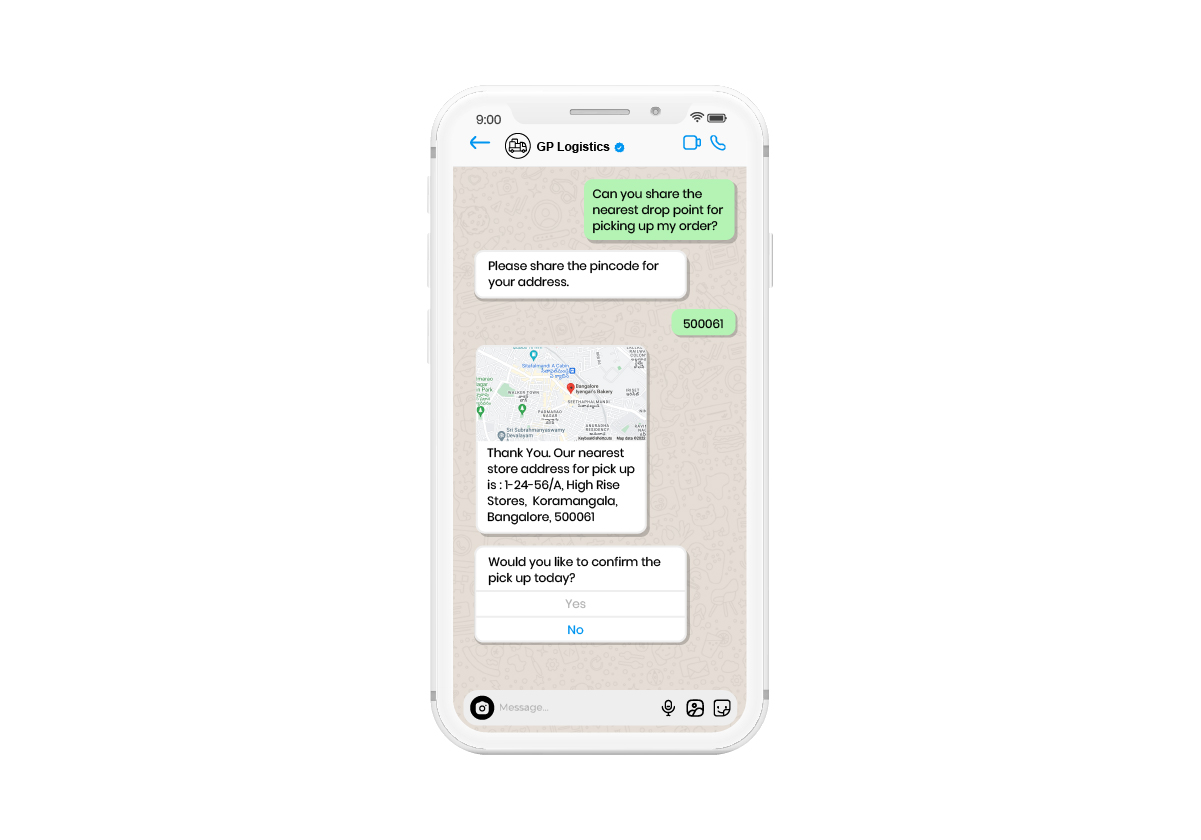 Automated customer support and feedback management
With Gupshup, you need not worry about omnichannel customer engagement strategies. This single API makes the systems instant, interactive, and valuable. After a user journey is completed, Gupshup collects user feedback by asking them to rate the delivery process. They can also call or message your company's support in case of dissatisfaction.
Integrations galore!
The Gupshup conversational messaging API works with more than 30 messaging applications, such as WhatsApp, Facebook Messenger, Instagram, Telegram, Viber, Skype, SMS, and more.
Logistics businesses can clarify one-to-one customer queries and doubts with this AI bot. Customers can conversationally choose products, make transactions, get their queries solved, and do more from the comfort of their homes. With human-like responses, users would never feel like they're talking to a bot. It ensures a whole new experience and adds satisfaction to the user journey.
You can now transform your organization's supply-chain management with conversational commerce. Become accessible to customers 24/7 and boost your profits with higher engagement and faster human-like response.
Conclusion
Providing a stellar user experience has the goal of increasing brand loyalty and happiness, which can lead to long-term success. While it seems to be a marketing scheme, there is much more to the entire ecosystem of engaging with the customers and offering a superlative, real time support to make their engagement more meaningful. The user's worries, and consequently the firm's worries are focused on the additional value that the business gives.
One of the most commonly known pain points for a customer is when queries are met with general responses that do not bring an element of personalized messaging. When a customer opens a support ticket, they don't appreciate being transferred from rep to rep. Communicating with one point of contact in real time is preferable than with general updates that lack the element of personalized service.
To summarize, user experience with a logistics company is the most crucial factor in determining whether the client will stay on. Remember, the outcome of the distribution chain hugely influences that experience. That outcome has a significant impact on developing and maintaining trust, as well as on a consumer's loss of faith in that organization. Since it lacks robustness and is focused entirely on process efficiencies, the existing agile supply-chain approach contrasts with contemporary consumer needs.
By concentrating on fulfilling the client's requirements with interactive updates, the supply chain is transformed from a process-oriented to a consumer-centric endeavor.
Typically, a distribution network is highly unreliable. As a result, a logistics business must establish a reliable and real time channel of communication between all necessary support groups. This helps to ensure that ideation and problem-solving take place quickly. This is where Gupshup's conversational AI software comes in handy.
Gupshup is a smart conversation builder for marketing, commerce, and support. Get started with this one-stop solution to customer success. Ready to transform your delivery system with Gupshup? Schedule a demo.
Blogs you will want to share. Delivered to your inbox.
Business Email
Recommended Resources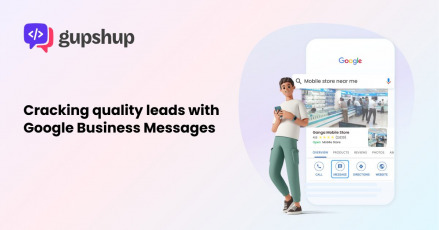 Learn how to revolutionize your lead generation strategy with Google Business Messages. In this blog post,...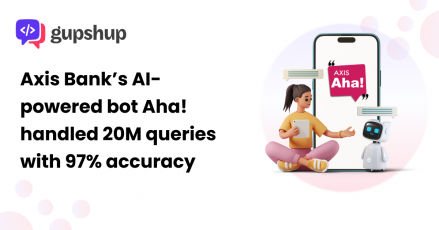 Learn how Gupshup's omnichannel conversational support solution helped Axis Bank increase user growth by 40X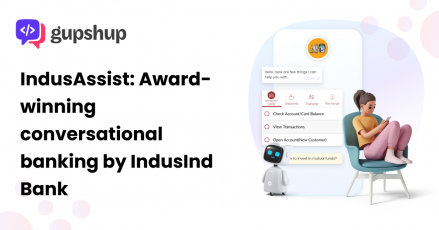 Learn how in partnership with Gupshup & Alexa-Amazon Indusland Bank wins the Finacle Client Innovation Award
×
Read: Conversational AI Drives Sales & Customer Engagement For Automotive Businesses