What Conversational Texting Means for Businesses
On June 18, 2021
|
5 Minutes Read
Conversational Engagement
Generic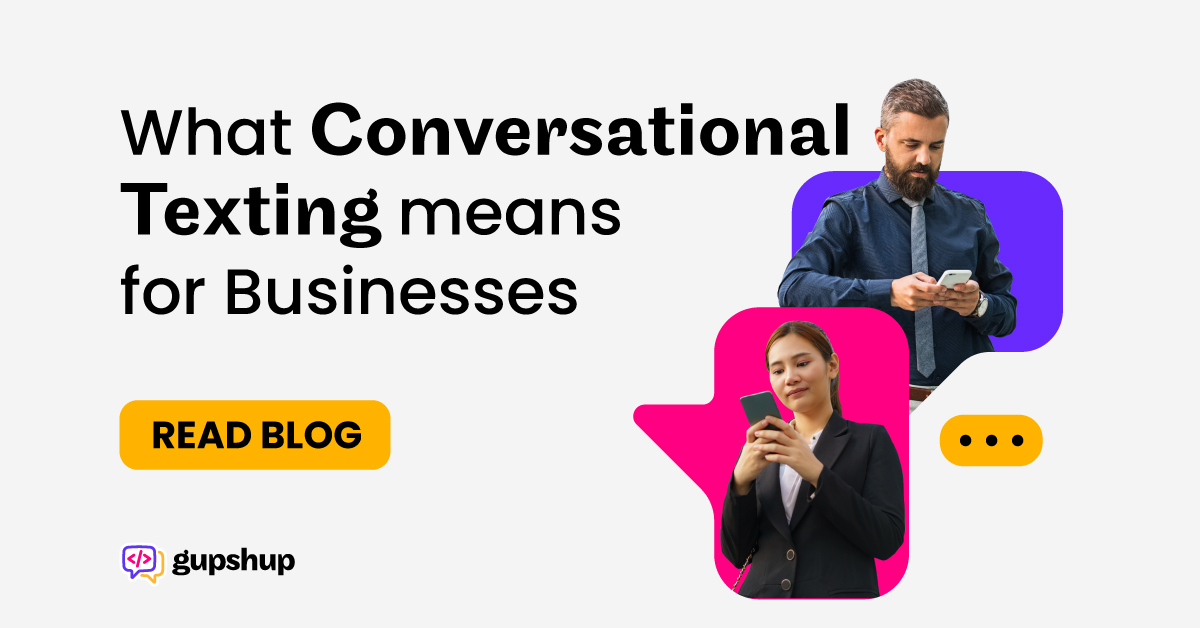 B2C communication is both a science and an art. Technology platforms have evolved impressively over the past two decades, from newspaper advertising/flyers/billboards to TV, radio, internet, and mobile (correspondingly adopting mediums like search, social, SEM and SMS). These mediums are a boon for a marketer, both because of the unprecedented reach and data-driven capabilities they offer. But conversely, this has also brought in several pain points.
The Digital Conundrum for Marketing
The consumer is far more aware and empowered today with access to information at the touch of a button. Customers in the digital age are tuned to being in control of the buying process, and the internet has become their most trustworthy source of product information.
Smartphones are the default shopping assistants for people today, making the jobs of salespeople more challenging. Research shows that 89% of people will turn their back on a business if they are dissatisfied, and 70% of purchases happen due to how the customer feels during the transaction.
If not planned properly with the right tools, marketing communication can seem too impersonal and 'spammy' for customers on smartphones. Given that they are already overloaded with information, they are prone to tuning you out automatically unless you lay the groundwork. Your communication has to be relevant, engaging, and valuable for customers, not just once but throughout and beyond the buying process. This requires developing content customized across channels, languages, devices, and even specific individuals. You need to be truly special to stand out.
Overcoming the 'Lost in the Noise' Communication Syndrome
Therefore, messaging has to be more innovative and in tune with the times; 'conversational,' 'targeted' & 'engaging' as opposed to 'informational' and 'generic.' The communication has to judiciously combine human and technological capabilities so that it can be both scalable and flexible.
This is why 'conversational texting,' or the use of real-time customer communication through SMS marketing, various SMS applications, and bots, has become increasingly relevant for businesses. Messaging applications like WhatsApp (2 billion monthly active users), Facebook Messenger (1.3 billion monthly active users), and WeChat (1.2 billion monthly active users) have become immensely popular and provide robust platforms for businesses to target customers.
The following table shows how conversational messaging can help brands to own the customer journey, which traverses four stages:
| | | |
| --- | --- | --- |
| Stage | Description | Role of conversational messaging |
| Attention | Awareness of need | Attract customer attention towards your business and offerings. |
| Interest | Research on various options to fulfill the need | More detailed product descriptions to come into the customer's consideration set and make him/her eager for more information. |
| Desire | Evaluation of alternatives | Strengthen customer's attraction to your brand through powerful brand projection and tapping into his/her pain points. |
| Action | Final purchase | Convert desire into a purchase through a call to action, pitching in with relevant promotions, etc. |
Gupshup Tools for B2C Marketers
Gupshup offers a comprehensive range of solutions for marketing teams. It provides a bot builder platform that allows companies to develop and launch automated conversational messaging workflows or chatbots without complicated coding, programming knowledge, or technical expertise.
Smart messaging tools provide capabilities to automatically send transactional notifications to your customers when you launch a new event or set up a sequence of pre-scheduled conversational messages that get triggered on new registration. In essence, they are adaptable to most of the conceivable marketing objectives and use cases.
Gupshup has also developed a distinctive and powerful Gupshup IP (GIP) Messaging service that makes SMSes smarter and conversation-oriented. It ensures customer attention, affinity, and engagement by using smart layouts, attractive visuals, a convenient user interface, and enhanced interactivity.
Most importantly, these tools come with interactive features to enable conversational messaging, rich media capabilities, and seamless integration with existing marketing tools.
Benefits of Gupshup's Innovations
Marketers can leverage the numerous predefined templates and customizations offered by Gupshup's bot builder platform to launch their bots on their preferred channels. This prevents the pain and effort of building new platforms from scratch.
The smart messaging tools have been meticulously developed to enhance the impact and ROI of your conversational SMS campaigns by reducing costs and enabling higher conversion rates.
Furthermore, these tools also provide companies with capabilities for deeper customization depending on customers' profile attributes or engagement history. Through targeted, engaging, and recurring campaigns, companies can both handhold new customers and strengthen their connections with existing ones.
Use Cases
Some indicative use cases where marketers can benefit from Gupshup's proprietary tools are as follows:
Provide action-driven alerts automatically to customers when starting a new event, like the launch of a new clothing line.
Execute recurring campaigns using rich content to engage your customers, like loyalty programs for a jewelry store.
Customize campaigns based on customer profiles. For instance, a clothing store delivers specific product promotions based on the age group.
Cross-sell or upsell campaigns can be planned through Gupshup tools based on customer profiles. For example, a premium organic food range can be launched through a promotion with identified, high-paying customers with a history of healthy food purchases for maximum ROI.
It's always been a jungle for marketers, but the race for survival is more challenging than ever before with the proliferation of digital channels.
Companies need to develop exceptionally engaging content to attract and engage customers. Besides this, they need to provide them quick access to all the information they need and simplify their decision-making process to the extent possible.
With Gupshup's proprietary conversational messaging tools, you have the power to achieve all these objectives and stay well ahead of your competition. Click on this link now to know more about how Gupshup can help you catalyze your business growth and build enduring and mutually rewarding customer relationships.
Blogs you will want to share. Delivered to your inbox.
Business Email
×
Read: How to use WhatsApp Business API